Xu Bing
Book from the Sky, 1987–91
Installation of books and scrolls printed from carved wood types of invented characters; ink on paper.  Dimensions variable.
Installation view at "Crossings," National Gallery of Canada, Ottawa, 1998.
Courtesy of Xu Bing Studio,
---
'Twas brillig, and the slithy toves
Did gyre and gimble in the wabe:
All mimsy were the borogoves,
And the mome raths outgrabe.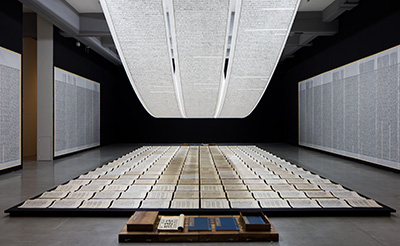 In Lewis Carroll's Through the Looking Glass (1872), the heroine Alice holds a mirror to the inverted words of "Jabberwocky" and realizes she has entered a mirror world. The quote also serves as an entry point to the Blanton Museum's upcoming exhibition of Book from the Sky by artist Xu Bing, on view through Jan. 22. Guest curator Hao Sheng, former Wu Tang Curator of Chinese Art at the Museum of Fine Arts in Boston, chose "Jabberwocky" to reflect how Chinese readers felt roughly thirty years ago upon the work's first exhibition. In 1988, Book from the Sky received widespread acclaim at first, drawing crowds determined to find meaning within the so-titled "nonsense" characters within the artwork. "When it was first shown in 1988-89 in Beijing, people came in and spent hours looking for words they thought might exist," says Hao Sheng.
For its first exhibition in Texas, Book from the Sky subsumes nearly 1,500 square feet of the Blanton's galleries. The installation's media encompass historical Chinese writing from sources ranging from traditionally bound books, to Buddhist sutra scrolls, to Chinese memorials. Massive scrolls dangle over a sea of books like the wings of birds. The books comprise four printed prototypes, modeled after a dictionary, a medical book, a Chinese classic, and a poetry volume. Walls of Chinese writing similar to stone memorials enclose the space. But none of the 4,000 characters meticulously hand-carved onto wooden blocks and then typeset by Xu Bing over four years from 1987-1991 hold any meaning—in Chinese or any other language. Like Carroll's nonsense words, Hao Sheng says, "The work itself renders people illiterate. The more familiar you are with Chinese, the more frustrating it gets. It looks like it's readable, but you cannot read it. Then it dawned on people, what is the meaning of this?"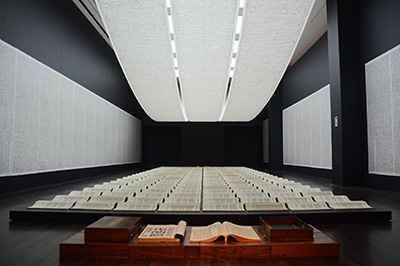 Using a nonsense poem to draw English speakers into the exhibit is also a subtle nod to the work's original title and rich history. When Book from the Sky was shown again in 1989's historic China/ Avant- Garde exhibition at the National Art Museum of China, reception flipped from acclaim to suspicion. Once seen as a hallmark of the post-revolution Chinese contemporary art movement, the work fell afoul of the political climate. "After the massacre at Tiananmen Square, the iron curtain came down and the political climate changed and everything was seen through the lens of that moment. Book from the Sky was seen with much suspicion. When it has no meaning at all, the meaning is very questionable," explains Hao Sheng. The Cultural Revolution made a great impact on Xu Bing's mindset. In school, he painted propaganda posters—using his artistic talent to support the same government that imprisoned his own father. But Hao Sheng insists reading Book from the Sky within a purely political context "would be a shallow way to think about what Xu Bing was trying to do."
Book from the Sky was Xu Bing's first major breakout work, created after he earned his master's in printmaking from the Central Academy of Fine Arts. But since then he continues to explore the relationship between humans and their languages, stating, "To manipulate the written word is to transform the very essence of culture." In 1992, Post Testament combined the King James Version of the New Testament with a trashy contemporary novel. In Square Calligraphy Classroom (1994), an interactive language lesson, Xu Bing created a new language combining English and Chinese called "New English Calligraphy." In 1994, he exhibited Silkworm Books, in which live silkworm moths lay their eggs in the pages of open books. The eggs create a kind of faux-print language of nature. Later, when the moths hatch and spin silk, webs obscure the books.
Body Outside of Body (2000) consisted of Post-Its printed with Chinese, Japanese, and Korean characters that audience members tear away to create new languages. Published in 2014, Book from the Ground reverses Book from the Sky by creating a graphic novel story anyone can read. These works showcase Xu Bing's obsession with the vulnerability of language, as with Book from the Sky, "It is a very elegant effort to separate meaning from form, to remind us the words themselves don't carry meaning, it's our usage that gives meaning to the words. And the words can be misleading, manipulated," says Hao Sheng.
So how does a gallery convey the many layers of history and politics behind such an influential artist's work? "When it comes to Texas, this book looks no different from another Chinese book to English speakers. So how do we convey that shock? That profound disorientation was a challenge for us," Sheng explains. One way is to allow audience members to create their own language. "We created this set of blocks with different Chinese parts, the radicals and we encourage people to use the blocks and create new words of their own, to write it down and to give it meaning and we think the chance they will create a new word is very high and the meaning could be very interesting," says Sheng.
Sheng hopes Texas audiences will interpret the work outside of its original context, bringing their own experiences to the work, and creating their own meanings within it. Book from the Sky's original title was translated as "the mirror that reflects the world," and like Alice, viewers of the work only truly understand it as a reflection of their own anxieties. As for the future, it is clear Xu Bing's work will continue to surprise and engage; Sheng says, "If you ask me who is the Chinese artist that will be remembered twenty, thirty years from now, the first one I will say is Xu Bing."
—HOLLY WALRATH