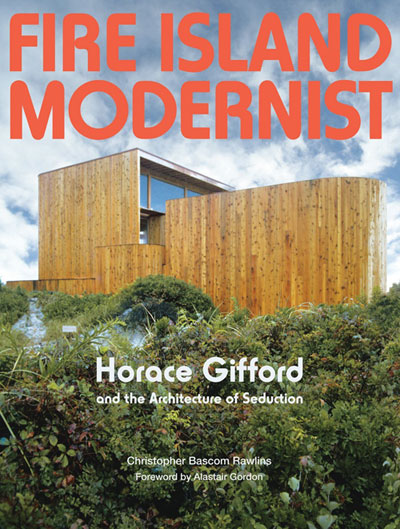 Architecture of Seduction
As the 1960s became The Sixties, generic architect Horace Gifford executed a remarkable series of beach houses that transformed the terrain and culture of New York's Fire Island. Growing up on the beaches of Florida, seek Gifford forged a deep connection with coastal landscapes. Pairing this sensitivity with jazzy improvisations on modernist themes, he perfected a sustainable modernism in cedar and glass that was as attuned to natural landscapes as to our animal natures. Gifford's serene 1960's pavilions provided refuge from a hostile world, while his exuberant post-Stonewall, pre-AIDS masterpieces orchestrated bacchanals of liberation. Marilyn Monroe, Elizabeth Taylor, and Montgomery Clift once spurned Hollywood limos for the rustic charm of Fire Island's boardwalks. Truman Capote wrote Breakfast at Tiffany's here. Diane von Furstenburg showed off her latest wrap dresses to an audience that included Halston, Giorgio Sant' Angelo, Calvin Klein, and Geoffrey Beene. Today, such a roster evokes the aloof, gated compounds of the Hamptons or Malibu. But these celebrities lived in modestly scaled homes alongside middle-class vacationers, all with equal access to Fire Island's natural beauty. Blending cultural and architectural history, Christopher Bascom Rawlins' new book, Fire Island Modernist: Horace Gifford and the Architecture of Seduction, ponders a fascinating era through an overlooked architect whose life, work, and colorful milieu trace the operatic arc of a lost generation, and still resonates with artistic and historical import.
---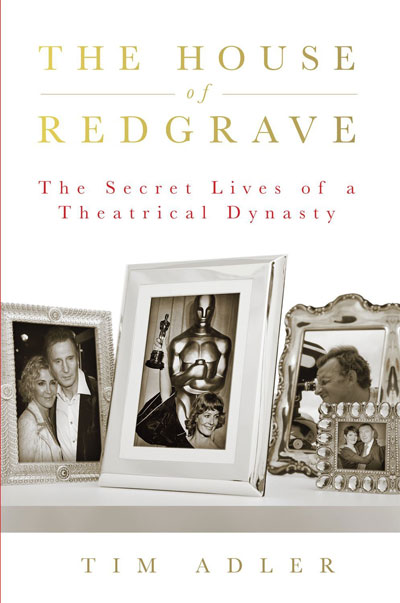 The High and Mighty
From the landmark films of Tony Richardson to the untimely death of Natasha Richardson, Tim Adler's The House of Redgrave: The Lives of a Theatrical Dynasty tells the saga of one of the greatest dynasties in British film and theater. In 1928, at the end of a production of Hamlet at the Old Vic, Laurence Olivier strode to the front of the stage to hush the audience and announced, pointing at his co-star Michael Redgrave, "Tonight a great actress has been born. Laertes has a daughter." He meant Vanessa Redgrave. That is where this dramatic book's story begins. It concludes in 2009, with the sudden and tragic death in a skiing accident of Vanessa's daughter Natasha Richardson – and further family sorrow soon to follow with the deaths of both Corin and Lynn Redgrave. The story of this amazing family is explosive throughout – from the tangled private life of Tony Richardson, Natasha's father, who directed major films like Joseph Andrews, to Vanessa and Corin's complicated involvement with the Workers' Revolutionary Party, to the emergence of a fourth generation of fine actors with Natasha and Joely. There is truly never a dull moment – but plenty of scandal, melodrama, tragedy, and intrigue – in the story of this remarkable dynasty, whose contribution to British drama and film has been immense.
---
All American Hero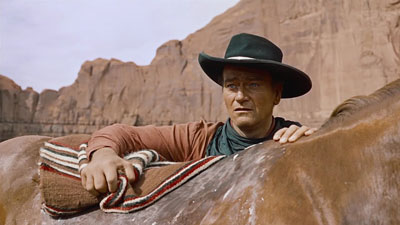 John Wayne: The Genuine Article is a poignant photographic journey, celebrating the life of a cinematic legend. This intimate glimpse into the Duke's personal and public lives, from filmmaking and the military to politics and life at home, showcases rare full-color family snapshots, iconic film stills, and unique memorabilia, including reproductions of letters, telegrams, and personal notes – all collected from and authorized by the John Wayne estate. Excerpts from Wayne's private letters and his unfinished memoir reflect his personality, and interviews with close family and personal friends bring to life one of Hollywood's greatest stars, appealing to fans of Hollywood and Americana alike. Capturing important milestones of this larger-than-life figure, author Michael Goldman covers Wayne's childhood and college years, his early days in Hollywood, the westerns, the war films, his support of the troops, his rise as a political figure, his relationships with John Ford and other Hollywood luminaries, and his personal interests and family life. From cowboy boots and saddles to handwritten letters and classic film stills, the illustrations tell the true story of the man behind the legend. Ironically, the foreword is by President Jimmy Carter, a political figure probably scorned by most Wayne fans.
---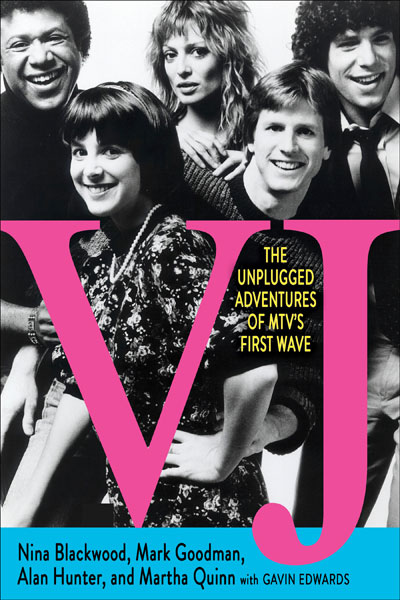 The Day The Music Died
I vividly recall the early days of MTV, of having it on the channel almost continuously while doing homework or chores around the house. Friends would come over and we'd watch it nonstop for hours. Now, one of the original video jockeys, Nina Blackwood, has put together a fun look back at those innovative first few years. VJ: The Unplugged Adventures of MTV's First Wave is a behind-the-scenes oral history of the early years of MTV, 1981 to 1987, when it was exploding, reshaping the culture, and creating "the MTV generation." Blackwood, Mark Goodman, Alan Hunter, and Martha Quinn (along with the late J. J. Jackson) had front-row seats to a cultural revolution – and the hijinks of music stars like Adam Ant, Cyndi Lauper, Madonna, and Duran Duran. Their worlds collided, of course: John Cougar invited Nina to a late-night "party" that proved to be a seduction attempt. Mark partied with David Lee Roth, who offered him cocaine and groupies. Aretha Franklin made chili for Alan. Bob Dylan whisked Martha off to Ireland in his private jet. But while VJ has plenty of dish – secret romances, nude photographs, and incoherent celebrities – it also reveals how four VJs grew up alongside MTV's devoted viewers and became that generation's trusted narrators. They tell the story of the '80s, from the neon-colored drawstring pants to the Reagan administration, and offer a deeper understanding of how MTV changed our culture. Or as the VJs put it, "We're the reason you have no attention span."
---
Standing Tall and Proud
It's easy to take the American architectural cannon for granted. These are the structures that loom large, turning points in architectural history that also have a fixed place in pop culture. But how often does the public stop to consider why these well-known monuments were once revolutionary or reflect on how they shaped American culture? 10 Buildings That Changed America tells the stories of ten influential works of architecture, the people who imagined them, and the way these landmarks ushered in innovative cultural shifts throughout our society. From American architectural stalwarts like Louis Sullivan and Frank Lloyd Wright, to modern revolutionaries like Frank Gehry and Robert Venturi, Dan Protess' book examines the most prominent buildings designed by the most noteworthy architects of our time. Also profiled are Americans less noted for their architectural acumen, but no less significant for their contributions to the field. Thomas Jefferson, a self-taught architect, is profiled for designing the iconic Virginia State Capitol. Taking its inspiration from ancient Rome, America's first major public building forged a philosophical link between America and the world's earliest democracies. We see the legacy of the architects profiled like Mies van der Rohe or H.H. Richardson all around us: in the homes where we live, the offices where we work, our public buildings, and our houses of worship.10 Buildings is a fascinating collection detailing the inspiration from these architects who dared to strike out on their own and design radical new types of buildings that permanently altered our environmental and cultural landscape.
---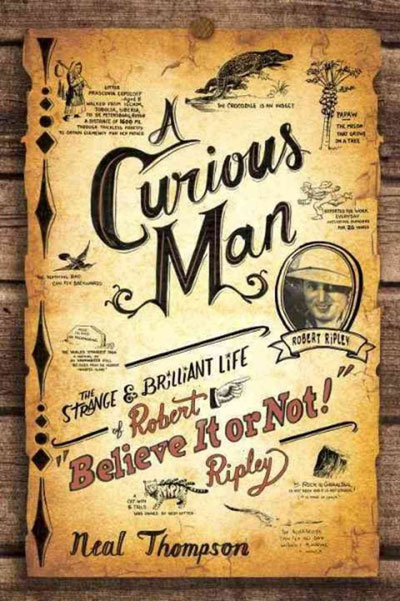 Life As He Knew It
A Curious Man: The Strange and Brilliant Life of Robert "Believe It or Not!" Ripley is a compelling biography of the enigmatic cartoonist turned globetrotting millionaire who won international fame by celebrating the world's strangest oddities, and whose outrageous showmanship taught us to believe in the unbelievable. As portrayed by acclaimed biographer Neal Thompson, Ripley's life is the stuff of a classic American fairy tale. Buck-toothed and cursed by shyness, Ripley turned his sense of being an outsider into an appreciation for the strangeness of the world. After selling his first cartoon to Time magazine at age eighteen, more cartooning triumphs followed, but it was his "Believe It or Not" conceit and the wildly popular radio shows it birthed that would make him one of the most successful entertainment figures of his time and spur him to search the globe's farthest corners for bizarre facts, exotic human curiosities, and shocking phenomena. Ripley delighted in making outrageous declarations that somehow always turned out to be true – such as that Charles Lindbergh was only the sixty-seventh man to fly across the Atlantic or that The Star Spangled Banner was not the national anthem (Congress only declared The Star Spangled Banner as the national anthem after Ripley's assertation outraged the public in 1929.) Assisted by an exotic harem of female admirers and by ex-banker Norbert Pearlroth, a devoted researcher who spoke eleven languages, Ripley simultaneously embodied the spirit of Peter Pan, the fearlessness of Marco Polo, and the marketing savvy of P. T. Barnum. In a very real sense, Ripley sought to remake the world's aesthetic. He demanded respect for those who were labeled "eccentrics" or "freaks" – whether it be E. L. Blystone, who wrote 1,615 alphabet letters on a grain of rice, or the man who could swallow his own nose. If only he had lived to see the popularity of TV reality shows.
---
The Voice
He was blessed with a set of pipes that Elvis Presley claimed were the best in the business. His eyes hidden behind his perpetual Ray-Bans, Roy Orbison stood perfectly still onstage, singing songs of devastating heartbreak. Bob Dylan compared him to a professional killer, claiming the intensity of Orbison's operatic tenor was enough to make him drive off a cliff. Neil Young stated, "It's almost impossible to comprehend the depth of his soul. There's something sad but proud about Roys music." And Bono later claimed he was not only enthralled by Orbison's angelic voice, but considered In Dreams to be probably the greatest pop song ever written. Orbison's singing has inspired everyone who has heard it, from Springsteen to k. d. lang, and laid the very foundation for goth. While fascinating from a pop culture standpoint, it is Orbison's life's journey that makes a great story that has yet to be told to its fullest. Rhapsody in Black: The Life and Music of Roy Orbison doesn't shy away from or trivialize the personal pain, alienation, and tragic events that shaped Orbison's singular personality and music. Roy Orbison wasn't merely a singer but a sonic alchemist who, in the end, transformed unfathomable human misery into transcendent melody and platinum records. Author John Kruth's book contains new interviews with over 20 people who worked closely with Orbison throughout his life.
---
What a Character
Moviegoers know her as the housekeeper in White Christmas, the nurse in Now, Voyager, and the crotchety choir director in the musical-comedy Sister Act. But not everyone knew her by name. Mary Wickes: I Know I've Seen That Face Before, filled with never-published behind-the-scenes stories from Broadway and Hollywood, chronicles the life of a complicated woman who brought an assortment of unforgettable nurses, nuns, and housekeepers to life on screen and stage. Wickes (1910-1995) was part of some of the most significant moments in film, television, theater, and radio history. On that frightening night in 1938 when Orson Welles recorded his earth-shattering War of the Worlds radio broadcast, Wickes was waiting on another soundstage for him for a rehearsal of Danton's Death, oblivious to the havoc taking place outside. When silent film star Gloria Swanson decided to host a live talk show on this new thing called television, Wickes was one of her first guests. When Lucille Ball made one of her first TV appearances, Wickes appeared with her – and became the comediene's closest friend for more than thirty years. Many do not know that Wickes was the original Mary Poppins, long before an umbrella carried Julie Andrews across the rooftops of London. And when Disney began creating 101 Dalmatians, Wickes was asked to pose for animators trying to capture the evil of Cruella De Vil. I Know I've Seen That Face Before includes scores of never-before-shared anecdotes about Hollywood and Broadway. In the process, it introduces readers to a complex woman who sustained a remarkable career for sixty years.