Briana Resa, Brandon Weinbrenner, Jim Salners and Bryan Kaplun rehearsing Native Gardens at Main Street Theater, which runs May 20-June 11.
Photo courtesy of Main Street Theater.
---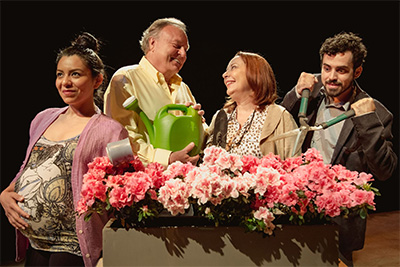 Brandon Weinbrenner, Resident Assistant Director at The Alley Theatre since 2013, has also directed at 4th Wall Theatre Company and The Landing Theatre Company. In May, he directs Karen Zacharias's Native Gardens, commissioned by the Cincinnati Playhouse, at Main Street Theater.   A + C writer Zachary Doss visited with Weinbrenner to talk about his upcoming project, his approach to directing, and what he loves about theater in Houston.
How would you describe Native Gardens to someone who hasn't read it?
Native Gardens is about new versus old, foreign versus domestic. It's about class warfare, but it's a comedy—almost a farce. It gets pretty absurd, but the comedy stems from deep-rooted characters who are clearly defined. These are people who, from the get-go, are very honest and upfront about their preconceived notions, about their biases. There's nothing shy about this play; it's very in-your-face, melodramatic, and up-front. That's what was most attractive to me about it—how bold the play is.
Native Gardens has a very unique, episodic structure. How has that structure impacted your choices as a director?
I think what's really nice about it being divided into those scenes is that there is a key plot-point that is in each of those scenes. It makes for such a clear structure; it's easy for the audience to follow. It's also so helpful as a director, because I can build on each scene. Each time the lights come up, something is different.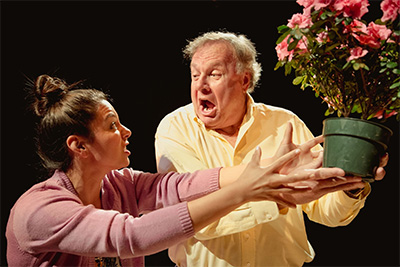 How did you come to be involved in this project?
Rebecca Udden, Main Street Theater's artistic director and I attend many of the same new play conferences every year. After I had lived in Houston for over a year, I met Becky for the first time at the Steppenwolf Theatre's conference in Chicago. We struck up a dialogue, and a kind of camaraderie emerged between us. Eventually I said, let's work on a project together, and we exchanged scripts for a while. I remember meeting with her about this play, sending her the script that afternoon, and she emailed me back right away saying, I love this play, let's do it.
As a director, what does your process look like?
I read the play constantly, several times a week. It's constantly in my mind, I'm playing with ideas; and then I find my design team, and we talk about what they think they can do with it. I can say what I want from a design, but I can't actually design it. Then I get my cast. For me, I can't really think about the play as a whole without knowing who the actors are. The characters are two-dimensional on the page. Once they have a body, and a voice, then they take on real life. Knowing my cast helps me think about the play. Then I repeat that process, going back to the script, having new ideas and being told yes or no. I direct the play in my head and then in the rehearsal room.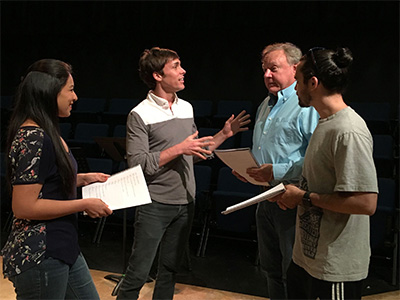 What are some shows you've seen in Houston that you've really enjoyed?
One thing The Alley has done that I really love, is that I love seeing us bring in companies like Kneehigh (for Tristan and Yseult in 2015) and The National Theatre of Scotland, which just did Let the Right One In. I'm so interested in all the different ways we can tell a story, and all the different art forms that can be unified to express the inexpressible. I thought Stupid Fucking Bird at Stages, directed by Kenn McLaughlin, was a wonderful play. It was so well-acted, well-designed, well-directed, and a really interesting script. Now that I know Catastrophic Theatre's Tamarie Cooper better, Marie and Bruce was a really fascinating opportunity to see a comedy queen do such a dramatic turn. I thought True West at  4th Wall was really well-executed. And the first show I saw in Houston, Ubu Roi at Classical Theatre, was over-the-top, and I respond well to over-the-top.
—ZACHARY DOSS