Spencer Evans, Happy Sunday (Heritage, Mercy, Gladys), 2018, oil on canvas, 36 x 36 inches.
Courtesy Conduit Gallery, Dallas, TX.
---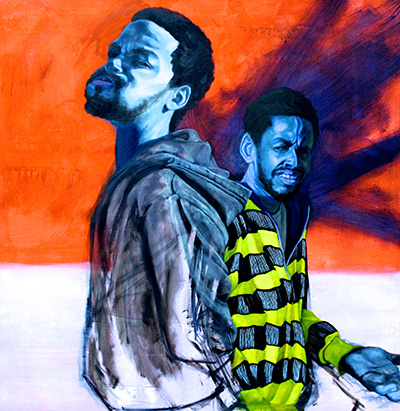 In February 2007, a group of 13 Dallas galleries came together to form Contemporary Art Dealers of Dallas, or CADD, with the goal of promoting the advancement of contemporary art in the Dallas cultural community. They would hold monthly meetings to address issues that arose in the community or brainstorm ways to get the community at-large more involved in the Dallas art scene.
"CADD galleries have a lot of interaction with regional emerging artists and want to support them," Cohn Drennan said in an interview. Drennan, who runs the DFW gallery Cohn Drennan Contemporary, is a member of the organization and coordinator of the CADD FUNd. "The feedback from these artists was that even though they felt Dallas was a great place to live and produce work, financial backing wasn't as available as other places."
Drennan remembers the subject recurring in CADD's monthly meetings. Members wanted to support artists in the area and spent several months discussing what they wanted to compared to what they were able to do. Some of these members brought forth information about crowdsourcing events: Feast in Brooklyn, NY, or InCUBATE in Chicago, IL. "[CADD Members] thought there might some sort of adaptation we could develop and move forward with utilizing local partners and supporters," Drennan recalled.
CADD FUNd, which the group describes as a "fun, fast-paced evening of sharing innovative ideas about potential artistic projects," was born from these brainstorming sessions. The community joins in the festivities through paid tickets, the proceeds of which go towards the fund itself as well as ensuring that applicants don't need to pay an entry fee—a hurdle for both artists and the organizations who want to support them.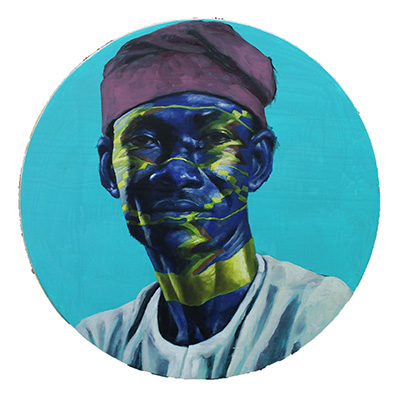 Current or former B.A, B.F.A., M.A. or M.F.A. graduates or candidates from institutions within 100 miles of Dallas apply with a project they want to pursue in the community; jurors then choose six finalists. For the 2018 rendition of the CADD FUNd, jurors included Amy Lewis Hofland, Director of the Crow Collection of Asian Art, Maggie Adler, Associate Curator of the Amon Carter Museum of American Art, and Phillip Collins, Curator, Scholar, and former Chief Curator at the African American Museum in Dallas. At the event itself, the six finalists present their proposals to the audience, who then has the opportunity to ask questions and vote for the project they want to see realized. The winner receives the funds raised that night, which ranges anywhere from $2500 to $7500.
"This prize allowed for me to travel to Nigeria and stay long enough to visit five states, the palaces of two Kings, connect with students and professors from four universities, participate in a conference and symposium, as well as conduct various discussions and interviews with locals, students, professors, and public influencers," said Spencer Evans, who was awarded the CADD FUNd in 2017. Evans, originally from Houston, investigates through his artistic practice the similarities and differences between Black American and Nigerian identities as well as the social contexts in which they develop.
Evans added, "This research was inspired by the realization that my identity as a Black American, regardless of the action or position I take, is ultimately defined within social context that was never meant to foster a healthy development for those who look like me." He had been posing questions about identity and social approachability to Black students and professionals in the U.S. and, being of Nigerian descent, wanted to pose those same questions to similar people in Nigeria.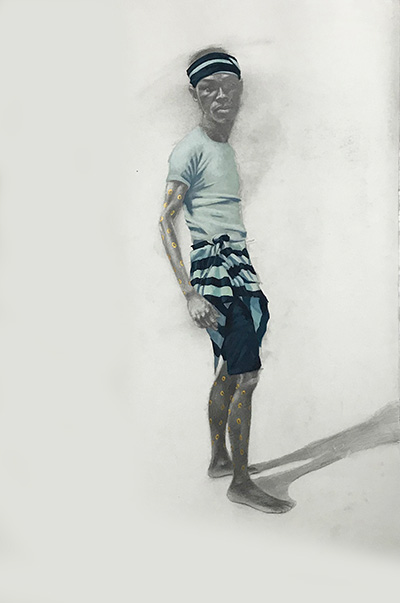 Evans will present some of his most recent work, which builds from and reflects his research, at Conduit Gallery in his first solo exhibition I Am Because We Are on view through July 14. Through his paintings, he invites his audience to witness conversations between Black Americans and Nigerians as he portrays the similarities and differences he found. "I intend to help the audience make connections by placing representatives from both groups next to each other and allowing the viewer to make an assessment," Evans stated. "If the viewer sees more than just the similarities in physical characteristics, the work has reached its first level of success."
Speaking about his research, Evans stated that he believed wholeheartedly that his trip to Africa would show him a world and way of life vastly different from his own. "I thought that I would learn new things and become a completely different person who would return and teach anyone who would listen that we have been 'doing it all wrong' since our ancestors were brought to the U.S.," he said, "I was wrong." Thanks to the CADD FUNd, he was able to shed many of the notions he held and truly grow his research and work as an artist.
Direct funding is consistently an issue for artists across the country. Opportunities—whether residencies, grants, or work—arise in different areas as a means to support artists and their projects, but the organizations that fund these opportunities can only do so much. By adapting observed models, CADD has found a balance in the manner in which they elicit and distribute the funds. The community has a say in where their money goes, and what better way to have them invested?
—MICHAEL McFADDEN