As the head of Austin's Texas Performing Arts, Bob Bursey plays a leading role in the state's cultural scene. But he makes no bones about one thing.

"I have no artistic talent whatsoever," he says almost jovially. Bursey's path to the arts presenter—which this season brings cellist Yo-Yo Ma, comedian Trevor Noah, the Alvin Ailey American Dance Company and a host of others to the University of Texas at Austin—began behind the scenes. Literally so, in his hometown in southwestern Virginia.
"I had the opportunity when I was high-school age to work backstage at our local theater, and I was just fascinated with the way that opened up the world," Bursey recalls. "I was introduced to artists and the way they were expressing feelings and telling stories. That was completely new to me, and I just fell in love with all the possibilities of what could happen on a stage."
As a corollary to his job as Texas Performing Arts' executive and artistic director, Bursey teaches UT students about the production and administrative sides of the arts business. But when he was young, colleges didn't touch on such things. Bursey had to move to New York and learn on the job— "being a technician doing lighting and sound, and … helping get performances up on their feet."

Bursey shepherded the Pina Bausch's Tanztheater Wuppertal and Bill T. Jones/Arnie Zane dance companies from theater to theater in the United States and abroad. Before coming to Austin in 2019, he managed the Fisher Center for the Performing Arts at New York State's Bard College—home of prestigious summer festivals spotlighting theater, dance and rarely performed operas and classical works. At Bard, he helped produce a reimagining of
Oklahoma!
that made it to Broadway and won a Tony Award for best revival.
That multifarious experience "allows me to work with all the different parts of an organization," Bursey says. "You know, these large nonprofits are very complicated. We're involved in ticketing, and we have to be able to work with artists to implement their vision, and there's a huge customer-service component. The finances have to be mastered. We often have physical infrastructure we have to take care of in our buildings. And we have to be expert fundraisers."
Texas Performing Arts, he notes, recently became the United States' largest campus-based arts presenter, as gauged by factors including its $25 million annual budget. He says UT, with "52,000 brilliant students," is "a great environment to be in and to program for."
"It gives us access to the artists, audiences and arts leaders of the future," Bursey says. "We're creating, often, the first opportunity for a student to experience live theater or to be at a live concert, or to see their culture reflected onstage." Then there's the off-campus audience: "Folks in Austin are very adventurous," he adds. "So we look for things that are new or experimental, projects where artists from different disciplines are working together, or projects that have a strong technological component."
Bursey points to FOOD, a show created by theater artist and clown Geoff Sobelle (Jan. 31-Feb. 3). It centers on an actual white-tablecoth meal that Sobelle serves up to about 30 people.
"It's an immersive dinner party that draws on magic, technology and old-fashioned stagecraft and acting to put together a unique experience," Bursey says. "It was one of the big hits at the Edinburgh International Festival this year. … That's a piece that is fresh and on the cutting edge."
Texas Performing Arts will present FOOD in tandem with Austin's Fusebox Festival, which celebrates its 20th anniversary next year. "I've been an admirer of Fusebox since before I came to Austin," Bursey says.
"We have a shared set of values, (including) a really broad taste for live experiences," he explains. "So it made a lot of sense for us to work with them to … give them additional resources to bring in even the biggest projects to our community. FOOD is a good example of that. It's a very complex work, because of the technological component and the staging. That's something we were able to do together."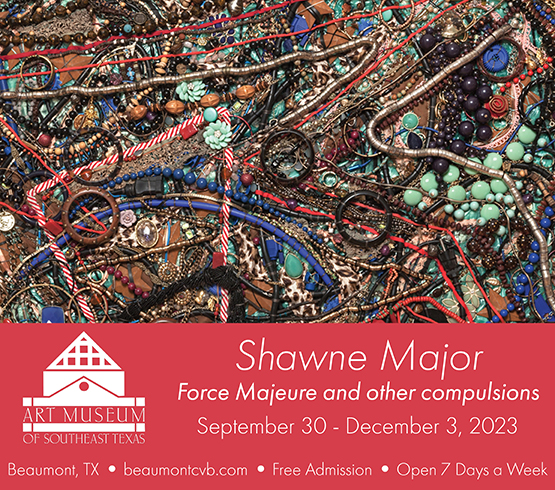 Bursey's group will team up with Fusebox and The Contemporary Austin to bring
Tremble Staves
, a site-specific multimedia performance billed as a "wordless water opera," to Austin's Laguna Gloria (Oct. 13). "Especially for a university-based organization," Bursey says, "we really need to work with our local artists and our partner arts organizations to strengthen our local arts ecosystem." He expands that view to embrace acclaimed performers from beyond the city.
"Compared to Dallas and Houston, where there are long-established arts organizations that work at a very high level, Austin is ascendant, I would say. There are artists who haven't been to Austin before, or haven't been in a long time, and we want to make this a regular destination for them."
Cellist Ma hasn't played in Austin since 2011, and "that's too long for someone of his stature," Bursey says. So Texas Performing Arts will bring him back (March 7). It will also host the long-absent Ailey company (March 2-3).
The programming goes down other roads, too. Broadway in Austin, a branch of Texas Performing Arts, will salute a trailblazing rock 'n' roll performer with Tina: The Tina Turner Musical (Jan. 9-14). Comedian and cultural commentator Noah will return to Austin for a run that's already sold out (Jan. 24-28).

And Bursey is looking to future seasons. His group and UT's Butler School of Music recently hosted a New York creative team that workshopped parts of a musical, with UT students trying out scenes that are on the drawing board. Bursey points proudly to a work Texas Performing Arts helped spawn 
At War with Ourselves: 400 Years of You.
Premiered in Austin in 2021, it's an evening-length blend of music and narration that composer Michael Abels and poet Nikky Finney created for the Kronos Quartet. The piece takes the African experience in America as its springboard, and Bursey says it's "absolutely beautiful."
"New work development … and helping artists achieve their mission is near and dear to my heart," Bursey says. "It's something a lot of presenting organizations don't get involved in, because it can be difficult and messy. We've actually leaned into that, because it's part of the research mission of the university. And Austin is a place where things get made."
—STEVEN BROWN