EDITOR'S NOTE:
We were deeply saddened to learn of the death of Dallas choreographer Bruce Wood on May 28, 2014, just as we were going to press with this feature story on his June show Touch, which will go on as scheduled on June 12-13 at Dallas City Performance Hall. Wood was a shining star of the Texas contemporary dance world, bringing a rigor, finesse and polish to everything he did. Our thoughts go out to his family and the Dallas dance community.
-Nancy Wozny
---
IMAGE ABOVE: Bruce Wood.  Photo by Brian Guilliaux.
---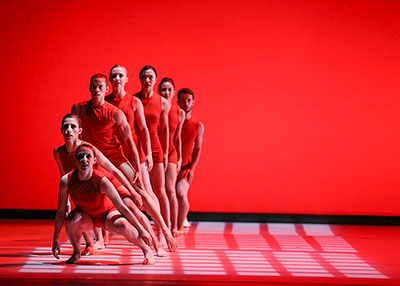 In an age of spectacle, Bruce Wood makes dances on a human scale. It's right there in the title of his latest work, Touch, premiering in June at Dallas City Performance Hall. Touching is a cornerstone of Wood's choreographic signature. His dancers often caress one another or touch their own heads, faces and feet as they enact the struggles and comedy of the human condition.
"There are probably 20 things I physically like to do, and I'm always trying to come up with new ways to do those same things you've seen six million times," Wood, 53, says between sips of iced tea at a North Dallas Starbucks.
He developed this approach in Fort Worth, his hometown, in the 1990s, when the Bruce Wood Dance Company began a decade-long run at Bass Performance Hall, went on three national tours and became the best contemporary dance troupe North Texas had ever seen. The group went belly-up in 2007, when Wood lost his major funding source. Suddenly, the man who had trained under George Balanchine at the School of American Ballet and then put Texas culture on the dance map with such state-centric pieces as Lovett! and Cowboy Songs was gone.
Two years later, Wood crept back onto the scene with a small commissioned piece for Texas Dance Theatre, a fledgling Fort Worth group that has since folded. He made a second work for TDT in 2010 and that same year created My Life on the Edge So Far for Nycole Ray of Dallas Black Dance Theatre. The startling solo opens with Ray seated next to a table covered in white powder. Then all hell breaks loose.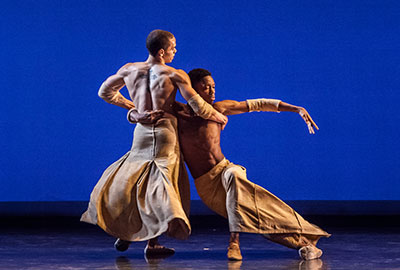 The same thing was about to happen to Wood's career, which seemed to have ended after 15 years of dancing with New York City Ballet, San Francisco Ballet, Les Ballets Jazz des Montreal and the Lar Lubovitch Dance Company, and a decade of choreographing. Dallas arts patron Gayle Halperin, herself a former professional dancer and dance professor, approached him about forming a new company. Halperin was willing to put up her own money and canvas other dance supporters. As chairman of its board, she has become the troupe's chief advocate and administrator.
"When the Bruce Wood Dance Company was going strong, there was a buzz and there was a synergy," Halperin says over Sunday brunch. "When it folded, it left a vacuum. And since Bruce has been back, that man has invigorated the field again."
Named to reflect the fact that the choreographer was dipping in a toe and not making a long-term commitment, the Bruce Wood Dance Project debuted on June 10, 2011, at the 475-seat Montgomery Arts Theater at Booker T. Washington High School for the Performing and Visual Arts—a long way from Bass Hall.
The program included two new pieces: the humorous Happy Feet, vaudevillian shtick set to 1920s jazz and performed live by the band Ginny Mac, and the poignant Our Last Lost Chance, four souls floating in limbo to spare, ambient music by Icelandic composer Olafur Arnalds. Wood also began reviving classics he had choreographed for his first company, starting with  Bolero (2001), which looks like a kinky scene backstage at a Bob Fosse musical.
The pickup company included a wide variety of talent, from Booker T. Washington dance teacher Jennifer Mabus to Southern Methodist University students Albert Drake and Harry Feril. Now graduated, the smooth and speedy Drake and tank-like yet graceful Feril, along with Bruce Wood Dance Company veteran Kimi Nikaidoh, a classically beautiful mover, have become the backbone of the Dance Project.
Turnover has been an issue, but the group has nonetheless thrived in annual June shows featuring compelling new Wood works and revivals. In 2012, he took on an associate choreographer, Joshua L. Peugh, an SMU graduate who had been dancing in South Korea. Peugh's style complemented Wood's, and his humorous Slump was so well received that the company took it to Korea. Peugh soon left to start a North Texas branch of his Korean group, Dark Circles Contemporary Dance.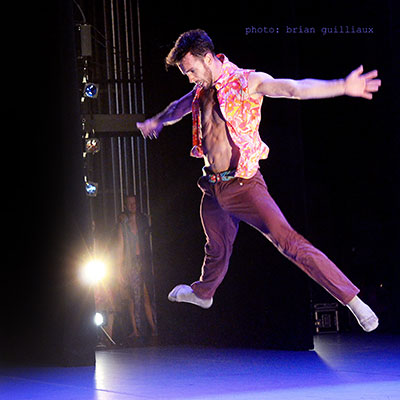 For its June 2013 shows, dubbed "Red +2," the Dance Project moved its act to City Performance Hall, a 750-seat venue across the street from Booker T. Washington in the swelling Dallas Arts District. Wood revived his so-called 9-11 piece, Red—one of the more athletic works in his oeuvre—and the jazzy, George Gershwin-fueled Rhapsody in Blue, while premiering a rocking new piece, White Rabbit, to commemorate the 50th anniversary of the Kennedy assassination.
Those performances were preceded in March 2013 by Wood's biggest triumph to date, a groundbreaking multimedia dance for men called My Brother's Keeper. With a cast ranging in age from 18 to 78, Wood essayed relationships between fathers and sons and between brothers, visualizing the resolution of deep-seated differences. The idea actually started without that familial baggage; Wood simply wanted to solve the physical riddle of how to partner men. "I get older men coming up to me all the time who saw it. They say, 'Dude, that still haunts me.' I say, 'Sorry it haunts you but that's awesome,'" Wood offers with a laugh.
Between Dance Project shows, Wood has been commissioned to create new pieces for benefits and other causes, sometimes using them as an opportunity to begin building longer works. At the December 2011 AIDS benefit "A Gathering," he premiered Blue, a trio for Drake, Feril and Dallas Blagg that was the starting point for My Brother's Keeper.
Wood's return has sparked excitement in the North Texas dance community. Whether directly attributable to him or not, new troupes have been popping up all over the region. An audition in April for seven new company members drew nearly 100 applicants, including some of the most familiar faces on the scene. At the same time, the Dance Project has increased its patron base five-fold, to between 150 and 200 donors, according to Halperin. A Broadway-style music-and-dance revue, "Mistletoe Magic," raised about $50,000 last December, and it will be back for the holidays. The company is operating on a modest $400,000 budget. In addition to the June and December shows, a program is scheduled for September when Wood plans to premiere his version of Appalachian Spring to live accompaniment from the Dallas Chamber Symphony.
Yet despite its success and all the accolades, for Wood and his supporters the Dance Project hasn't quite arrived. A year ago, Halperin told me that to last the company had to get to the point where the dancers were under contract rather than just being paid by the hour. "For us to be successful, to do the kind of work that Bruce wants to do, you have to rehearse every day. You can't rehearse willy-nilly," Halperin explains. Wood says, "I'm really good at making dancers better. But I have to have them for a period of time."
To that end, for the first time, company members are under contract this year—albeit for relatively short periods of seven, nine and six weeks—at $20 an hour for at least 20 hours a week. Rehearsals are taking place at the Dallas Opera studios near Fair Park, but Halperin is hunting for a building to buy. "If I don't get a building, the dream won't happen," she says.
The next step after a permanent home is touring, which requires a long lead-time. Wood and Halperin plan to attend the Association of Performing Arts Presenters conference in January to gauge possibilities for 2016-17. "It's a process," Halperin says of the Dance Project's growth.
"The only thing that makes it worth it is the work—and I'm not really qualified to do anything else," Wood says with a chuckle. "I'm doing the thing that I know how to do well, and I know that it matters, even if it's just to one person or the dancers in the room. You can't do better than that."
—MANUEL MENDOZA