It will come as no surprise to anyone who knows her that Danielle Georgiou—who is perhaps the most eclectic choreographer in the DFW dance space—is already ramping up for a packed summer and fall season. This summer she is serving as the choreographer for Dallas Theater Center's production of Working: A Musical, which will premiere at Strauss Square in early July. This fall she will also direct three productions that will appear on stages around North Texas.

Georgiou, of course, was nearly as prolific during the pandemic as she will be this fall. In fact, on the day the metroplex began to shut down, she was set to produce a show. With the final tech rehearsal on March 12, 2020, the faculty dance concert at Dallas College, Eastfield Campus (formerly Eastfield College), where Georgiou is a professor of dance, ended up becoming the first live-streamed dance event in DFW one day later.
Georgiou laughs, "I had never used Instagram Live or Facebook Live at that point. I thought, 'We'll set our phones up and hope for the best!' And so many people watched because they could from their homes! We got all this feedback telling us to do more of this!"
Only a handful of weeks later, Georgiou's company Danielle Georgiou Dance Group (DGDG) made another decision that other companies would later adopt: the company decided to quarantine for two weeks and then live together for a third week while producing the company's first film The Savage Seconds.
"It went very well for us," reports Georgiou. This success set the stage for the rest of Georgiou's pandemic-era work, which included a telethon-style collaboration with Theatre Three for the second year of The Bippy Boppy Boo Show, alongside additional films.

­­­
In her first experience back on stage for a live audience, Georgiou describes being both terrified and overjoyed. Still, despite being happy to return to some sense of normalcy on stage, Georgiou says, "I don't want to leave behind everything that I have learned." For example, she explains, "[I am] trying to create a new understanding in the room of people's priorities and lives…In this year and a half off from everything, I've reset my priorities, giving myself the time that I need and releasing myself from people's expectations about what I should be doing. As a director I want to bring that forward in these new works."
This summer and fall Georgiou will have ample opportunity to put this into practice.
The Dallas Theater Center premiere of Working: A Musical will take place outdoors on July 7-18 at Strauss Square. Unlike the original play's large cast, this version features only seven individuals. In her role as choreographer, working with the small cast for an outdoor venue has been an exciting challenge for Georgiou. Not only are the seven cast members working twice as hard as they might if there were a larger cast, but Georgiou, who describes her choreographic "safe space" as "intricate gestures with the hands and contortions of the face," is using this production has a chance to explore expansive, patterned movement, the kind that will likely be visible to audience members sitting farther away from the outdoor stage than would be typical inside a theater.
Working is also important for Georgiou because of its timeliness. The story explores the lives of everyday, working Americans through their own words. In this version director Tiana Kaye Blair interviewed Dallas essential workers, and the interviews will be projected during the show, in effect introducing local workers as virtual cast members.
This fall, Undermain Theatre, where Georgiou is the Associate Artistic Director, will present the newest work by the DGDG, Stronger Than Arms, a new adaptation of the classic Greek play Seven Against Thebes by Danielle Georgiou and DGDG Producer Justin Locklear.
Stronger Than Arms
is a true labor of love. "I think the first time I saw [
Seven Against Thebes
] I was sixteen," reports Georgiou. "I was in this ancient amphitheater in Cyprus, watching this ancient Greek play. I think it was in that moment too—subconsciously, unconsciously—that I would be doing dance and theater for the rest of my life when I watched that show…The play has never left me."
For years after that experience, Georgiou carried the CD soundtrack of the production with her, listening to the music on repeat and asking friends and fellow artists to listen as well. Finally, this year, DGDG, in collaboration with Undermain Theatre, will bring an adaptation of the work to the stage.
There is a specific reason that Georgiou chose to present an adaptation of the original play. The third in the Oedipus trilogy, Seven Against Thebes is performed noticeably less often than Oedipus and Antigone. "The very end of the play," explains Georgiou, "is the first time we hear a woman speak in the show. The words that [she says] at the end are so incredibly relevant and pivotal to the point that if all the soldiers and the brothers and the men and Oedipus had just listened to the women that were giving them advice, none of this would have happened. The war could have been stopped if [they] had just paid attention."
With this in mind, Georgiou decided to create an adaptation that explored the play from the perspective of the women of Thebes.
At the end of the play, describes Georgiou, "Antigone wants to take the body of her brother and bury it, to give it a proper burial, and in that speech that she gives, it's so moving to hear how powerful it is for a woman say, 'I will take care of this. I will fix all of the pain and the problems—but if only you had listened." Stronger Than Arms, the DGDG adaptation that will premiere this fall, is an exercise in listening to the women who appear in this ancient Greek trilogy.
Along with Stronger Than Arms, DGDG will return to the Theatre Three stage for the third time for The Bippy Bobby Boo Show: Again Again!, for a performance featuring "dad jokes," high jinks, and hilarity, all signatures of Georgiou's work and favored style. The Halloween production, with its cast of dancing ghosts, will reprise DGDG producer Justin Locklear's role as Bippy Boppy.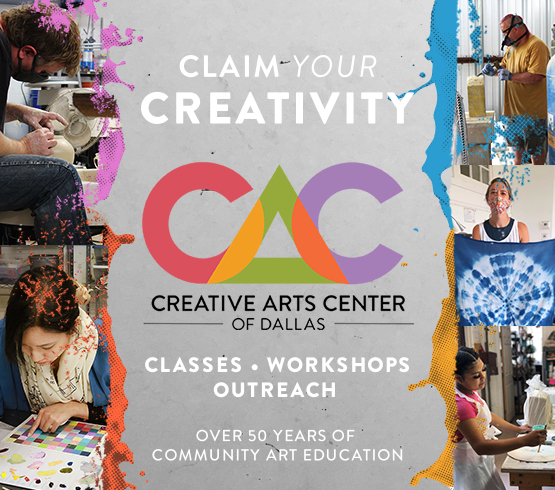 In December Georgiou will direct
Scrooge in Rouge
for Fort Worth's Stage West. Not only is this the first time she will be directing a show at Stage West, but it is her first time as the sole director of a play that she did not write. "That is a really big deal to me—that I'm not a choreographer on a show but I am the choreographer director!" says Georgiou enthusiastically. "I'm really excited."
The show is an ideal match for Georgiou's theatrical sensibilities. "It's kind of a show that is tailor-made for me" she says. When Stage West leadership told her that the play has a lot of "naughty bits" along with bizarre and ridiculous songs, she thought, "That's me. I'm here for you."
With summer and fall months full of new experiences and choreographic work, Georgiou is looking forward to ending the year with this production. "I'm really excited to challenge myself to do a script that is not my own and to see how it goes!"
—LINDSAY ALISSA KING