IMAGES:  Denise Fennell in the Stages Repertory Theatre production of The Search for Signs of Intelligent Life in the Universe. Photos by Bruce Bennett.
---
The Search for Signs of Intelligent Life in the Universe at Stages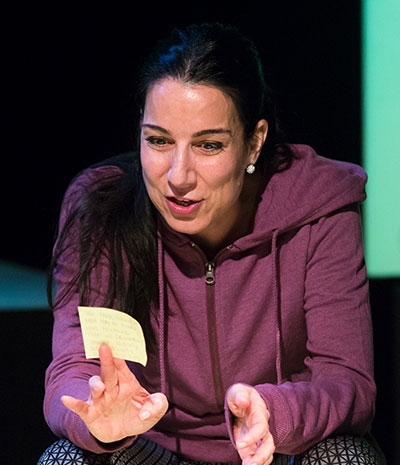 As a reader and viewer I tend to staunchly believe that a person cannot psychoanalyze an artist merely by looking at his or her work. Yet, after seeing The Search for Signs of Intelligent Life in the Universe, for the first time at Stages Repertory Theatre through Feb. 15, my first thought was: Wow someone, Jane Wagner specifically, must really love Lily Tomlin.
Though I'd certainly heard of the hit 1985 Broadway one-woman play, that earned Tomlin a Tony Award, I'd never managed to see a production. So at intermission after getting only a first-act taste of what the play gifts to and requires of an actress, I had to pull out my phone to look up playwright Wagner. When I read that after decades together she and Tomlin wed in 2013, I realized while the play might not give me any deep understanding of their real relationship, I'd still wager Wagner can get away with forgetting any anniversary or household chore with a quick: Hey, I wrote you Search for Signs of Intelligent Life.
I've seen many a one-woman show before, including several that ask that woman to play many parts, but The Search for Signs of Intelligent Life is on its own level. An emotional and physical marathon of a show, it could easily be a disaster if the wrong actress is making that run. In this production, director Kenn McLaughlin wisely chose Stages favorite, Denise Fennell, who is probably best known to Houston audiences as Sister in the Late Nite Catechism play and sequels. Fennell, with probable strong guidance from McLaughlin, is definitely up for the quick dives into multiple character depths she needs to do in order to bring the dozen or so roles to life.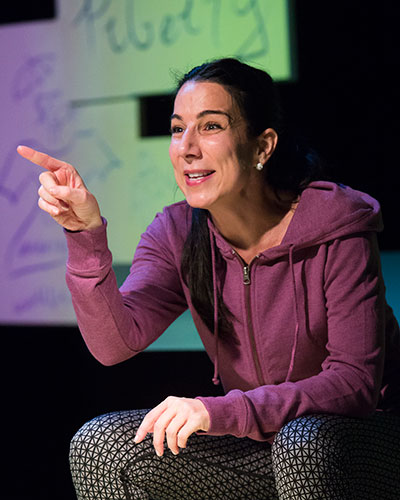 The beings searching for intelligent life are the space aliens friends of Trudy, the bag lady. These aliens, the only characters Fennell is not called upon to depict in the show, are intrigued by Trudy who goes into "trances" that seem to teleport her into the heads and lives of ordinary people around her: an unemployed office worker, a teen performance artist, a society woman waiting for hair cut repair, a man wondering about whatever happened to that sperm he donated to a lesbian couple. Along the way, Trudy discusses the nature of infinity, art, quantum physics and evolution. This is just the first act.
Fennell gets some good lighting and sound assistance from the Stages design team so that the audience may acclimatize quickly to these constant, almost chaotic, character jumps. Ironically, I had trouble settling into the more linear second act, where we meet and stick with divorced mother Lyn who takes us back and then forward through her life while reading from her journal. It's in this half of the play that we begin to see how the first act's inhabitants of Trudy's trances connect together.
My main problem with the production is that by the second hour my awe at Fennell's prowess had become fatigue. By the end, I was heading towards exhaustion and feeling like I had been mentally running along side her too long, cheering her on. However, I think this feeling of viewing over-exertion was caused by the play itself, not Stages' rendition of it.
While Search still intellectual intrigues decades after its conception, those 30 years have worn down the topical comedy of the play that in the 1980s was probably sharp. It's the comedy that should help lighten some of the scientific and philosophical quandaries of the play and help viewers keep up with Trudy and the horde of voices she relays. Yet much of the satire on 1970s politics and pop culture is probably going to whoosh—at orbiting alien space ship heights—over over the heads of audience members who didn't live through that period. If you get the EST and meditation tank jokes, the weight of Search's material will probably never feel heavy, but if you spend much of the second act wishing you could consult wikipedia, that exploration through the universe of the play might seem like a daunting search indeed.
—TARRA GAINES