Artists of Houston Ballet in Christopher Bruce's Ghost Dances.
Photo by Jack Mitchell.
---
The relationship between a dance company and a choreographer is a delicate thing. If nurtured correctly, it can blossom into years of artistic collaboration. This fall, Houston Ballet kicks off its 2015-2016 season at the Wortham Theater Center with performances highlighting works by choreographers with long-term, fundamental associations with the company.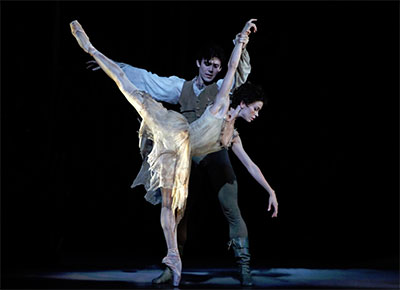 Manon (1974), running Sept. 10-20, is what Houston Ballet Artistic Director Stanton Welch calls the late Sir Kenneth MacMillan's "most famous full-length ballet." MacMillan, who served as artistic associate of the company from 1989 to 1992, added five ballets to Houston Ballet's repertoire over his tenure.
The onetime artistic director of London's Royal Ballet premiered his original work there; it tells the three-act story of the romantic adventures of a femme fatale and her one true love, the impoverished student Des Grieux, from Paris to New Orleans. Houston Ballet's version is accented with gorgeous sets and costumes by Peter Farmer, which transport audiences from the streets of the City of Love to the bayous of Louisiana.
"Principals really want to get to dance this ballet because the roles are so full and difficult. It's really hard to dance," said Welch, who performed the male lead during his stage career. With six pas de deux for the two leads, it's certainly not hard to imagine the ballet is "one of the most challenging things you can do."
Next up is the company's fall mixed-repertory program, running Sept. 24 to Oct. 4, with Ghost Dances, Tapestry and world premiere of Garrett Smith's Reveal.
Ghost Dances (1981), choreographed by Christopher Bruce, is back in Houston after 12 years. Bruce, appointed Houston Ballet's associate choreographer in 1989, is one of Britain's leading choreographers, and he calls Houston Ballet his "American artistic home." His work is often political, and Ghost Dances is no exception — it commemorates the frightening fate of "disappeared" people at the hands of dictatorial Latin American regimes. It's a piece Welch calls "one of [Bruce's] best works."
Three ghosts in tribal dress and skeletal makeup lead "the disappeared" from Purgatory to Heaven against the musical backdrop of South American folk songs, recorded by the Chilean folk ensemble, Inti-Illimani. The recently deceased wear they clothes they died in, such as suits and peasant dresses. Because Houston Ballet has 10 Bruce works in the repertoire, the dancers are well-versed in his style.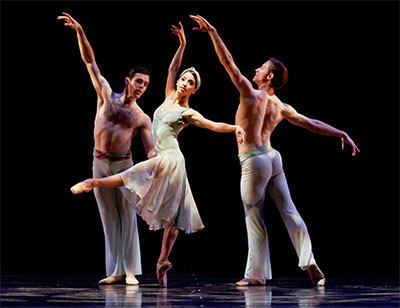 Welch's choreography is also represented on the program with 2012's Tapestry, a thrilling showcase of Houston Ballet's technical and artistic talent, set to Mozart's Violin Concerto No. 5.
"It's a dance piece about moving to music. The movement is very joyful and emotive. I tried to make the music feel very alive," said Welch.
With the dancers donning colorful unitards, leotards and skirts, the costuming is bright but simple — all the better to focus on the movement. Tapestry, which has not been reprised since its premiere, was created on many of the same dancers who will perform it this time around, leading Welch to note, "When you first make a ballet, you always feel like you're running out of time. But once you come back to it, you can re-examine it, and the dancers already know where the joys are and the difficulties are."
The final piece, Reveal, is a new work for eight men and four women by former Houston Ballet dancer Garrett Smith, set to Philip Glass' Double Concerto Pt. 3 and Tirol Concerto for Piano and Orchestra. Smith has a special history with Houston Ballet; he started as a student at the Houston Ballet Academy in 2006, then joined Houston Ballet II the following year before being accepted to the main company in 2009.
Nowadays, Smith's focus is on choreography, which he got his professional start in at Houston Ballet. "I took a year and a half leave of absence from Norwegian National Ballet to strictly focus on choreography," said Smith. "Getting this commission with Houston Ballet is extremely humbling and unexpected, but it couldn't have been more perfectly timed with my decision to focus on what I love doing the most."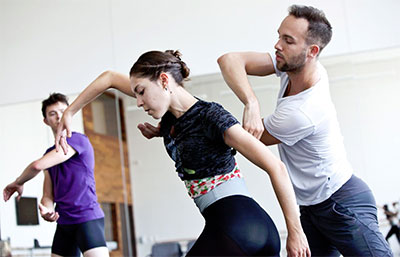 Reveal marks Smith's third piece for the company; he'll also create a work for New York City Ballet this fall, as a Choreographic Institute Fellowship choreographer.
Said Smith of his movement language, "I am a big fan of variations on accents. I am noticing more and more that my choreographic language has variations on accents such as hard, dry and staccato, or smooth and growing accents that are crucially musical. One way I usually describe this smooth accent to dancers I am working with is like a bullet being shot fast out of the trigger and then hitting water, traveling deep down and sort of slowing down but never really stopping or reaching its final destination until it is then linked with another movement."
"I thought his choreography was both something that was familiar and new at the same time," explained Welch. "He immediately had a sense of partnering. I was impressed by the maturity of the pas de deux work."
And that's what audiences can expect with Houston Ballet's fall season — the familiar and the new, at the same time.
—CLAIRE CHRISTINE SPERA