A Conversation with Installation Artist Jo Ann Fleischhauer and Composer Anthony Brandt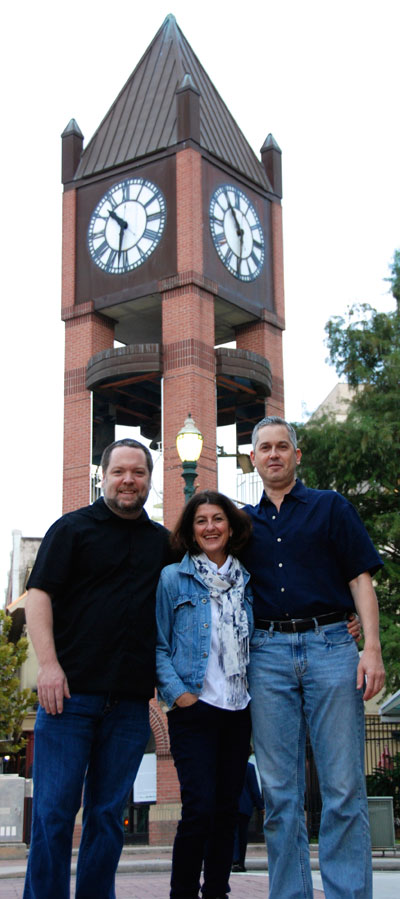 By now, downtown denizens may have noticed that the Clock Tower at Market Square looks and sounds completely different. Jo Ann Fleischhauer has transformed the historic landmark, known as the Louis and Annie Friedman Clock Tower, into a new installation called What Time Is It?, a project organized by Houston Arts Alliance as an extension of Alliance Gallery and Blaffer Art Museum. The project also received support from the Houston Downtown Management District.
During the daytime hours, an elegant white spiral staircase, flanked by mirrors that respond to the structure's architecture, draw the eye. But it's during the evening hours that the installation arrives at its full expression. Fleischhauer conceived the clock faces as constellations in the night sky. True to her research-based practice, she constructed each face with elements of calculations, historical notes, observations and photographs printed on mylar film. From Galileo to Carl Sagan, each has their own reference point. Because they are backlit by a changing panel of LED lights, the images appear to pierce through the clock face, as if time had a visual expression.
As the bell is an integral part of the Clock Tower, Fleischhauer wanted to incorporate sound into the installation. She turned to Rice associate professor of composition and theory and Musiqa artistic director Anthony Brandt and Rice University's electroacoustic specialist Chapman Welch to create C O'Clock, which tells the time by a progression of chords, one per hour, that rise and set like the sun. The computer improvisation, designed by Chapman, allows each performance to be unique.
What Time Is It? remains on view until March 29, 2014. Musiqa presents the opening of their season with Time Travel, a free public concert at Market Square on Nov. 8 at 7:30 pm. Students from Rice University's Shepherd School of Music and University of Houston's Moores School of Music will create original compositions for the next few months, which will be performed inside the Clock Tower.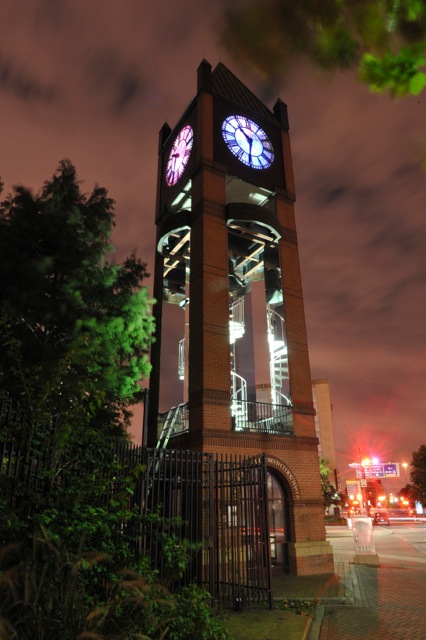 Fleischhauer and Brandt first met when I stuck the two of them in a room for a story on art and nano science. Fleischhauer's installation Leonardo Dialogo, an installation at the University of Texas Health Science Center at Houston, MD Anderson Cancer Center, South Campus Research Building was inspired by Nano Science, while Brandt created Nano Symphony for the 25th anniversary of the discovery of the Buckyball. It was obvious within minutes that these two artists had a lot to talk about.
Fleischhauer and Brandt visited with A + C editor in chief Nancy Wozny about their recent collaboration, What Time Is It?
Arts + Culture: I noticed immediately that you both had a certain ease in talking about science and its potential connection to art.
Jo Ann Fleischhauer: When I listened to Tony describing his Nano Symphony and how it was going to have all the movements performed within a six minute span of time, I thought it was genius. We are both fascinated by the science, the connections between art and science, but the poetry is always paramount.
Anthony Brandt: We first met when I had the privilege of touring Leonardo Dialogo inspired by nano technology. The office suite is an immersive experience in which the art translates abstract concepts into a visceral experience: you don't look at the art, you live inside it, marble, mirrors, hand-blown glass all combined to create an artistic rendering of scientific imagination.  In that and her other work, Jo uses her art to give ideas from other disciplines material form and does so in remarkable ways.
A + C: Jo Ann, you have worked with sound before, and I'm curious how you see it as part of your practice. How soon in the process did you know that you wanted sound to be a part of the installation? And how soon did you know that Tony was the right composer for the project?
JF: Most of my projects respond to architectural structures, and often historical structures that have an innate story to tell. Depending on the project, sometimes the sound is a layered element that I see as important an experience for the viewer as the visuals. This is the case with What Time is It?. As soon as I was invited to do the installation at the Clock Tower and I started to come up with ideas, I knew that I wanted to incorporate sound. After meeting him, and then seeing his TEDx Houston talk, I knew that I wanted to work with Tony.
A + C: Tony, what were your initial thoughts about the project? I'm curious if the Clock Tower was even on your radar?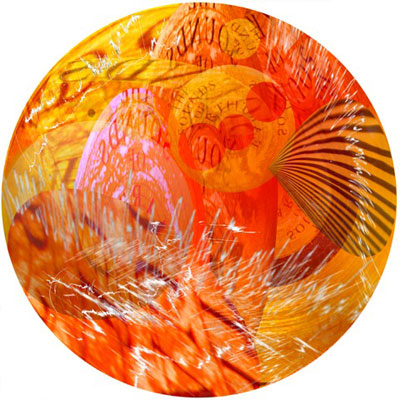 AB: One of the things I most love about collaboration is that you go together to places that you might never go alone. The Clock Tower was not on my radar, the first I'd heard of it was when Jo spoke to me about the project. The installation was unlike anything I'd ever done: it was music to take the place of the tolling of a bell; and it was going to live in a neighborhood for six months. Jo was very articulate about what she was envisioning: at the same time that clock towers were losing their role in civic life, the notion of time was changing in modern physics and psychology to something more elastic and less absolute. Relieved of its functional duties and aging into a more modern world, the Clock Tower would have a chance to reinvent itself.
A + C: I'd like to get more specific on the collaborative process. How close did you stay during the actual working process?
JF:  When Tony and I had our first discussions, I already had the ideas and directions of where I was going with the project.  Some of the key visual components were in place. I brought Tony a model that I had constructed.  I knew that I wanted sound, I knew that I wanted to incorporate the bell, and I knew that I wanted to re-purpose the clock tower as a performative space.  We started bouncing ideas off of each other. Tony would come up with an idea- we would get excited. The next time we would meet, he would say he had this great idea during the night.
AB: Jo shared her designs from the start: her drawings of the Clock Tower faces were jaw-droppingly beautiful and asked for something unique to complement them. Writing the music was a very interesting thought experiment. When writing a concert piece, I've got a pretty clear idea of the performance situation. This music was going to be played from sun-up until late at night, in all sorts of weather, in a neighborhood that is sometimes quiet and other times filled with working people and revelers. The music needed to be a considerate guest, capable of living in the background but also being interesting to hear. There was little precedent that we know of for what we were doing and no way to "rehearse" the merger of Jo's art and the music in advance. So conceiving of how it would all work involved a lot of fun back-and-forth. Jo was open to all options, very supportive and astute, clear about her goals but also flexible.
A + C:  Let's bring the co-composer Chapman Welch into the mix. From each of your perspectives, what did he add to the project?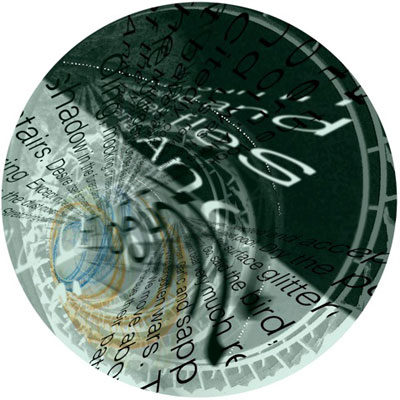 AB: Chapman is an outstanding composer and an expert on computer music.  Once he joined, we made every musical decision together. Using a program called Max/MSP, Chapman designed the computer software that enables the computer to improvise its part. When we had trouble gaining access to the Market Square bell to record it as a sound source for the piece, Chapman came up with the idea of using filtered street noise and spent a day in the square recording ambient sound which became the sonic material for our piece. One of the biggest challenges of composing computer music is that there are so few limits: there are passages that are unplayable for a violin; with enough time and effort, there's almost nothing that's unplayable for a computer.  As a result, there is an almost inexhaustible number of decisions. Under those circumstances, having two sets of ears is actually an advantage.  Nothing passed muster unless both Chapman and I signed off on it. For instance, working in the studio, we tested how much of the street noise to filter out. We eventually decided to filter it out completely because it made a stronger contrast with the surrounding environment. In the finished work, the street sounds are filtered into pure tones, completely disguising them: but they are uncharacteristic chords because they throb and pulse with the environmental sounds that created them. Step-by-step, we worked through each question like that.
JF: Chapman's idea was brilliant. I was sitting in the REM lab and they played me excerpts of the hourly chiming. The hourly tolling is like listening to a two-minute mini composition. When I listen, I lose track for a minute and feel like I'm in that "still point of the turning world." The other thing that is so brilliant about using the street recordings is that they are not constant tones. They pulse with the loudness or softness of what is happening on the street. So it's completely site-specific and related to the location of the Clock Tower, which adds a beautiful layer to the whole project.
A + C: The installation has been up for a few weeks now, have you visited and watched how people react to it?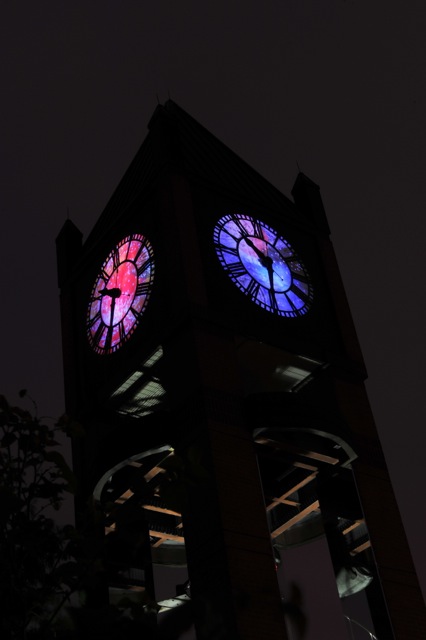 JF: I'm there almost every day, checking on the installation, making sure that everything is OK. People look up at the staircase, mirrors and clock faces and then when the "chiming" starts, you see people looking around wondering what is going on. I met two artist friends the other evening who live in a loft about a block away and I asked them if they had heard the chiming and they said, "we have heard it." We were wondering where the music was coming from!" It's beautifully melodic. The other day, I decided I wanted to live up there just so I could hear it chiming every before and after the hour (since it doesn't tell the time at the hour). When I sit on the stair, see the reflections, and I have this view of the city that no one else has. It's like sitting in a music box.
A + C: What has been the most satisfying aspect of your collaboration?
AB: Working with Jo and Chapman has been a joy from day one, and I feel very happy with where we arrived with the project: the structure and music go together as we had hoped. When the music tolls each hour, it feels like a good match to us–the music and the structure seem to be speaking with one voice. Embedding art in a community is one of the strongest ways to show its continued vitality and relevance. I love the idea that you don't have to seek out the art–it comes to you. Music doesn't often have a chance to do this over an extended time period, because it's so performance based, needs good acoustics and is vulnerable to weather. Every hour, Chapman and I get an email message that tells us that the computer has performed as scheduled: it's been running for several weeks now without a hitch. Imagining people in the square going about their lives with something we've made living there too is a very special experience.
JF: I like being part of every aspect of my projects. Whether it's working with scientists, musicians, or artisans, I love learning and being part of the process.  Working with Tony and Chapman has been awesome. I knew what I wanted to hear in the Clock Tower, I knew where I wanted the conceptual process to come from, but they took it to a place that I couldn't have gotten to with my "skill set". That's what so cool, music history is different than art history and our influences are different. But ultimately our sensibilities complemented each other to make something bigger than all of us as individuals. Plus, they were fun to work with, they are really nice guys. They know the circle of 5ths, I know masking tape.
---
Watch the video:
---
Listen to Anthony Brandt and Chapman Welch's C O'Clock:
---