Viswa Subbaraman in rehearsal for Fort Worth Opera's world premiere Voir Dire, April 23-May 6.
Photo courtesy of Fort Worth Opera.
---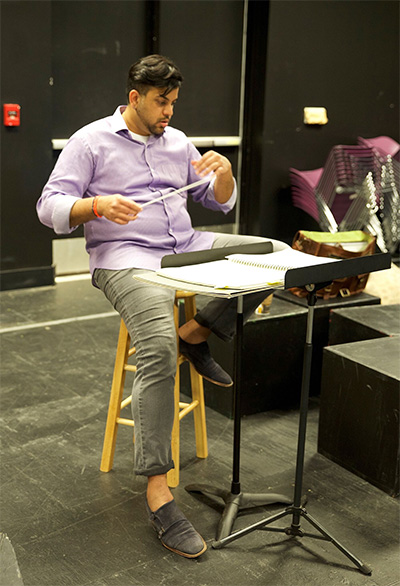 Freelance conductor and Big Spring,Texas native Viswa Subbaraman, most known in Houston as the mastermind behind the chamber opera troupe Opera Vista, returned to Houston just over a year ago.   In 2013, he left Houston to head up the Skylight Music Theater in Milwaukee where he produced and conducted a number of premieres and contemporary opera projects such as Philip Glass' Hydrogen Jukebox, the premiere of Somtow Sucharitkul's The Snow Dragon, and Thomas Adés' Powder Her Face just to name a few.
Now shifting into a new role as a freelance conductor, his musical world is brimming with such things as a project for Opera Philadelphia in collaboration with Daniel Bernard Roumain, Marc Bamuthi Joseph, and Bill T. Jones that will go the Apollo in New York City and the Hackney Empire in London. This month, Subbaraman conducts Fort Worth Opera's production of Voir Dire. He visited with Meghan Hendley-Lopez on his new projects and his return to the Lone Star State.
As a musician and a conductor, you have chosen to work with living composers and bringing new works to the stage. What drew you to modern composition?
I think it was a combination of things. My principal instrument was trombone, and one aspect of learning that instrument is that most of the interesting repertoire for the trombone is contemporary music. I think that made me grow up with no fear of new music. I also believe that we as conductors and performers have a responsibility towards keeping "classical" music a living art form. We must allow the composers and artists of our own time the opportunity to hold a mirror to our society in the same way that Mozart, Beethoven, and Debussy had that opportunity. I will say that I have a passion for conducting Beethoven, Brahms, Mozart, etc., and I think it's fascinating that the more I conduct new music, the more it allows me to approach Beethoven from a fresh perspective. The conductors I admire make every piece they conduct feel like you're hearing a premiere, and I think conducting premieres helps you find that freshness in everything. I think it's also helpful for our audiences to hear the music of the people they live next to.
In comparison to previous posts in non-profits and companies, what had your experience been like as a freelance conductor so far?
Both jobs have their positives and negatives. When you serve as an artistic director, you have much more impact on shaping the company's narrative and long-term direction. As a conductor, your sole focus is on the music. I think a few things sparked the shift towards freelance conducting. First, my mentor and biggest impact on my musicianship, Kurt Masur, passed away. I began to think about his legacy, what I learned from him as a musician and as someone whose impact on the music field as a conductor was immense. I realized that the reason I even came into the field in the first place was to make great earth shattering music. I wanted to renew my focus on that. I was also beginning to get offers to conduct that I had to reject because of my duties at the Skylight. It seemed like the right time to make the jump into freelance conducting. I also ended up signing with an up and coming agent whom I truly admire and who had a great understanding of the art I wanted to accomplish. The stars seemed to line up just right.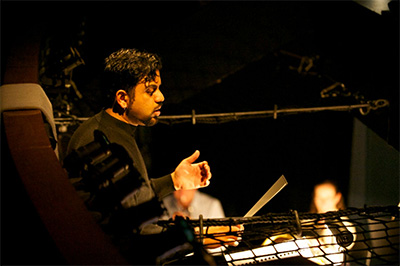 What are you working on now?
I've had a long relationship with Matthew Peterson's Voir Dire, which will premiere at Fort Worth Opera on April 23, 2017. The opera won our final Opera Vista completion, but soon after it won our competition, I was offered the artistic director position at the Skylight in Milwaukee, WI. Because of that, we never premiered the opera. Voir Dire went on to be selected for the Frontiers program at Fort Worth Opera. I was invited by their then General Director Darren K. Woods to conduct the premiere this April and May. It's exciting to be coming full circle with the piece. It's also nice to have a relatively short drive to a gig here in Texas. I think Matthew Peterson and Jason Zencka have written an amazing opera. It's a courtroom drama with some wonderfully comedic moments. As I said earlier, I believe it is important for us to give opportunities to living artists to talk about who we are as a people right now. Voir Dire is based on real court cases that happened in Wisconsin.
And you have a new piece with Opera Philadelphia.
Yes. The other major project I have coming up is a premiere with Opera Philadelphia. The spoken word artist Marc Bamuthi Joseph and the composer Daniel Bernard Roumain have collaborated to write We Shall Not Be Moved, an opera set in West Philadelphia. It has been a truly fun experience working with them and the director/choreographer Bill T. Jones. Bill is truly an American treasure, and learning about how he thinks of theater has been fascinating.
Do you think that as you move through your conducting career, you gravitate towards works that center around political and social issues?
I do think that is part of the modern era in the arts, and it is something that I have not shied away from in my career. I think we have a responsibility as artists. We entertain and amuse, sure, but I think we also must provoke and foster discussion. From one of the first operas I ever conducted, Soldier Songs, which used the stories of real veterans to talk about war, to The Snow Dragon, which dealt with child abuse, to the two projects I have coming up, I feel like I have been a part of many projects that started intense and useful discussions about who we are as people and how we want to shape the society we are a part of.
How have you seen Houston and Texas change since your Opera Vista Days? Were these changes some of the reasons you choose to move back?
I don't know that I've seen a huge change in the Houston arts scene. I definitely think there are some things that are truly better for the city. MATCH is increasing available theater space, which was a problem when I ran Opera Vista. I've always felt that Houston Grand Opera was my "home company", and what Patrick Summers and Perryn Leach have done to solidify and grow its funding base and audience as well as its artistic horizons (a Ring Cycle in Houston!) has been wonderful. I have always appreciated the gutsy nature of the Houston Arts scene. I came back because it feels the most like home for me in the US. It's a great place to live, and it has such a wide variety of cultural offerings that it is truly an international city.
Any bucket list items for conducting or working with a composer, possibly in Houston?
Hah! So many! I still want to conduct a Don Giovanni, Peter Grimes, All Rise, Beethoven Symphony no. 9 – so many! I would love to work on a Glass premiere. If Thomas Adés ever wanted to collaborate, I'd jump on that project. I have always felt that Wynton Marsalis should write an opera. I would conduct another Matthew Peterson premiere at the drop of a hat. There are seriously so many projects out there. Just not enough time!
-MEGHAN HENDLEY-LOPEZ