Graham Reynolds.
Photo by Scott David Gordon.
---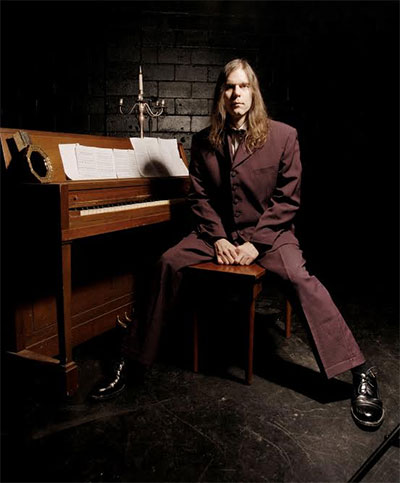 Even if you're unfamiliar with Graham Reynolds' name, you've probably heard his work — he is, after all, the quintessential modern-day composer, working across a diverse array of mediums that include dance, theater, television and film.
Ever seen Richard Linklater's Before Midnight (starring Ethan Hawke and Julie Delpy), Bernie (Jack Black) or A Scanner Darkly (Robert Downey, Jr.)? Reynolds scored music for all three. On a more local scale, how about site-specific choreographer Allison Orr's Trash Dance (or perhaps the "making-of" documentary, if you didn't see the performance live), or the Rude Mechs' The Method Gun? Reynolds has long-standing relationships with many Austin-based performance troupes and venues, including Forklift Danceworks, Ariel Dance Theater and the Salvage Vanguard, to name just a few.
In fact, Reynolds' music has been such an inspiration to Ballet Austin Artistic Director Stephen Mills that the soundtrack for the company's next production is exclusively made up of his music, fittingly titled The Graham Reynolds Project (running April 1-3 at Austin's Long Center).
Films, theaters and recording studios may be where you mostly find Reynolds and his music these days, but he got his start in a grittier world.
"When I first played in Austin I was playing at punk rock clubs like Emo's and the Blue Flamingo," Reynolds recalls. "I had no plans for film or theater scoring, or composing music for dance. But soon, people began asking me to create music for their works and I've been doing it ever since. I continue to perform, but it's in balance with commissions for concert music, film scores, theater scores, music for dance, and all sorts of cross-discipline collaborations."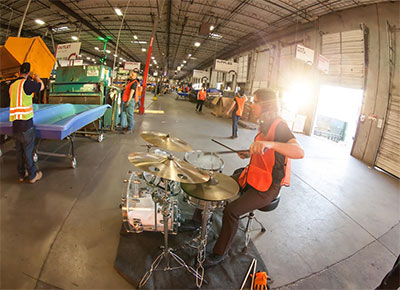 His love of music came early, deepening with the help of several teachers, from elementary through high school. "First, my mother was taking piano lessons. I thought my mom was cool and so I asked for lessons as well. Then in elementary school, the music teacher, Mr. Diamond, hand-built instruments for the whole class and led the Piano Club during homeroom. That club is where I learned to read chord symbols and started to make my own note choices when playing. Then in high school, my public-school teacher, Mr. Hickerson, and my piano instructor, Andras Farkas, each created frameworks to help me develop my particular music interests and skills. By that time I was completely sold on a life in music."
Fast forward to today, and he's arguably the most in-demand composer in Texas. A 2016 $95,000 Creative Capital award recipient, Reynolds has been keeping busy with big-name scoring projects, including for the HBO documentary The Diplomat, about Ambassador Richard Holbrooke, and the public-education-focused Starving the Beast, which makes its South by Southwest premiere in March. In February, he went to the Sundance Film Festival with PBS American Masterworks film Richard Linklater: Dream is Destiny.
But his most recent local collaboration is with Ballet Austin, the latest in a near decade-long relationship, one that began when Artistic Director Mills ran into Reynolds at a party.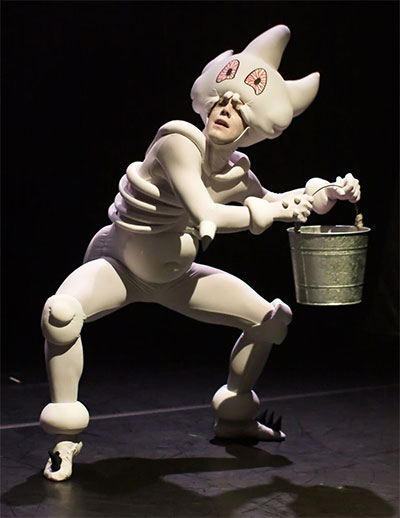 "I saw Graham at a party, and one thing led to another. I'd always liked Graham's work. At that time I hadn't had a lot of experience working with composers. But he's so collaborative. He's one of the most generous collaborators I've ever worked with."
The first Ballet Austin piece Reynolds was commissioned for was 2008's Cult of Color: Call to Color, a wonderfully weird ballet based on the art of Trenton Doyle Hancock. Just a year-and-a-half later, Bounce followed, a work now being reprised as part of April's The Graham Reynolds Project.
With the score for Cult of Color, Reynolds focused on the wacky characters in the story, developing musical voices — or "colorations," as Mills calls them — for each character.
For Bounce, explained Mills, "[Reynolds] said, 'Make a playlist for me of the artists you're most interested in, and what kind of instruments you like to listen to.' I was really into percussion and very rhythmic music at the time…That playlist could have included everything from Tricky to Miles Davis." This resulted in a jazzy score that included xylophone, one of Mills' favorite instruments at the time, to bring a loud, rambunctious, rhythmic feel to this work.
"Graham knows how to synthesize diverse styles," said Mills. "He gathers my influences and goes from there. You think, 'How will all these things come together?' But they do, in a very organic way…He's an amazing pianist, and his depth of knowledge of everything from classical music to today's new music is enormous."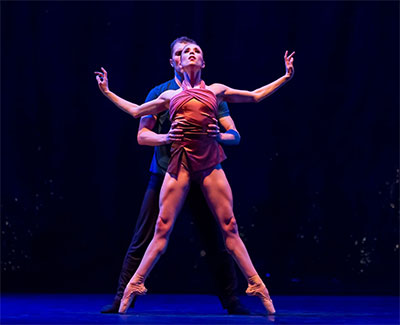 For Mills, Reynolds is always a breeze to work with because he doesn't consider his work too precious, and is open to a truly collaborative process when it comes to developing his compositions. "He's not protective of his work in that way," said Mills, noting Reynolds' open attitude probably comes from his background in composing for film. "He's there to support the dance in a musical way — just like in film, the score supports the story."
"I love working with Stephen," noted Reynolds. "He tries to get me to create the music of my dreams and I try to make music that he loves to create choreography for. Hopefully we both get our way."
In addition to Bounce, The Graham Reynolds Project bill includes a reprisal of Though the Earth Gives Way and a world premiere work, Once Belonging.
Though the Earth Gives Way's score uses synthesized violin and cello to give the instruments an electrified sound (think electric guitar). The stage curtain rises to reveal several gigantic, fluorescent-light boxes that the dancers enter and exit between. The bright lights, combined with the electric sound of Reynolds' score, creates an "irritating sensory experience," said Mills, appropriate for a piece about interrogation and a fall from grace.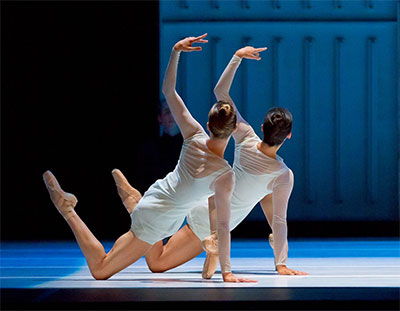 Once Belonging is Mills' brand-new choreography, set to a 22-minute-long composition written by Reynolds specifically for this piece.
"This score touches on something Graham's never done before. It's a 25-piece orchestra, very symphonic in nature," said Mills, adding, "Cello is the lead instrument. It's dark-sounding, and a little romantic, in the best sense of that word."
Between all the mediums and artists Reynolds has worked with, it's almost a shock to learn there's something he hasn't done. But perhaps that's what makes him Austin's — and Texas' — go-to composer: His willingness to always, always try something new.
— CLAIRE CHRISTINE SPERA