When New York native Jessica Green took the position of artistic director of Houston Cinema Arts Festival this year, she decided the best way to program the sprawling arts-based film festival for Houston was to let this enigma of a city become her muse.
"Houston is incredibly complicated, fascinating, one of the most important large cities—maybe on the road to becoming the most important city," she realized as she began her exploration, but that also led to an exciting paradox. "It's so fascinating that I can't get to the bottom of it, which is the sign of any great city. There's the knowable and the unknowable."

Early on Green knew that the Apollo 50th anniversary would have to be a component to this year's festival, especially as NASA and its CineSpace Film Fest within HCAF has become such an intrinsic part of programming. At the same time she was getting to know Houston, cowboy culture was having its latest of many resurgences. Coined by Dallas internet and pop culture archivist Bri Malandro, the "Yee Haw Agenda" defines this next wave of cultural icons, like Beyonce, reclaiming the Western aesthetic, bringing it back to its historical multicultural roots of the black and Latino cowboy and cowgirl and then remixing that iconography for the 21st century.
"Yee Haw is very internet-driven," explains Green. "It's about how young people are taking things, playing with them, taking what they want and leaving what they don't. So we have this permeable cowboy. We have the most famous cowboy right now, Lil Nas X, a gay, black kid from Atlanta."
From there along with a program tied securely to HCAF's dedication to arts-focused film—what she calls Evergreen Arts—and still using Houston as her inspiration, Green decided to make this the year of the cowboy and astronaut in all their permutations.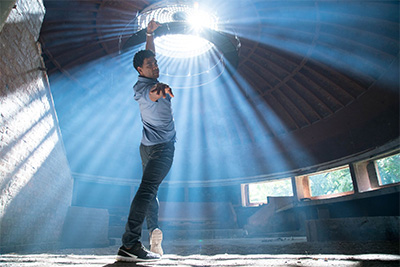 As always, HCAF will present many films that celebrate the arts in films, not just the art of film, and works "from multi-hyphenate makers." Many screenings will include panels with artists or even live performances, like a Q&A with Houston Ballet dancers at the Yuli screening, a docu-portrait of Cuban superstar dancer Carlos Acosta or a jazz tribute from Da Camera before the film Blue Note Records:  Beyond the Notes. 
Of course the five-day event will include films likely headed to award ceremonies early next year, but even these have a Texas tilt. Opening night, Nov. 14, brings Houston director Trey Shultz to the Museum of Fine Arts with his third film, Waves, which has only been seen, and acclaimed, at festivals. It opens in NYC and LA the next day. A Hidden Life, the latest from the brilliant, sometimes-Austinite, Terrence Malick, will also have its Houston debut.
But this year for the first time, every day of the festival brings space or cow-person representation. Perhaps the film that fully embodies Yee Haw and Evergreen Art ideals in one is Yellow Rose. The production was brought to Green's attention by the Asia Society, which will host the screening. Yellow Rose tells the story of a young Filipino-American woman "with the voice of an angel" who finds a musical home at Austin's honky-tonk landmark, the Broken Spoke. The screening of Black Rodeo, the 70s documentary that included Muhammad Ali riding a bull, will bring not only the director but real rodeo riders and Yee Haw Agenda chronicler Bri Malandro herself. Other films with variations on that western aesthetic include a Brazilian western-horror film Bacurau and a program of selected shorts titled Brokeback.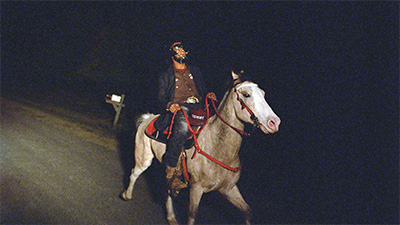 Along with the CineSpace Awards the Festival explores the past and future of human space exploration with films like For All Mankind, the 30th anniversary screening of what some believe is the definitive documentary about the Apollo mission. Creating a very different tone, and likely tears, will be Space Dogs, a documentary about Laika, the first living being sent into space. She also died there. The film recounts her story while also following the lives of wild Moscow dogs, and will likely bring home the complicated nature of exploration whether on Earth and beyond.
Green thinks that the one film that merges these two archetypal themes comes from Houston's own Solange Knowles in the film companion to her album When I Get Home. The renovated historic DeLuxe Theater will host a special free screening of this love video to her hometown with its many images of downtown architecture, Black cowboys and visions of life amid a science fiction space extravaganza.
When I Get Home hints at how Houston has merged the cowboy and astronaut to become two faces of the same complicated hero figure. Green takes one more small/giant step beyond this Space Cowboy idea and ideal. She explains how both these themes weave into the HCAF arts mission, as many of these films also grapple with questions of storytelling, myth making and how those acts help to create our reality.
"The moon landing story is as much the story of storytelling, of narrative, as it is the story of scientific advancement," Green describes. Adding in the cowboy she muses that both blur the lines between storytelling and reality. "What a lot of this comes down to is the question of what is the relationship between reality and representation."
And so we come full circle to the cowboy, astronaut, and artist, with Houston embracing it all.
—TARRA GAINES