Texas Artists Influence the Space, Energy, and Art of New Mexico
---
IMAGE ABOVE: Ryan Ruehlen, Adan De La Garza at Nox Contemporary in Salt Lake City, UT. Photo courtesy of the Flinching Eye Collective.
---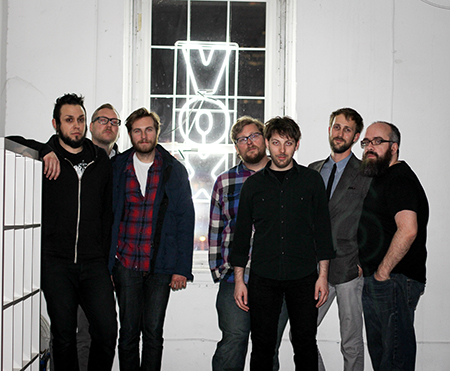 New Mexico's annual Currents International New Media Festival, June 13-29, now in its fifth year, takes place in Santa Fe. The festival is produced by Parallel Studios, a non-profit organization that has been operating in the video art world in one way or another since 2002. Currents inhabits numerous venues throughout Santa Fe, playing off the region's legendary histories, myths, villains and heroes, but it's the contemporary art that steals the show.
As in past years of Currents, several of the participating artists are from Texas. The 2014 line-up includes interdisciplinary media artist group Flinching Eye Collective, Alejandro Borsani, David Stout with Cory Metcalf, and Dean Terry alongside Patrick Murphy.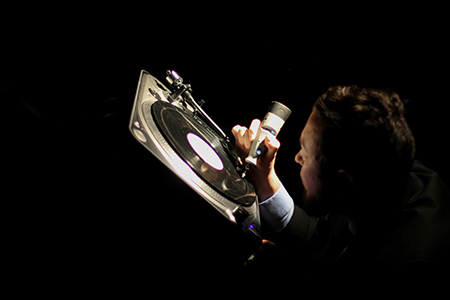 Flinching Eye Collective member Matthew Weedman describes their 2014 Currents multi- media performance as highly intellectual and very accessible, with humor, wonder and mystery. "We are absolutely not cool as individuals," he jokes. "Technology is cool and we are not. Put that together and it's interesting."
Flinching Eye Collective performs at El Museo Cultural de Santa Fe on the festival's opening night. The run of the show is 50 minutes, divided into two parts, performed "pop up" style throughout the exhibition space. "The space is very important for us. We exploit it and its specifics as much as we can," notes Weedman. He says Flinching Eye performs with the energy of a live music show, dealing with sound not as musicians but as visual artists: "Energy levels are already up at a festival and we are looking forward to being at a festival in New Mexico, surrounded by the empty highways and UFO skies. We get to invade that space."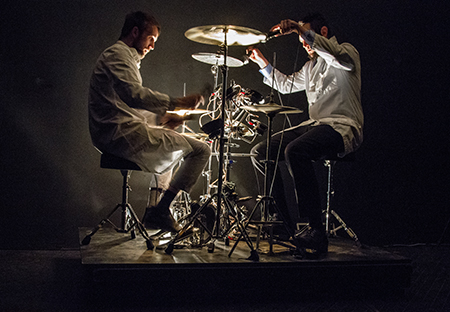 What exactly is Flinching Eye Collective going to perform? Curious folks can look online to get a feel for the atmospherics, but Weedman isn't giving away any details. "Nothing is improvised, but anything can happen," he says. "We are very disciplined artists, and the piece is highly structured, so we can anticipate what will happen," he says. "A leads to D, and B and C have to be in there somewhere." In essence, Flinching Eye searches for, exposes and shares the humanity in technology, whether that technology is new, archaic, or broken.
New technology abounds in Currents with Dean Terry and Patrick Murphy's project 222444, a test-run experiment about the context of sleeplessness, insomnia, and anxiety. It is performed live using a video chat system (like Google Hangouts) and will be available every day between 2:22 and 4:44 AM. Nine artists perform in front of their laptop cameras for three to four minutes each. In his direction to the performers, Terry encouraged nonlinearity and obliqueness, pointing to the state between sleep and wakefulness, when critical faculties are "offline." With the clarity and linearity and self-consciousness of daylight gone, 222444 exists in the opposite of a well-lit gallery opening, or a day at the office.
Terry, an artist looking to craft experiences that are unique to networked environments, explains, "It's theater for people who are often sleeplessly browsing the Internet, probably in bed, and likely agitated and exhausted at the same time. It is art for diminished states of consciousness."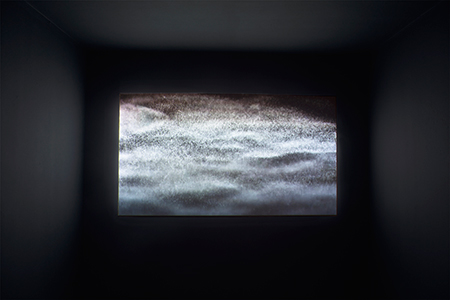 Technology offers many chances to explore altered states, even false ones, as seen in Denton-based Alenjandro Borsani's single channel video The Origin of Clouds, which uses The Cloud Chamber, or Camera Nebulosa, a machine that Borsani built in order to fake the weather phenomenon of clouds. The video documents the phenomenon of light as it becomes form and shape, and as it is used as an artistic medium.
David Stout and Cory Metcalf are more than familiar with using light in the creation of their dynamic works. Together, they return to Currents as NoiseFold to present Four Directions Home, a live cinema, sound and music performance that explores real-time audio-visual processes to re-imagine the traditions of landscape painting.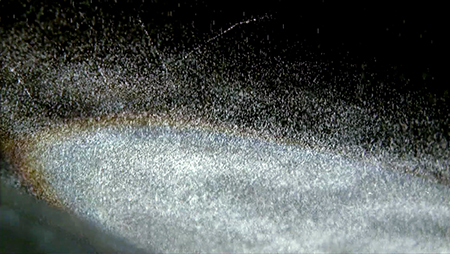 Fitting with the name, Currents organizers Frank Ragano and Mariannah Amster of Parallel Studios explain that, in large part, artists' engagement with recent hardware and software developments, as well as pressing issues and conversations around new media arts, determine the festival's direction.
For example, this year features the Oculus Rift, the latest in 3D Virtual Reality headsets, and a panel presented by the Art + Technology Initiative/The Creative Technology Network of Pittsburgh titled The Art of Technology: A New Era of Interactive Creativity and includes panelists from the Andy Warhol Museum, Carnegie Museum of Art, and the Pittsburgh Technology Council.
Currents has almost doubled the number of participating artists (from 25 to 40), and because festival admission is free, attendance for 2014 is expected to surpass its impressive count of 5,000 attendees last year. Add to that several expanded components such as more multimedia performances and interactive installations, along with the launch of New Mexico New Media, an ongoing effort to highlight media arts in the state each summer, and you can bet Texas artists will continue to be involved for years to come.
—NANCY ZASTUDIL