Update: The Dallas Opera has cancelled all remaining performances for the 2019/2020 Season.
---
Pulcinella is an odd duck of a ballet. With music by Stravinsky and sets and costumes by Picasso, it premiered in Paris in 1920, 100 years ago, in a production by the Ballets Russes. The idea came from the company's unpredictable impresario, Sergei Diaghilev. He wanted to adapt a 16th century Italian commedia dell'arte story of a Don Juan-like character who gets his comeuppance before the inevitable happy ending. Pulcinella is rarely produced because it is only 35 minutes long, mixes dancing and opera, and uses stock characters from an outdated theatrical form that many find violent, sexist and racist. Think Punch and Judy. Think The Three Stooges.
So when Dallas Opera approached Candace Evans about directing a new production, she knew she had to update the world of the title character, the women he conquers and cheats on, and the men who admire and emulate him to make them more contemporary and comprehensible to modern audiences. "As a director, I'm very adamant about respecting the original," Evans says. "I rarely do an update unless the entire thing fits. So I thought, 'How do we handle relationships now?' Social media. Twitter. Instagram. Dating apps. Bingo."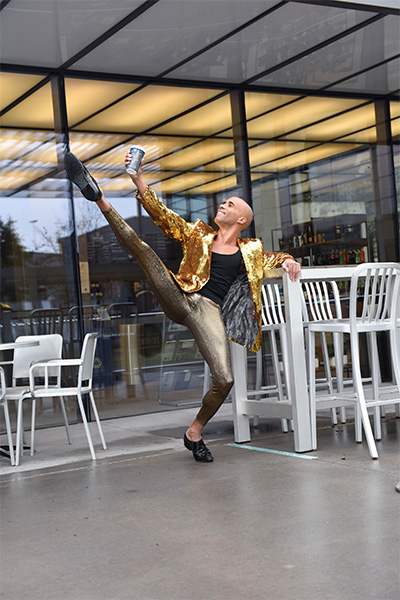 Her Pulcinella is set in a present-day Italian café and uses projections to establish the surroundings. The characters are costumed in the kind of "over-the-top, whiz-bang" casual clothes that trendsetters employ to signal status, with a wink to Picasso's originals. And thematically, Evans equates Pulcinella's deception to the way that people hide behind an online profile that may or may to be true. Like him, "we have absolute control over how we represent ourselves," she says. Dallas Opera has paired it with another short opera, La Voix Humaine, or The Human Voice, running April 3-8.
Musically, Pulcinella represents a turning point in Stravinsky's career. It harkens back to older forms in a break with  the modernist, scandalous world of Rite of Spring. At first, Stravinsky resisted Diaghilev's strong suggestion that he base the ballet on the work of a minor composer, Giovanni Battista Pergolesi. "I thought he must be deranged," Stravinsky said. "[But] I looked, and I fell in love…Pulcinella was my discovery of the past, the epiphany through which the whole of my late work became possible…It was a backward glance, of course, but it was a look in the mirror, too."
Evans created storyboards to help her and choreographer Sean J. Smith envision the ballet. Smith, who was unfamiliar with Pulcinella, is a company member of Dallas Black Dance Theatre and dances the title role. A tenor, soprano and bass sing their commentary even as they blend seamlessly on stage with 10 DBDT dancers. The plot involves Pulcinella, his girlfriend Pimpinella and two pairs of their courting friends based on an old manuscript dug up by Diaghilev. At one point, Pulcinella has to fake his death to gain sympathy—the equivalent of deleting your online persona, Evans points out.
"The facade starts to fall away, and Pimpinella begins to see him for what he is," Smith says. "That's what social media is. It's a facade. It's a version of you that's kind of based on truth, but it's not the whole picture. It's our greatest hits with filters. You're presenting just what you want people to see, and it looks really good."
When he began researching Pulcinella, Smith noticed that past productions were all over the place and hard to follow. Was this an opera, a ballet, some kind of hybrid? He found the material archaic. However, it didn't make him uncomfortable, he says, especially after he met Evans and learned of her vision for the production. Smith has been choreographing for DBDT since 2013 in addition to dancing. "I generally work out of fear anyway," he says. "That's how I push myself."
At DBDT's Spring Celebration shows on May 15-17, Smith will dance in a new duet with company member Claude Alexander III choreographed for them by Matthew Rushing, associate artistic director of Alvin Ailey American Dance Theater.
Smith's choreography for Pulcinella will include ballet steps in addition to the modern styles of his training, including pedestrian movement like walking. He's choreographing the singers as well as the dancers and says he's thrilled by the limited setting— "I get creative in a box"— forcing him to rely on props like phones, coffee cups and chairs. "I think this is going to be an incredibly unique experience," Evans says. "You are going to see a dance performance and an opera performance and an orchestral performance. It's not Carmen. 'Here come the dancers, there go the dancers, back to the show.' It's completely intertwined."
—MANUEL MENDOZA