Dallas Black Dance Theatre dancer Hana Delong. Photo by The Dallas Dance Project.
---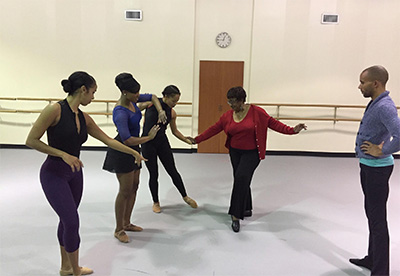 Forty years in the business – that fact has quietly crept up on Dallas Black Dance Theatre founder Ann Williams. "You don't see what you've accomplished because every day you're trying to make it happen," says Williams, who has spent half of her life making it happen at the longest-running dance company in North Texas. "We were so busy trying to keep the company afloat, we didn't realize we were making that impact…I'm really shocked how we accomplished these things."
Dallas Black Dance Theatre has not only grown artistically over its history, particularly in the past decade, but the organization has also become a formidable player in the arts community. Its annual budget was $175,000 when executive director Zenetta Drew was hired in 1987 to run the business. That number is now $5 million, a quadruple jump since just 2008.
A good chunk of the increase is attributable to the group's education and outreach efforts. Williams' original idea was to start a dance school, which today holds classes for about 500 students weekly, bringing in about $20,000 a month, she says.
Dallas Black Dance Theatre will be recognized for these educational accomplishments this month by the Texas Cultural Trust, which is giving its 2017 Texas Medal of Arts Award for Arts Education to the group. "Ann Williams' vision and execution of this outstanding school has been a bellwether for dance education, and a keystone in the cultural scene for Dallas and across our state," says Jennifer Ransom Rice, executive director of the trust.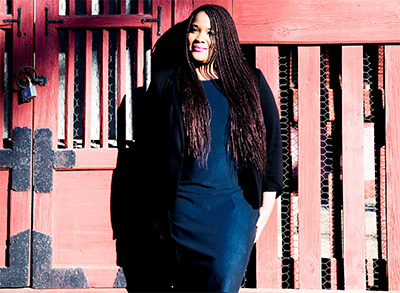 Last month, Dallas Black Dance Theatre named a new artistic director, Dallas native Bridget L. Moore, who has choreographed for the company and has deep ties to the local dance community. Moore grew up in the city's Oak Cliff section and graduated from the Booker T. Washington arts magnet high school, where she later returned to teach. After earning a Bachelor of Fine Arts in dance from The Ohio State University, Moore was a member of Ronald K. Brown's Evidence dance company from 1999 to 2007.
Nominated by Ann Williams, Moore won a Princess Grace Foundation Choreography Fellowship in 2012, during which she created Southern Recollections, a piece about the artist Romare Bearden, for Dallas Black Dance. Four years later, she was commissioned to make two other new works for the company. Since 2014, Moore has been a visiting professor at Sungkyunkwan University in Seoul, South Korea.
"Bridget is a dynamic leader who brings great experience and commitment to the art of dance," Williams says in written statement. "Her passion for choreographic development and her artistic knowledge will serve us well as we enter into this new era." "I am excited about being a part of an organization that has contributed 40 years of excellence in the field of dance," Moore says. "It is my aim to honor the legacy of Dallas Black Dance Theatre and continue to move forward the vision of Mrs. Ann Williams."
Williams, 79, tried to retire at the end of the 2013-14 season after a search for a new artistic director turned up former Alvin Ailey American Dance Theater principal April Berry. But Berry didn't work out and was gone after a year. Williams returned as artistic adviser in 2015 and had been running the company until Moore takes  over.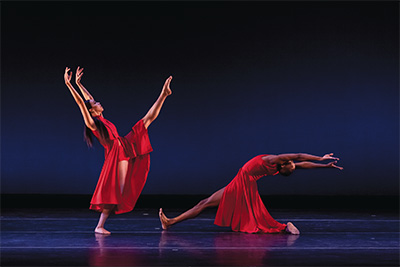 The attempted passing of the torch two and half years ago put a spotlight on Dallas Black Dance's achievements under Williams and began the discussion on where the company was headed next. "The key has been keeping our head down and staying true to the strategic plan," she says in an interview in her office at the historic Moorland YMCA, which sits on a downtown street now called Ann Williams Way.
She believes Dallas Black Dance's funders return year after year because the company sets goals and then makes good on its promises. Its biggest supporters are Wells Fargo and Texas Instruments, who underwrite the performance season to the tune of $100,000 each. Dallas Black Dance also receives money from the McDermott and Harold Simmons foundations, Chase Bank, Neiman Marcus, the City of Dallas Office of Cultural Affairs to [help] cover operating costs, the Texas Commission on the Arts for touring, and individual donors who fund dancer positions and new choreography. Dallas Black Dance also has received every grant it has ever applied for from the National Endowment for the Arts, dating back more than 25 years. From 2001 to 2016, that amounted to $212,000 for the commissioning of new work, restaging classics and touring.
The latest support from the NEA comes in the form of a 2017 Challenge Grant, which will be used to help bring guest artists from Ballet Austin for a program in May when artistic director Stephen Mills also will stage a work of his on Dallas Black Dance. The spring shows also features the first Twyla Tharp piece to be acquired by the company, Sinatra Suite. Tharp regular John Selya will perform the series of duets with a female member of Dallas Black Dance.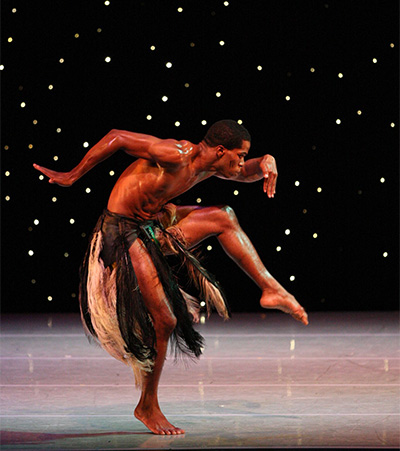 This month, the company is premiering a new work by troupe member Sean J. Smith called Interpretations, which takes on the unenviable task of reviewing the artistic history of Dallas Black Dance in celebration of its 40th anniversary season. Smith is just the latest company dancer to be developed as a choreographer, following in the footsteps of Richard A. Freeman-Carter and Nycole Ray, director of the Dallas Black Dance junior company. The Feb. 17-19  program will open with a collage of excerpts from the Dallas Black Dance Theatre repertory.
The company just finished hosting the annual conference of the International Association of Blacks in Dance, of which it is a founder. And if that hasn't kept them busy enough in early 2017, company members recently returned from performances at the Joyce Theater in New York as part of the American Dance Platform, a showcase of eight handpicked groups for presenters looking to book shows in their cities. Dallas Black Dance offered two recent commissions, Matthew Rushing's Tribute and Kirven Douthit-Boyd's Furtherance.
Commissioning new work has been a hallmark of the company even before that term was in vogue. Dallas Black Dance has been bringing in choreographers to create new work since its first concert in 1977, which featured two premiere pieces by William Scott.
Such now well-known choreographers as Ralph Lemon, Garth Fagan, Donald Byrd,  Camille A. Brown and Robert Battle made pieces early in their careers for Dallas Black Dance. That tradition has continued in recent years with such emerging choreographers as Christopher Huggins, Bridget L. Moore, Rushing and Tiffany Rea-Fisher, whose new work on the fall 2016 program, The B-Side, gave headphones to audience members that allowed them to choose among three scores.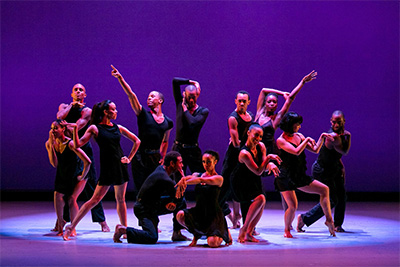 Williams says Dallas Black Dance will continue to perform historic black-dance pieces and new works in that tradition, alongside new choreography that may have nothing to do with the template set by such giants of the form as Alvin Ailey.
"I always wanted to engage emerging choreographers while honoring the masters. I got that from Alvin," she says. "Our dancers are young and of a new age, and they have been trained by non-black choreographers and teachers. That's been one of our successes – to be open, to know what's going on in dance."
—MANUEL MENDOZA