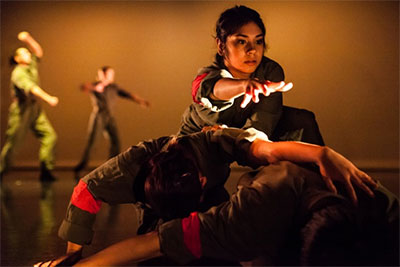 If you've been watching dance in Houston for less than a decade, healing it is possible the name Dana Nicolay won't ring a bell. Nicolay's company, and Nicolay Dance Works, brings Timeline to The Barn (formerly Barnevelder Movement/Arts) February 28 and March 1.
Those longer acquainted may recall that Nicolay first arrived as a Houston Ballet apprentice in 1978 or will perhaps remember the critically-acclaimed work performed by his first repertory company, Raven Dance Project, in the 1990's. A faculty member of Sam Houston State's dance department since 1987, Nicolay has been a key player within the Southeastern Texas dance community for well over 30 years.
Timeline, subtitled Bringing Past Into the Present, revives several choreographic works from across Nicolay's long career, to be seen again or anew by Houston dance audiences. A+C writer Nichelle Suzanne caught up with Nicolay to talk about revisiting his past and what's coming in the future. 
A+C: Tell us where you've been hiding yourself since disbanding Raven Dance Project (RDP).
Dana Nicolay: By 2002 I had been at Sam Houston State University for 15 years directing RDP and coordinating the Dance Program for 11 of those years. I was getting pretty burned out. I decided to step down from the coordinator's position and luckily was granted a developmental leave from the university. I took about 15 months to get my Laban/ Bartenieff Movement Analysis Certification, which was a deep and rewarding experience.
Then, the Dean of the College of Arts and Sciences called and invited me to be an Associate Dean for the college. One of the selling points for taking the job was that the university master plan called for a new performing arts center and the dean promised that I would have a key role.
I chaired the programming committee for the James and Nancy Gaertner Performing Arts Center and got to work closely with the architects and the other departments on the design and construction phases of the project. The building turned out spectacularly and the SHSU performing arts programs, including the Dance Department, now have really superb facilities.
A+C:   We are glad to have you back in Houston as a choreographer. Why now?
DN: When I finished my Laban/Bartenieff certification I was really charged to get back to creative work. Then, when the opportunity to play a key role in the development of the Performing Arts Center lured me back into administration, that desire got sidetracked. Now that the building project is over and my time is more my own, I am really delighted to get to focus on the meaning-making side of things again.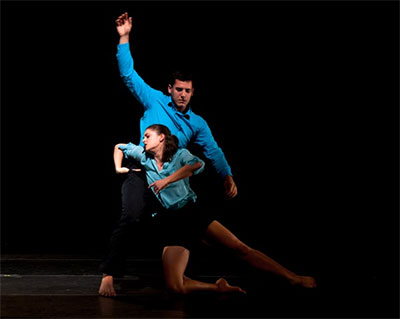 A+C:  You're a fresh face for some Houston dance fans. How would you describe your work to those who aren't familiar?
DN: I think that most people would consider my work to be pretty physical with a strong leaning toward symbolic meaning. I made my living for a long time dancing ballet and the Laban System goes to great lengths to clarify and describe specific movement characteristics, so I value specificity of movement and clarity of purpose. I believe in the capability of movement to communicate at a very deep level and I strive to provide movement, structure, and imagery that speak to the heart of each concept I address.
A+C:  Speaking of your background, how are past performance experiences evident in your work?
DN: Everyone is a mix of many influences. I started dancing pretty late, even for a man. I took my first dance class when I was 22. By that age I had already dropped out of 6 different majors in college, including architecture, and had a pretty broad exposure to a lot of different aesthetic values.
I've been very fortunate to get to perform some amazing pieces and to work with some terrifically talented choreographers and teachers. Each of them has left their mark on me. From Ben Stevenson (Houston Ballet), I learned from a brilliant teacher the essence of technical application in the art form. From Jim Clouser (Space/Dance/Theater), I learned the importance of inventive coherence and the way to compose meaning into a statement in movement. From Arnold Spohr (Royal Winnipeg Ballet), I learned the discipline of clarity of purpose and the importance of bringing each person on stage to full presence and imaginative commitment. From Bill Evans (Contemporary Dance Canada), I learned to expand my understanding of technique well beyond the vocabulary of ballet to the vast range of expressive capabilities that the human body provides.
A+C:  From 30-years-worth of material, how did you select the works for Timeline?
DN: Selecting the repertory was a challenge. I had decided that I wanted to work with an ensemble of 9 dancers – six women and three men. From there, I had to figure out how to create what I hoped would be an interesting program and an evening representative of my work. I considered probably 15 or 16 different pieces, and eventually whittled down to the eight that are on the bill. Each of the pieces on the program offers a different angle on dance-making and a coherent statement about its given topic.  
A+C:  From John Adams to Ravel to Pergolesi, I see a rich and textural musical landscape on this program. Tell us about your relationship with music. 
DN: I love music. I like to feel the music in my muscles and arteries and nervous system. Having said that, I also want to be a creative artist more than I want to be an interpretive artist. When I start from a movement or conceptual basis, I like to generate a lot of movement and work toward finding the common elements and ideas that link it all together. Then, I may try several pieces of music along with the movement to see which serves the concept best. Once the musical choice has been made, then I explore the musical structure to find the most meaningful ways I can to merge the two modes into one final product.
A+C:  So, after "Bringing Past Into Present", have you learned anything new about yourself?
DN: To be an artist is to be in a constant mode of vulnerability. You're always putting your heart out there for everyone to see and feeling as if it isn't good enough. I guess at this later stage of my life as I look back, I realize that maybe it was good enough, that while I felt uncertain and insecure during the creative process, the quality of my thinking was really pretty good. That's a nice feeling. It helps me approach the creative process now with more confidence. I just hope that doesn't go to my head and help me start making self-indulgent pap.
A+C:  Well, we're glad you are indulging us once again. After this show, what's next on your timeline?
DN: Well, we'll be performing again at the Frenetic Theater for the Best of the Fringe Concert on May 16 and 17.
I am also holding positive thoughts about a possible performance in Chicago at the National Flute Association Conference. Kathy Daniel, a professor of flute at SHSU will perform live in our presentation of 'Sakura' on the Timeline concert. She has submitted the whole performance, music and dance, to be presented at the NFA Conference in August. We should find out by the end of the month if that will come to pass. I'm keeping my fingers crossed.
REPRINTED FROM DANCE SOURCE HOUSTON.