Laura Gutierrez
Photo by Carrie Firestone
---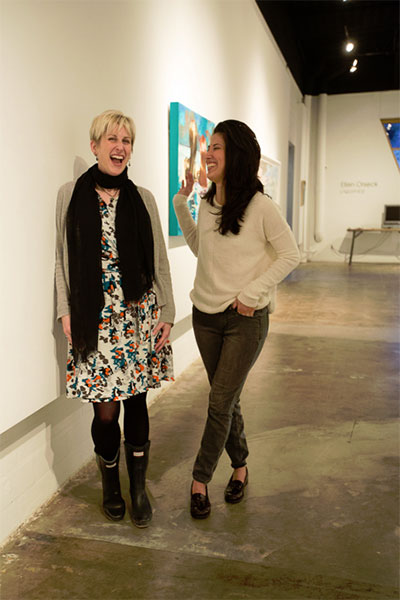 Laura Gutierrez, Connor Walsh + Friends at Nicole Longnecker Gallery
Laura Gutierrez and Connor Walsh slice the air with whip-fast helicopter arm swirls, creating diagonals echoed not only by the architecture of the Nicole Longnecker Gallery, but the streaming flow of traffic down Kirby Avenue. The asymmetrical windows, with multiple hi-rises in the background and an empty field of brown mud, frame the dancers' exacting shapes. The resulting piece will be part of BARE, a project conceived by Gutierrez, on Feb. 14 at 8pm and Feb. 15 at 6pm at Nicole Longnecker Gallery. In addition to Walsh, some of Houston's finest dancers will be joining Gutierrez, including Catalina Alexandra, Jacquelyne Boe, Danielle Garza and Jamie Williams.
Gutierrez, named one of"25 to Watch" in 2014 by Dance Magazine, might be best known for her work dancing with Jonah Bokaer, most recently during Eclipse at the Cynthia Woods Mitchell Center's CounterCurrent Festival. She has also performed with Frame Dance Productions, and as part of exhibits at the CAMH and the Menil Collection.
Watching her claim the gallery space, it's clear that she is comfortable working outside of traditional spaces. "I'm bored with the usual venues, especially the clear separation of audience and performers, and I haven't felt as comfortable performing in that type of setting in a long time," says Gutierrez. "I respect it, but I want the thrill I get when I'm closer to the audience."
Walsh, a Houston Ballet principal, looks remarkably at home moving through the gallery space, swooping his long limbs over the gray concrete floor, as much of Gutierrez's earthy choreography travels from vertical to horizontal. I had to remind myself that he was the same guy who I selected as a 2014 standout in Pointe magazine for his Prince Siegfried in Swan Lake. "I need to get out of my comfort zone," admits Walsh. "It's so important to challenge myself. I wanted to dance in a new space too, and of course, I enjoy the collaboration. When Laura told me about this project, my immediate response was, 'Let's do it.'"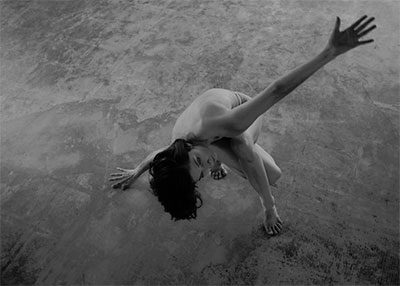 Walsh and Gutierrez might come from different dance worlds, yet they are joined by their streamlined approach to movement. They are both precise movers, who can galvanize our attention by their very presence. Both understand the power of stillness, and the attention to detail that gives movement its power. "For the duet with Connor, I was influenced by Wendy Whelan when she reached out to Brian Brooks and Kyle Abraham for Restless Creature," explains Gutierrez. "Ballet and modern dancers can learn a lot from each other. There should be more collaborations and dialogue between the two worlds. And I really like being the small fish in the big pond. I thrive off of, and strive to constantly be around, those who know more than I and have more experience. Connor seemed like a great fit."
Gutierrez's choreography is sharp, clearly defined and rich with surprising twists; it's crisp corners illuminate the off-center geometry of the room, which is interesting in and of itself. "I noticed the unusual layout the first time that I walked in the door. I'm especially drawn to the long hallway," she says. "Restrictions can be good, and this space provides that for me."
Gutierrez is creating two new works for BARE, each site-specific in their own way.  Although she has her own voice, she's happy to name her influences. "I've been fascinated by Steve Reich, John Cage, Merce Cunningham, Anne Teresa De Keersmaeker, and naturally Jonah Boaker, to name a few," she says.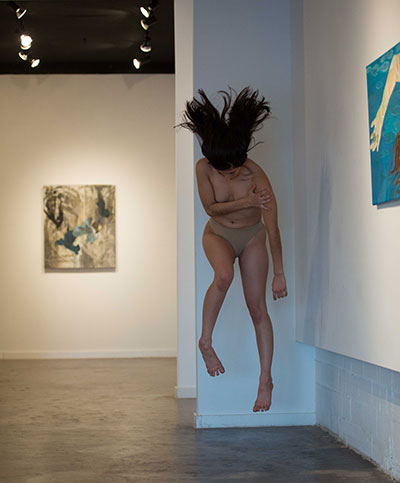 Nicole Longnecker has opened her gallery to performance before, most recently, with Flinching Eye Collective, who made A + C's Fall standout list.   As a dance fan herself, she came immediately on board with the idea of hosting this show. "My goal was to create a space that showcases the best programs possible in collaboration with the best artists," says Longnecker. "It's important to me to have the gallery be a space that is welcoming and invites conversations about art.  Including performance and other art forms that are non-traditional in a gallery setting invite more people into the gallery and show how art forms are interrelated."
This is not a sit down affair. The audience will be in motion, following the dancers as they travel through the gallery. "I enjoy that the audience has to make an active decision," adds Gutierrez.
Although dancing in a gallery is nothing new, Longnecker finds that it expands the possibilities of the space. "Performance in the gallery adds a level of excitement and physicality missing from typical two and three dimensional static art," says Longnecker. "Theatrical and staged elements were a feature of visual art throughout the 20th century. Movements like Futurism, Dada, and Bauhaus combined dance and music with live performance to engage their audiences. The 1960s and 1970s saw artists create "happenings," experimental dance, and site-specific interventions. It's important to carry on this legacy with Nicole Longnecker Gallery."
— NANCY WOZNY