Hillerbrand+Magsamen, Higher Ground, 2015.
---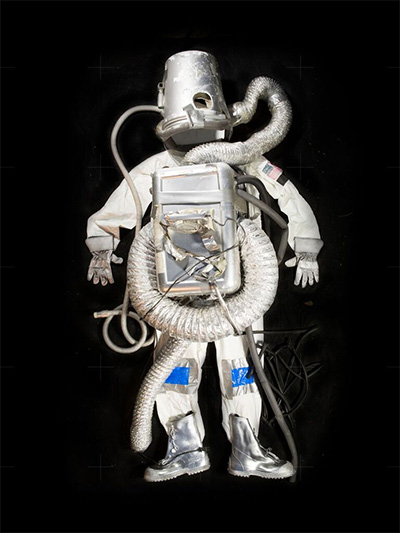 Deconstruction is a common theme in the arts. Whether a concept or an object, many artists incorporate the idea of dismantling into their practice. For the duo of Stephan Hillerbrand and Mary Magsamen (known collectively as Hillerbrand + Magsamen), deconstruction is both literal and metaphorical. The artists draw on the theories and techniques of the Fluxus movement, absorbing it so wholly that there is little separation between their practice and their home life. Seemingly nothing is off limits for the couple, who often incorporate their personal belongings and home, and even their children, into the works they produce.
Hillerbrand + Magsamen remain true to Fluxus' exploration of what art can be by bringing it into the suburbs. The artists refer to their practice as a sort of "suburban fluxus," a form of the movement that not only deconstructs but also fully recontextualizes American family culture, as well as the role of the camera in contemporary art. By incorporating their whole selves, they take the mundane, the banal, the everyday and transform it into spectacle.
"It's rare for us to ever buy new objects for our pieces," said Hillerbrand. Magsamen continued, "It's fairly common, however, for one of us to look for a spatula or something and just assume it's in a sculpture when we can't find it."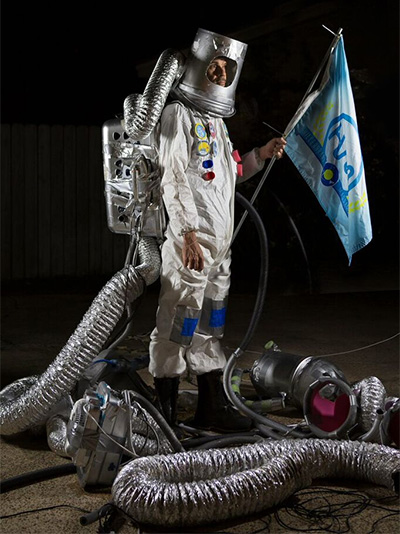 Higher Ground is an incredible example of this. A recent commission by the Houston Airport System and the City of Houston, and winner of first prize at CineSpace at Houston Cinema Arts Festival, Higher Ground is an interdisciplinary work that incorporates video, sculpture and photography to produce the artists' interpretation of George Méliès's A Trip to the Moon. The film depicts the artists, alongside their children, Madeleine and Emmett, beginning an adventure in which they collectively tear apart their home to construct a rocket right in their own backyard.
While space travel seems like an impossible dream for many, left only to the astronauts or actors who portray them, this quirky family project makes it believable. As the family rummages through its belongings, dragging out pots and pans, old Amazon boxes, cut-up couches and anything else they can get their hands on, they deconstruct what the average citizen thinks of as the American dream, the American experience—one that is equal parts futile and creative. It is this creativity, though, that transforms this hodgepodge mass of everyday objects into the spectacle. "The [physical] work became a metaphor for our everyday life," said Hillerbrand. "We looked at the objects and began to question their value, wondering about their histories and the supposed nostalgia connected to them."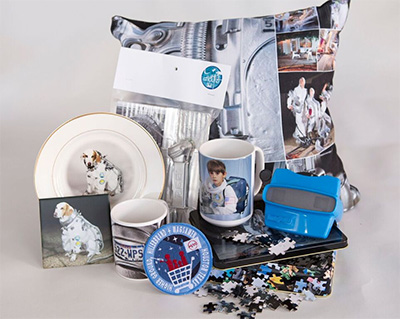 Higher Ground does rely on the more physical side of their deconstructive practice, but this can also be seen in the conceptual aspect of Hillerbrand + Magsamen's practice. DIY Love Seat, for example, blends the two together. The experimental short video, lasting only two and a half minutes, is a dark comedy that exploits the common notion of marital distance. The video depicts Magsamen in the role of a seemingly disgruntled wife who has the inclination to take the family couch and cut out a section with a chainsaw. As the husband returns home, somehow unsurprised by his wife's manic behavior, he takes duct tape and reattaches the two ends of the couch. The combined actions bring the couple physically closer together and implies a continued, if not exacerbated, emotional distance.
These playful explorations extend beyond the home as well whenever the artists turn their critique to their own practice and medium. This Spring, Lawndale Art Center, who previously had DIY Love Seat on display, will provide the team with the opportunity to set up a gift shop to distribute memorabilia from Higher Ground. Set to open March 11 and be on view at Lawndale through April 16, the installation brings forth an old conversation, one that has yet to be resolved, surrounding the commoditization of art and equity for visual artists. Coming off of Charge, organized by Jennie Ash and Carrie Schneider and presented by Art League Houston, the buzz around artists' rights—particularly their right to be compensated for their work—could potentially see a rejuvenation from and expansion into Lawndale.

In this vein, the installation also seems to raise a middle finger and aim it squarely at museum gift shops, where the work of artists is commonly appropriated and plastered over mugs, mousepads and many of the other mundane objects sitting around your house that Hillerbrand + Magsamen might draw upon for another project.
The artists aren't stopping there, though. They have also been commissioned by the Cynthia Woods Mitchell Center for the Arts to bring to fruition a project for CounterCurrent 2016. Dubbed Home Balance, the project is inspired by a children's bouncy house, like the one that might pop up on your neighbor's lawn to let you know that a noisy birthday party is raring to disrupt your day off.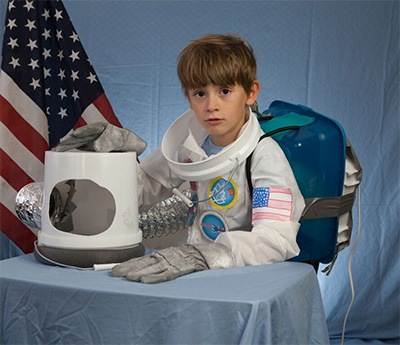 The artists draw equal inspiration in the challenge of finding balance in a home. "We were asking ourselves, 'How do you find balance as a family?,' or 'How does a family even function?'" Hillerbrand stated. "Or, 'What happens when you put a trampoline in your living room?'" Magsamen added, explaining that you tend to hit your head on the ceiling. The public art piece will consist of a custom bouncy house illuminated with film screens. While a camera will capture the bouncing havoc of participants inside the house and project it live onto one screen, the other walls will present pre-recorded videos of the artists and their children bouncing on a trampoline in their living room—hitting their heads, knocking things down, breaking personal belongings, and generally being rambunctious.
Home Balance looks to the private space that many families keep in suburbia and brings it to the foreground, exposing this search for stability to the public. The fun of a bouncy house is the utter lack of stability, and it's ultimately up to the children to decide whether finding that stability is the goal. This project draws on this fun pastime and asks the participant to consider how family interactions challenge our ability to maintain control of our dwellings. The deconstruction of suburbia may never again be this exciting.
—MICHAEL McFADDEN