Jack Goldstein, Untitled (#61 Burning City), 1981. Acrylic on canvas. 84 × 132 inches.
The Broad Art Foundation. © The Estate of Jack Goldstein.
---
In 1971, artist Chris Burden vanished for three days. No one knew where he had gone, and for those three days the artist questioned his own existence and what his disappearance meant. The reality is that he was holed up in a hotel unsure of what he was allowed to do as someone who had disappeared. He later reappeared, revealing the performance Disappearing. Unbeknownst to himself, other artists in Southern California were similarly exploring the idea of disappearance.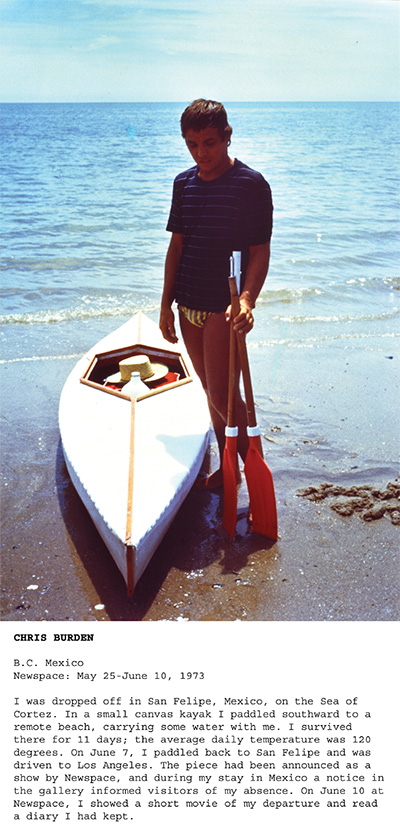 Four years later, Bas Jan Ader boarded a sailboat as part of an incomplete triptych entitled In Search of the Miraculous. The first part of this work was a series of photographs depicting a lonely figure wandering the streets of Los Angeles. He boarded his craft in Cape Cod as a choir of children sang sea shanties in an LA gallery. A similar scene was to greet him at his destination, a museum in the Netherlands, where he would begin the final series of photographs, mirroring the first. Ader unfortunately never made it to shore, lost at sea.
Disappearing—California, c. 1970  at the Modern Art Museum of Fort Worth  May 10-Aug. 11, curated by Philipp Kaiser, showcases the works of Bas Jan Ader, Chris Burden, and Jack Goldstein—three artists who seemingly shared a desire to disappear. "The exhibition represents a micro history of Southern California art," Kaiser stated. "The show also has to be seen as a case study of early California conceptualism and how it evolved in and around Los Angeles within a rather tight but powerful network."
Kaiser, born in Switzerland, has been living in Southern California for some time now, learning the complex histories of the area that are often unfamiliar to those outside the region. The threads of this exhibition began to weave together in 2012 when he mounted a retrospective with Jack Goldstein. "The research for the show opened my eyes to Goldstein's dialectical desire to appear and disappear at the same time," he recalled. "Disappearance runs on many levels throughout his work as a dominant thread."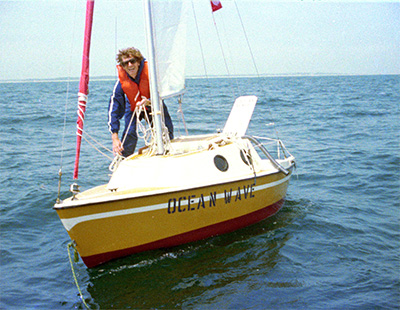 He continued, explaining that while these three artists have become cult figures over the years, they had never before been grouped or had their work contextualized in such a way. The three artists in the exhibition share a penchant for theatricality, a staple of performance art not always utilized in conceptual works.
"Theatricality seems to be of crucial significance to all three artists. It is therefore telling that in order to disappear, you first need to appear," Kaiser stated. "The dialectics of presence and absence are complex and also ironically reinforce a confident subject that later gets erased. When Chris Burden disappeared for three full days in 1971, it was probably only known by his wife, Barbara. Not many must have cared at the time, but his piece entitled Disappearing now becomes the title of an entire show."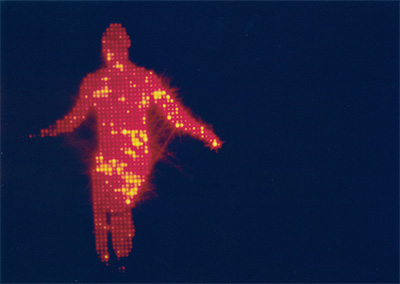 The desire to disappear can be traced to a plethora of reasons, and as such, there are many layers to the work in the exhibition. A fascination with death may be present, but it extends beyond that of a morbid thought to war, dematerialization, and the validity of existence.
"We need to remember that the Vietnam war was still in full swing and the threat of being drafted was real," Kaiser reminds us, referring to the brutality of the war, the political situation it left within the US, and the reality of Southern California as a region with a highly developed military infrastructure.
"It is telling that the three artists were part of a very specific artistic milieu of experimentation and radicalism," Kaiser said. "Their work is grounded in a vernacular conceptualism that was dealing primarily with the disappearance of the (artist) subject and the (art) object."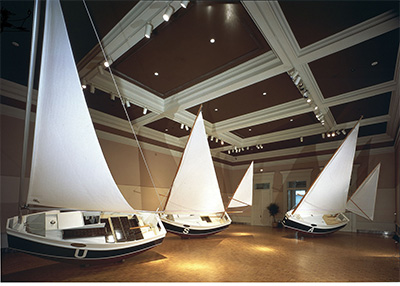 Alluding to the rise and institutionalization of feminism at the time, Kaiser also recounted conversations with Judy Chicago, who established the Feminist Art at
CalArts, where Goldstein studied. "It became obvious that newly emerging performance-based artist groups were deeply influencing each other. There was much more exchange than has been acknowledged in the past," he recalled. "For me, it seems to be the right moment to question these historical narratives, and on the other hand to look at this very specific, politically charged moment in time that generated some of the most poignant performances and art works."
As Kaiser brings California Conceptualism to the Third Coast, he hopes to shed light on the impact that it has had the development of contemporary art history, perhaps bringing new connections to light.
"Over the course of my career I have developed an interest in the late 1960s and 1970s," Kaiser said. "Usually, the 1970s are seen as a rather uneventful artistic moment in between the fabulous 60s and notorious 80s. In my view, the 70s are an extremely dense and interesting transitional period that redefined and solidified what we are dealing with in art today."
—MICHAEL McFADDEN