Georgia Jarman and René Barbera in the Dallas Opera Production of La Traviata.
Photos by Karen Almond.
---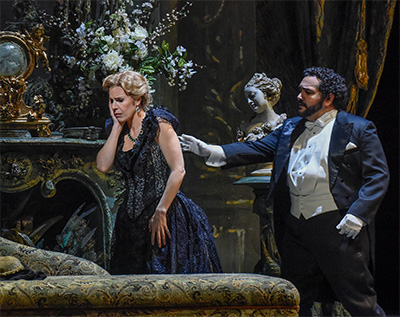 The Dallas Opera's superb production of the world's most frequently performed opera, Giuseppe Verdi's La Traviata, boasted sensitive conducting, a dynamic heroine and innovative directing. The familiar story of the tubercular courtesan Violetta and her doomed love affair with Alfredo was given new life at Friday's opening night.
La Traviata typically opens with a lavish party scene, but in her American opera debut director Stefania Panighini opted instead to explore Violetta's life story in a more unique way. A silent young girl dressed all in white is seen reading as the curtain opens. This ghost of the former Violetta silently reveals the complexities of the tragic heroine and gives subtle glimpses of what might have been. Appearing in a variety of pivotal moments throughout the production, this ghostly apparition adds an intriguing element to a familiar story by making Violetta more complex and interesting.
A performance of La Traviata depends both dramatically and vocally on its heroine. Soprano Georgia Jarman embodied the classic tragic opera heroine. Every moment she was on the stage soprano Georgia Jarman sparked an emotional reaction, at turns vital and vibrant then vulnerable and despairing. Jarman's pure soaring voice proved as flexible as her acting. Jarmen employed her effortless coloratura to capture Violetta's emotional state, always sincere and never showy. "Love me, Alfredo, love me as I love you" she pleads with impassioned power.
Tenor René Barbera made his Dallas Opera debut as the naïve and slightly awkward lover Alfredo. Adeptly navigating the upper range with ringing high notes, Barbera overcame the boyish manner that made it hard to consider him the ardent lover who was able to woo Violetta away from the Baron.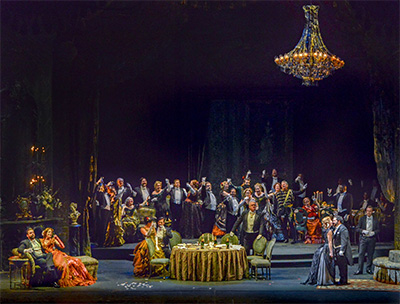 Powerful bass-baritone Dale Travis as the Baron Douphol commanded the stage with his voice and physical presence whenever he entered a scene.
The overlapping texture of Jarman and Barbera's voices made their duets affecting,
Gran Dio!…morir sì giovane– "Great God!…to die so young" was performed with melting tenderness. Both sang admirably with baritone Vladislav Sulimsky who performed the role as Giorgio Germont, Alfredo's father. Salimsky's full and powerful voice compensated for his erratic behavior in Act II when in one moment he gropes Violetta, and in the next moment he embraces her as his daughter.
Carlo Montanaro led the Dallas Opera Orchestra with finesse giving utmost attention and respect to the voices and action onstage, restrained when the mood required and exuberant during the livelier moments. The trembling violins in the opening prelude to the opera were particularly beautiful, setting the perfect mood for the tragedy about to unfold.
Often times the chorus gets only cursory recognition and applause but at Friday night's performance, chorus master Alexander Rom and the excellent chorus received a well-deserved separate curtain call at the end of Act II following their spirited defense of Violetta.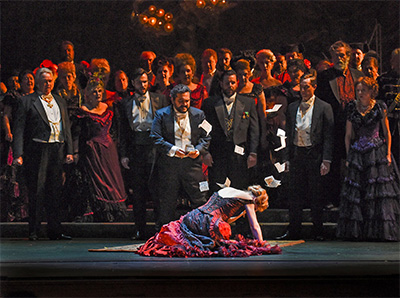 John de los Santos choreographed a provocative dance piece performed during the Matador scene. Making their Dallas debuts were the particularly handsome tenor Brenton Ryan as Gastone and mezzo-soprano Abigail Levis who both sang capably and were particular favorites of Friday night's audience.
The Lyric Opera of Chicago's grand production flaunted multi-layered elegant scenery by set and costume designer Desmond Heeley. Heeley artfully depicted the grandeur and romance of 1850's Paris. Wig and make-up designer Dawn Rivard and lighting designer Alan Burrett ably assisted to create a visually realistic period piece.
—MONICA SMART