Francis Bacon, In Memory of George Dyer, 1971, oil and transfer letters on canvas, Foundation Beyeler, Riehen/Basel, Beyeler Collection. © The Estate of Francis Bacon. All rights reserved. / DACS, London / ARS, NY 2019.
---
In 1971 when figurative painting master Francis Bacon was in his early 60s, the Grand Palais in Paris mounted a major retrospective. That show and that year would forever change Bacon and his work. Now almost 50 years later, the exhibition Francis Bacon: Late Paintings comes to the Museum of Fine Arts, Houston (Feb. 23- May 25), bringing new insights to the art that came after and a fresh perspective on a modern art giant.
Originally organized by the Centre Pompidou, Musée National d'Art Moderne, Paris, the MFAH will be the only other museum in the world to present this exhibition that brings together some of Bacon's greatest later works. Combined and juxtaposed, these paintings tell Bacon's art story after the retrospective and after the death of lover George Dyer on the eve of that exhibition.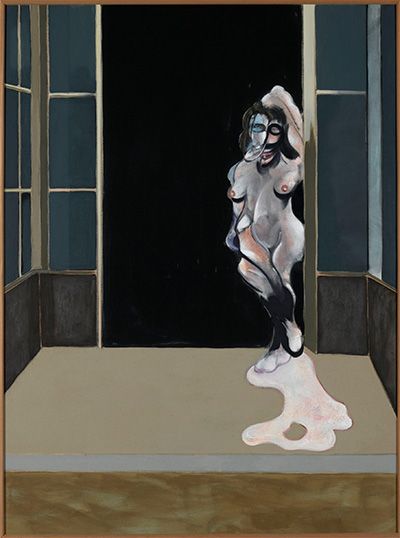 To get a preview of how the exhibition brings new understanding to the evolution of Bacon's art in his later years, I spoke with Alison de Lima Greene, the MFAH Isabel Brown Wilson Curator of Modern and Contemporary Art.
The Centre Pompidou's show, which closed in January, was titled Bacon: Books and Painting and highlighted Bacon's literary influences in this time period. The MFAH exhibition will have a somewhat different focus and title, while containing most of the same artworks.
"The emphasis on the literary connections that guided the Paris show has been incorporated to a degree in our show, but we've also made it a little easier for U.S audiences, in presenting it with a more straightforward chronology," explains Greene.
The exhibition begins with a "small, intimate" self-portrait from 1971 to give museum-goers a better understanding of where Bacon had been and where he would journey next in his later work.
"You can see how on one hand he's wrestling with Cubism and its legacy, and at the same time, you'll see there's startling passages of realism," notes Greene, who later in our talk described Picasso's pull-and-push influence on Bacon.
"You can see him arm-wrestling with Picasso on and off, again and again in his career."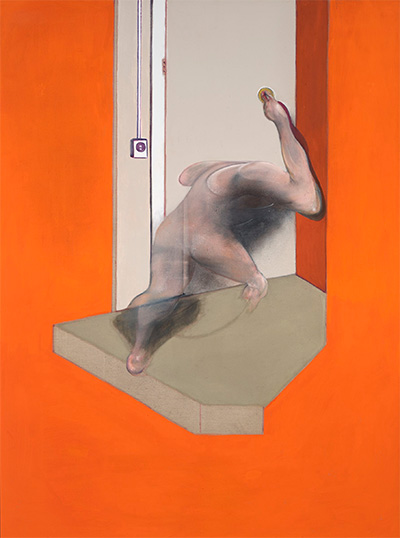 In the first few galleries, visitors will see Bacon's portrayals of Dyer before and after his death, including Portrait of George Dyer in a Mirror, 1968 and In Memory of George Dyer from 1971, and Triptych August 1972.
"There's sort of a double division in Bacon's career that happens that year," says Greene, of that pivotal time in 1971. "Artists always find having a grand retrospective is a time for contemplation and a turning point in their career. But also I think the fact that the death of George Dyer, from whom Bacon had become increasingly estranged, then began to haunt Bacon. He did a number of tributes to Dyer, where ultimately Dyer becomes almost a symbol—rather than a figure—of vengeance."
Within the galleries, MFAH visitors will also see several works that shocked the art world of the time, including Triptych, 1970 from the National Gallery of Australia and its somewhat "abstracted" depiction of two men coupling.
"One of the things we cherish about Bacon is his strong and confident affirmation of his sexual orientation at a time when almost no artist was making that a subject of his work," says Greene, adding, "Nothing like these kinds of images were seen in the public eye in the 1960s and even in the late 1950s when Bacon started putting them forward. It was a radical gesture."
Continuing to move through Bacon's later years, the exhibition marks some of his distinct changes in subject matter.
"After a certain point he steps back from the imagery around George Dyer and you have strange, evocative landscapes. Then at the very end of his career he's extremely pared-down in subtle compositions," say Greene.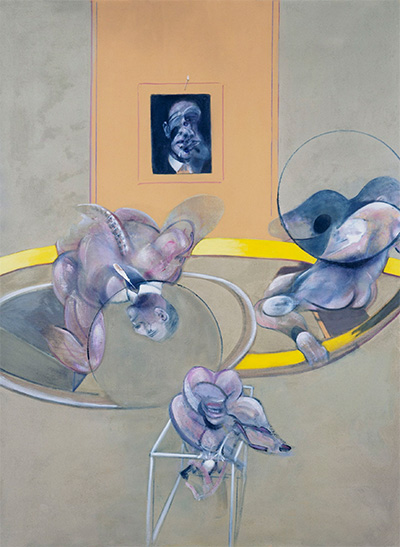 Yet, by including a selection of Bacon's earlier paintings, viewers will likely notice that some of the work comes full circle.
"There's an important shift in tone, value and weight in the later work but he certainly goes back to a lot of the earlier compositions," says Greene.
A haunting example of these kind of "echos," as Greene describes them, can be seen in In Memory of George Dyer, 1971, with its image of Dyer paused outside the hotel room where he took his life and the piece Study for the Human Body, 1983 from the Menil collection, of a headless anonymous figure "echoing the same gesture in pose but in empty space."
Greene mentions that while modern art-lovers might perceive Bacon the artist as a tragic figure, he could be very charming and likely described as a "cheerful atheist" focused on the here and now, while his art resonated in the present and into the future.
"He was very alive to his times. He was a fascinating character. In so many ways, [he is] representative of a sort of crucible of change from the old pre-war England to a modern London today. You can't imagine the YBA [Young British Artists] generation, Damien Hirst and those artists ever happening without Francis Bacon."
—TARRA GAINES