What power do young people have to transform the very fabric of our nation? How can theater do this type of social justice work? From Jan. 24-26, the Latinx Theatre Commons (LTC), the University of Texas at Austin, and Teatro Vivo produced the Theatre for Young Audiences (TYA) Sin Fronteras Festival in Austin to stage a conversation about the transformative potential of Latinx TYA, focusing on these questions. The festival was co-championed by TYA practitioners and Austinites Roxanne Schroeder-Arce and Emily Aguilar. The festival gathered artists, scholars, and educators from across the Americas to experience theatre with young people and consider the needs and incredible capacities of Latinx audiences of the future. As one festival goer stated during the closing ceremonies, "sueña con ellos." Dream with them. This festival was precisely that—a chance to dream of what could be.
The Sin Fronteras Festival is part of a larger effort in Texas to support the work of Latinx theatermakers. For instance, I produce Sin Muros: A Latinx Theatre Festival at Stages Repertory Theatre in Houston and Dallas's Mía Theatre Co. will host its Teatro en Fuga new works festival in April.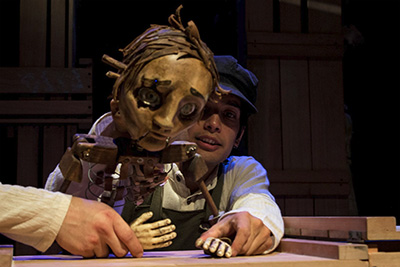 Schroeder-Arce and Aguilar believe that Texas is the ideal place to spark this conversation. "This festival puts Latinx youth at the center. Over 50% of school children in the state of Texas are Hispanic/Latino," notes Schroeder-Arce, a professor at UT-Austin. "Of the US states, Texas shares the longest stretch of the border with Mexico, and of course Texas used to be part of Mexico." Even so, as LTC producer and San Antonio native Abigail Vega stated in the closing ceremonies: "Texas is a state that many people write off despite its beautiful diversity." Latinx TYA changed Vega's life when she began doing TYA with Schroeder-Arce as an undergraduate student at Emerson College. Nearly a decade later, the duo has larger dreams of how Latinx TYA can create a more inclusive United States.
Following its founding in 2013, this festival marked the LTC's first substantial venture into TYA. As a national network of Latinx theater makers and advocates, the LTC is a beacon of change, advocating for tangible ways in which we can shift the dominant paradigm of the American Theater to be more inclusive of marginalized voices. Sin Fronteras sought to change the landscape of how Latinx theater artists engage with young people. As participants experienced the work with young people, they were also encouraged to think about context, objective, and impact. The full event explored the following questions. Why Latinx TYA? What is this work exploring with young people? How is US Latinx TYA and Latin American TYA reminiscent and different? What is relevant to explore with young people in different countries? What is taboo? How do TYA theater makers push the boundaries?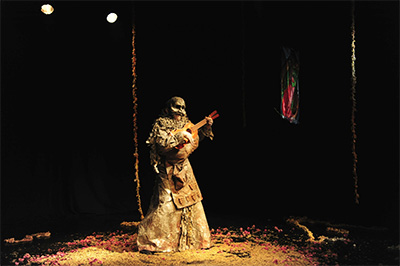 The festival included five TYA productions from the US and Latin America: Cenicienta: A Bilingual Cinderella Story (Teatro Vivo and Glass Half Full Theatre, Austin), Coatlicue 2.0 "La diosa que vino del aire" (Trazmallo Ixinti Company, Mexico City), Tomás and the Library Lady (Childsplay, Tempe, AZ), Niños que fueron grandes (La Maria Negra Teatro, Santiago, Chile), and Epic Tales from the Land of Melanin (FEMelanin, Chicago). The festival also included workshops and plenaries such as "Producing Latinx TYA in our Theatres and Communities" and "Devise and Conquer: Creative Collaborations in Commissions" led by both US Latinx and Latin American practitioners. The opening night festivities, "¡Caleidoscopio!," served as a lens for participants to sample, encounter, and explore the diversity of TYA practices from across the Americas. In this space, theater makers, change makers, and scholars shared brief samples of their work, offering us an in-depth crash course into all things TYA.
Despite a hemispheric focus, the festival featured Texas artists heavily. Among the most discussed of these was the production of Cenicienta. Written by Caroline Reck and Rupert Reyes, Cenicienta is a bilingual Cinderella story telling the story of Belinda, a ten-year-old girl who finds herself in the basement collecting objects for an upcoming party. A solo show, it embraces the theatrical with the performer embodying Belinda's world with found objects. A lamp with two lights becomes the mice and upside-down funnels on her feet represent the famed evil stepsisters.
Ultimately, Cenicienta is a story of female agency. Before the show, I heard several people say, "Do we really need another adaptation of Cinderella?" An hour later there was no doubt that we not only should have plays like this that remix the classics to be more inclusive of Latinx identities, but we need these plays.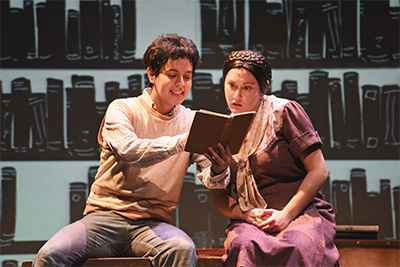 As expected, the festival's performances were framed around young audiences. As such, festival-goers watched the productions with young people, witnessed a post-show discussion with youth, and then engaged in a reflection session with adults about the things people learned about young audiences during the show and discussion. This model enabled people to further learn from the young people and foregrounded how the work truly started as conveners reflected on what they saw the students experiences.
The sense of necessity was palpable at Sin Fronteras. As several participants noted, Latinx TYA is often an afterthought in the theater community. When companies do produce a play for young audiences, it is often seen as an audience engagement strategy or as a way to gain certain types of funding. "It's very much out-of-step with the way we engage in our real lives. In my family, and in many Latinx families, young people are a part of everything. They are at community meetings, family gatherings, weddings, marches, and other events. They are not an afterthought in our everyday lives," claims Emily Aguilar, adding, "Why are they an afterthought in our audiences?"
Over all, the festival organizers hope that those who attended will leave with more information on why Latinx TYA matters and how to get more Latinx TYA on stages throughout the country. "More than information, may we walk away inspired about the potential impact of getting more culturally relevant theatre in front of young people," says Schroeder-Arce, adding, "More plays are being developed, more companies are seeing the viability of this work, more producers are recognizing the need for the work and investing in it. This event and all of those who have jumped on board to help make it happen collectively point to a bright future for Latinx TYA."
—TREVOR BOFFONE