Dreamless, the latest at Ochre House Theater, is a loosely drawn sketch of a play. It's a free-form theatrical outline that seems more interested in its use of commedia dell'arte as a storytelling device than the need for a compelling plot. This ditty by Justin Locklear, an artistic jack of all trades, feels at times literary, at others slapstick, and on occasion it's wildly fun.
The setting is a diner. The characters are the staff and customers. But they are more types than characters. There's Claire (Carla Parker), she's your protagonist. She inherited the Clean Plate Club with her brother John (Brad Hennigan), he's the antagonist. She's interested in making good food; John's interested in John.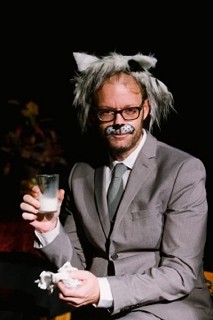 They have a revolving door of employees – all named John– and customers. Oh, and there's a cat who always comes around looking for scraps. You'll like the cat. In fact, you'll probably like the entire play.
There's a undeniable charm to the Ochre House Theater. Each show is original, although after a few visits you'll notice a rhythm to the work onstage, which are mostly musicals. Artistic director/playwright/actor and the space's resident, Matthew Posey, is the head chef, writing most of the plays. Intermittently, another company member will cook something up with the Ochre House recipe: one clear point, theme or historical character, a large helping of witty banter, a few good songs, but keep it rough around the edges. And Locklear's concoction checks all the boxes.
Dreamless plays with the relationship between language and food in its dialogue. The music, written by Locklear and Earl Norman, underscores what's happening on stage played by the line cooks (Norman and Stefan Gonzalez) seen drumming on pots behind the pick-up window. The set, designed by Posey and painted by Izk Davies, makes the intimate space seem twice as large as usual.
But Locklear's conceit of make-up as a way to build literal masks in the commedia dell'arte tradition is a fairly pronounced artistic device. The main plot line is a management struggle between Claire and her brother John. Claire makes a damn good soup, and John's not really equipped to be the restaurant's manager – there are other sub plots with game show hosts and a cute love story, but this is really where the story's drama resides. As characters in the play begin to see themselves more clearly, and pursue their dreams, they wipe away their makeup.
The metaphor works in spite of its obviousness. As Claire wipes away her make-up, Parker seems to grow a twinkle in her eye. This simple story, like much of the work at Ochre House, has a lot of heart.
Dreamless runs through September 3 at Ochre House Theater. Ochrehousetheater.com