The dream of Ruby City is coming true.
When San Antonio-based artist and collector Linda Pace began building her art collection, she knew she wanted to share it with the public. The founder of Artpace and of Chris Park, Pace was a champion of both local and international artists. Curator Kathryn Kanjo recalls that Pace's collecting strategy was artist-centric, and centered in Pace's intuition as much as her research. She was also an avid dream-collector, writing down her dreams and studying them.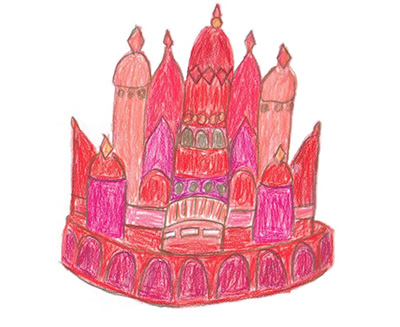 Kelly O'Connor, who worked as Pace's studio assistant before becoming head of communications for her foundation, recalls that Pace invited architect David Adjaye to San Antonio in May of 2007 to talk about a building that would house her collection. "In preparation for David's visit, Linda had a dream of a Ruby City," O'Connor remembers. "When she described this dream, she described it much like the Emerald City, but red." A few months before Adjaye's visit, Pace had been diagnosed with cancer; she passed away in July of 2007, leaving behind her drawing of the Ruby City dream, and instructions for how to move forward with the project.
"Dreams were important to her," Kathryn Kanjo says. "She tended her dreams, recording the imagery and writing journals about them, trying to make meaning." Kanjo, Director of the Museum of Contemporary Art San Diego (MCASD) was director of ArtPace from 2000-2006. She is curating the inaugural exhibition at Ruby City, Waking Dream. "I think the thing about dreams is that there is shared imagery in dreams and we associate a collective meaning to certain images, but then they are also highly personalized. And, I think that's how Linda's collection is. It's incredibly personal and very profound."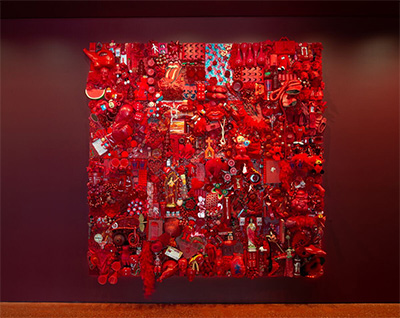 Pace would collect object by object, remembers Kanjo. "That's so brave for Linda, as a collector… I think she was finding the way the object connected her to the larger world. Her motivations were really about awakening and tuning in and her study of dreams reflects a similar process." Waking Dream includes works by Do Ho Suh, Leonardo Drew, Teresita Fernández, Maya Lin, Christian Marclay, Wangechi Mutu, Robyn O'Neil, and Cornelia Parker, alongside works by San Antonio-based artists including Ana Fernandez, Cruz Ortiz, Chuck Ramirez, and Ethel Shipton, among many others.
Like dreams, Kanjo says, the collection moves from very intimate, quotidian works to enigmatic, collective symbols and imagery. There are objects that signify everyday life, such as household furniture and ephemera, alongside imagery of the cosmos. "For this inaugural exhibition, I wanted to show off not just the strength of each individual piece that will be featured, but to somehow try to reflect, tell a story of the themes or sensibilities of Linda's collecting," Kanjo says. "What kind of shared mood or shared sensibility occurs between various works by artists of different generations… so that maybe, people seeing the exhibition would have a little sense of Linda."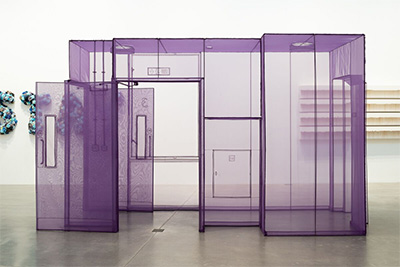 Pace showed her drawing of Ruby City to Adjaye during his site visit, says O'Connor, and it served as an important reference throughout the building process. The architecture of the building was inspired by local history: "During his time here, he visited the San Antonio missions. He was very interested in these skylights at the mission and how the natural light entered the spaces," O'Connor says. "The building we have today is not an illustration of Linda's dream; it's an abstraction of it. But with the color and the cast glass panels of red glass aggregate, it really shimmers in the sunlight."
The building's red stone was brought to San Antonio from Mexico, and the custom furniture designed from the space was also made in Mexico. "Red is the color that fades the most quickly out of the spectrum," says O'Connor. "We needed to make sure we weren't just using a dyed material; the color needed to be an inherent part of the material." The material, O'Connor says, makes the building feel both old and of-the-earth, while its design suggests a kind of surreal futurism.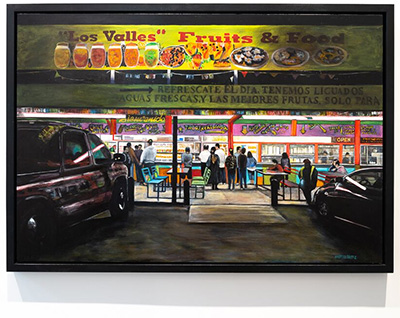 Along with many of  Pace's Dream drawings, Kanjo included two other works by her: Red Project, one of her best-known projects, a square of red objects corralled into this grid. "That piece, for me, is just a celebration of Ruby City and all of its passionate color," Kanjo says. Upstairs, she includes Stay, a wall sculpture made of artificial flowers. "It's a kind of saccharine piece imploring you not to go. It's in a room of pieces that deal with loss and presence and absence, things transitioning and changing."
"It's difficult to think how much time has passed since we lost Linda and yet, in these last 10 years, we can look back at the collection and see such a clear sensibility in it," Kanjo says. "Linda used to say artists are mapmakers: she said they got there before we did, and they could show us the way to go… Art predicts; it carries us forward. With Linda's collecting, she herself was a mapmaker."
—LAURA AUGUST