As the United States closed its skies on September 11, 2001, thousands of plane passengers found themselves in midair over the Atlantic with only one place to land—the airport near the small town of Gander, Newfoundland. The true story of how Canada's easternmost province found room for so many frightened and sometimes grieving travelers became the inspiration for one of Broadway's recent hits, Come From Away, now headed to Texas on its national tour. I spoke with actor Marika Aubrey about how an Australian stage and screen artist became a part of this most remarkable musical story.
All the Texas stops on tour—Broadway in Austin (Feb. 18-23, Bass Concert Hall), Broadway in San Antonio (Feb. 25-March 1, Majestic Theatre), Broadway at the Hobby in Houston (March 3-8) and especially Dallas Summer Musicals (March 10-22, Music Hall at Fair Park) —have special meaning for Aubrey, as one of the primary roles she plays is the larger-than-life but very real and Dallas-based, Beverley Bass, the first  female American Airlines captain.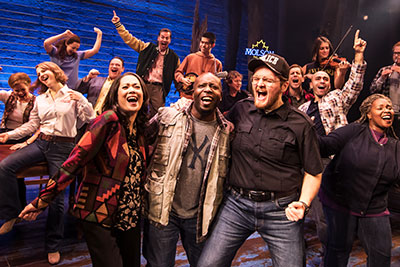 But before we got to the joys and challenges of depicting real people on stage, Aubrey described how the narrative of Come From Away makes it so different from many Broadway musicals. The show's creators Irene Sankoff and David Hein wrote the book, music and lyrics after conducting extensive interviews with locals and passengers. Within the show the cast of twelve weaves those stories into one. As the actors move and sing into and out of their different roles, they also acknowledge the audience.
"The way it's presented is that we're twelve players here to tell you a story and we're going to play lots of different characters. We hope that you will come on board for that," explains Aubrey. "I think that's why people feel such direct connection, ownership and empathy when they see the show—because it is presented that way."
The tale of generosity and connection, of humans helping humans, is reflected in the way the cast tells the story equally.
"Everyone is ensemble. Everyone is principal," explains Aubrey. "In our company, we're all carrying the story together. If a standby has to go on, our expression is: 'shove with love.' We all catch each other and help each other."
But creating a show from true events and people's lives can lead to some nervousness, as well as artistic opportunities.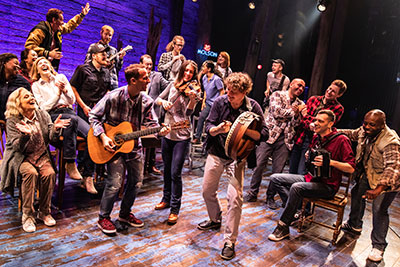 "We've all been really lucky. We get to hang out with our [real-life] counterparts. The company is very supportive. They tend to fly them in for big, significant openings. We're also able to read all their transcripts and ask them questions," she describes, adding "I do feel a tremendous sense of wanting to make sure that they feel represented in their story in an honest way."
The two primary roles Aubrey plays are Gander resident Annette and pilot Beverley, who might very well be the musical's biggest fan, having seen the show over a 100 times.
"She loves the show and loves everyone who plays her," says Aubrey. "There's now five of us around the world, in five different productions. I'm sure it's very weird for her to have not just one person do it but have five women interpret her character in five completely different ways."
But for Aubrey that wonderful weirdness goes both ways. As Beverley, she sings one of the most biographical and revealing songs in the show "Me and the Sky."
"I think it's weird to play someone who's very much still alive and weirder still to actually becomes friends with that person. She's often in the audience and I know she's there and it's the best kind of weird."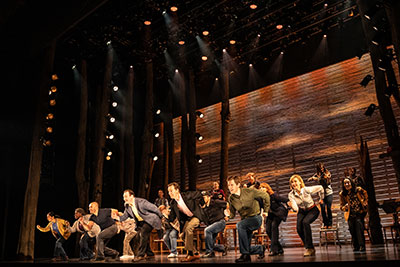 When I asked about the Dallas stop, Aubrey mentions with a laugh that she imagines Bass will occasionally camp out in her dressing room.
What makes Come From Away such an acting adventure is that Aubrey moves back and forth, sometimes in the same song, from playing smaller roles as well as Bev and the distinctly different Annette.
"Annette's one of the people who helps all the stranded passengers. She's a beautiful reflection of the heart, generosity and adaptability of the people of Gander," Aubrey says with obvious affection for both roles. "She's a nice contrast to Bev who's in a position where she's got all these passengers she's responsible for and she's very much in business mode the whole time she's stranded. Annette's maternal and a bit daffy. She does some lovely comedic things where she's crushing on the visiting pilots. They're really contrasting and that's fun."
The acting challenge also requires some accent-juggling.
"Every single actor has to switch quickly from quite different dialects. We all have to do Newfoundland at some point, which is challenging because it's such a hybrid accent. We've all had to work pretty solidly to make sure we sound real and then to get those gear changes really smooth," she describes and then adds with another Australian-accented laugh, "There's no neutral for me from the second I step on stage. Even those incidental moments when we're in a so called neutral accent I have think about it a little bit more —otherwise there'd be no Rs!"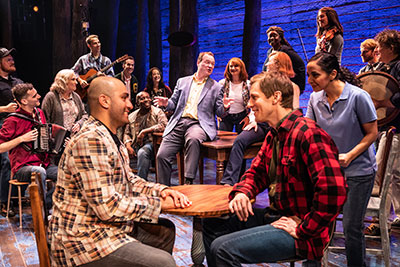 In both Australia and the U.S, Aubrey's performance credits include many musicals but also one-woman cabaret shows, yet she says Come From Away's ensemble structure has become her favorite.
"This is a lot more fun because you have people to play with. Doing a one-woman show is one of the greatest challenges for a performer. When you're on stage by yourself no one can rescue you. But the best thing about this job is that I get to bounce the metaphorical ball around with other people and get to play with them. I really love this style of ensemble working."
—TARRA GAINES