CAMH Surveys Abstract Painting's Present and Future in Outside the Lines
---
IMAGE ABOVE: (Detail) Jack White
Trilogy To Connie's Robe # II, 1995
Mixed media on canvas
72 x 57 1/4 inches
Courtesy the artist
Photo: Rice Jackson
---
The Contemporary Arts Museum Houston is marking its 65th anniversary with Outside the Lines, a six-part exhibition presented in two rounds that will fill both of CAMH's floors — all devoted to contemporary abstraction. Texas artists David Aylsworth, Christopher Cascio, Joseph Cohen, Gabriel Dawe, Nathaniel Donnett, Christian Eckart, Mark Flood, Nathan Green, Geoff Hippenstiel, Floyd Newsum, Susie Rosmarin and Shane Tolbert will be represented alongside such figures as David Hammons, John Outterbridge, Amy Sillman and Charline von Heyl. CAMH director Bill Arning spoke with artist Arthur Peña about the show.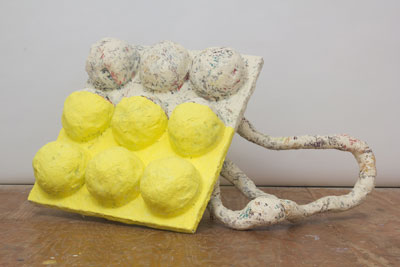 BILL ARNING:  There have been so many issues of the leading art journals, including the August issue of October, devoted to abstraction in the last year, so it does seem timely, but the impetus from our end was much simpler. As a non-collecting museum, even the best-known shows we have done live only in the art and discourse they provoked.
We took one typically provocative CAMH show (Abstract Painting, Once Removed, 1998) and then the three of us (Arning, Valerie Cassel Oliver and Dean Daderko) ruminated on where we saw this discussion happening 15 years later, and formatted our curatorial responses. The visiting audience need not think or have even heard of the catalytic show to have a fascinating experience here, but for those who watch CAMH carefully, there will be an added layer of commentary-meta-curating in addition to some wonderful works to consume.
A+C:  What do you believe gives painting its longevity and resilience? The medium's identity is historically in constant flux; is it this history that can allow us to open new dialogues in the present?
BA:  I rely on the old saying that "there is no creativity without constraint," and wrestling with the history of a medium is synonymous with human creativity. Painting is a great force and weight against which to bounce one's desire to mess with received wisdom. Painting is almost every art- lover's gateway drug. What kid falls in love with conceptualism first? It's nearly always a painting that pulls us into looking at art as a way of life. That is where our most engaging and provocative encounters continue to occur.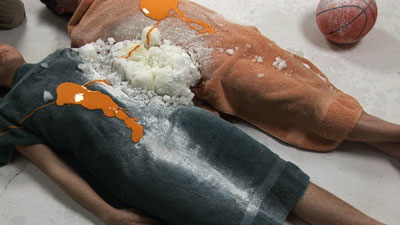 A+C:  What painting was your "gateway drug"?
BA:   Not sure if that should stay a secret, but it was Picasso's Guernica. I grew up in NYC with parents who took us to museums and I obsessed over it. I remember how it greeted you at the top of MOMA's stairs. I knew it was a scene of savage violence and the animal heads moved me more than the dead children. I know I only understood in the most general way what the politics of fascism meant but I understood art could speak powerfully. My love of Picasso was given to me by my father. My older sister Valerie gave me Warhol and from my first Warhol Marilyn I learned that art could adopt entertaining attitudes and undercut pomposity. Somewhere between the Marilyns and Guernica I found my sensibility.
A+C:    That's an interesting place to rest. How does that sensibility manifest in Outside the Lines?
BA:   By my mounting two shows that are at the opposite extremes of contemporary abstract practice. I like opposing viewpoints in one mind.
A+C:    Can you talk about two artists or works in the show that occupy these opposing viewpoints?
BA:   Any of the works in the section Painting: A Love Story gives evidence of a continuing faith in the power of risk in the studio — the joy of making a painting without knowing the end point. In the section UIA: (Unlikely Iterations of the Abstract) the works are more planned and delivered with wry while taking on paintings interpretive possibilities. One funny point is the comparison offered between Dallas-based Nathan Green and Brooklyn-based Cordy Ryman. Green is in part one and Ryman is in part two. Their works and process are often very similar looking in their finished forms but I like that the interpretation of their works from visual twins to opposite's flips contextually. That is a curator's sleight of hand that testifies to the multivalent possibilities inherent in interesting work.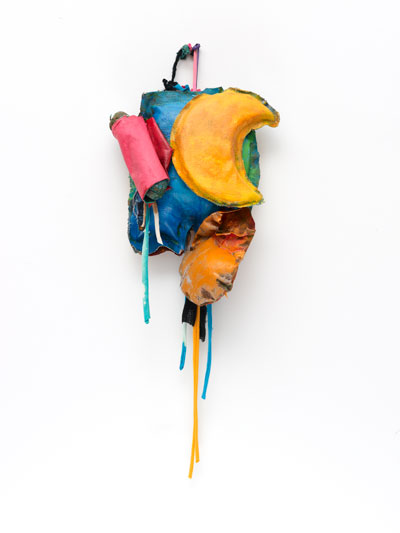 A+C:    In the press release for UIA you mention that the works in the show "might be like stubborn and charming ghosts, unaware that time has passed." Is this suggesting that abstraction can exist outside of "time" since it is not tied to representation?
BA: I had not thought of it that way, just that their moment of extreme radicality was before my grandparents were born. I spent hours at the Inventing Abstraction show at MOMA, and I loved the networked global contests for who could be the most abstract – for that to exist today, even in a seminar room, would be a wild time travel adventure movie.
A+C:    That sounds super fun. Would you say that your approach is a way to de-mystify the abstract and to let the viewer find another way in that isn't tied to formalism or spirituality?
BA:  Perhaps we mourn the loss of the possibility of formalism and spirituality with humor, play and uninhibited pleasure?
—ARTHUR PEÑA
---
Outside the Lines
Contemporary Arts Museum Houston
Oct. 31-March 23