---
IMAGE ABOVE:  Diavolo dancers performing Trajectoire.  Photo by Angela weiss.

---
AUSTIN
The Agony and the Ecstasy of Steve Jobs/Vortex
Austin debut of Jade Esteban Estrada's new one-man comedy.
Oct. 16.

---
Stars and Barmen/Vortex
Vortex presents the world premiere of Reina Hardy's Stars and Barmen, a comedy about getting lucky in space–time. Oct. 26‑Nov.16.

---
Austin Film Festival & Conference
Four days of workshops and panels and eight nights of films and parties.
Oct. 24-31.

---
Fat Pig/Theater en Bloc
Neil La Bute's explores how society treats a romance between a young  man and his plus-sized girlfriend. Oct. 3‑20, The Off Center.

---
Salt and Pepper/Zach Theater
José Cruz Gonzalez's Salt and Pepper is a bilingual play that deals with issues of illiteracy and its effect on families and communities. Through Nov. 2, Whisenhunt Stage.

---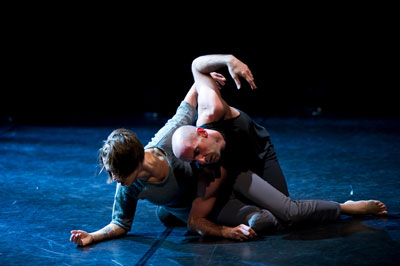 New Jerusalem/Paradox Players
David Ives' gripping drama chronicles the story of  Jews of Amsterdam who have made a fatal arrangement with the city, agreeing to police their own community for unorthodox beliefs in return for safe harbor. Oct. 11‑27, First Unitarian Universalist Church.

---
Cho-Liang Lin/Austin Symphony
Cho-Liang Lin performs Prokofiev's Violin Concerto No. 2 in G Minor, Op. 63, along with Mark Wilson's Meteora and Tchaikovsky's Symphony No. 5. Oct. 11‑12, The Long Center.

---
Lightspace/UT Austin
Joel Love's Lightspace, commissioned by Landmarks, will be performed  on the rooftop of  James Turrell's Skyspace. Oct. 17-19.

---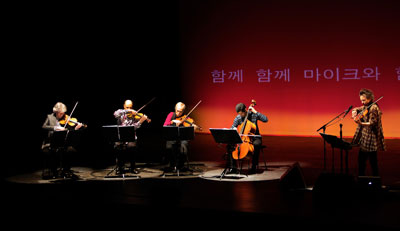 Laurie Anderson & Kronos Quartet/Texas Performing Arts
Anderson and Kronos present their first–ever collaboration, Landfall, a new evening–length work offering a dynamic interplay between text and music.
Oct. 16, Bass Concert Hall.

---
Lar Lubovitch/Texas Performing Arts
The company will be joined by a special UT faculty ensemble in a performance of Lubovitch's 2011 Crisis Variations, which features a score by UT assistant professor Yevgeniy Sharlat. Oct. 30, Bass Concert Hall.

---
Anda Union/Texas Performing Arts
Combining different traditions and styles of music from all over Inner and Outer Mongolia, Anda Union draws from a repertoire of enchanting music that all but disappeared during the region's tumultuous recent past. Oct. 17, Bass Concert Hall.

---
Dallas/Fort Worth
Cuatro Corridos/Soundings
Cuatro Corridos is a chamber opera in four acts composed by Lei Liang, Hilda Paredes, Arlene Sierra, and Hebert Vázquez addressing one of the most critical human rights issues of our time: human trafficking. Oct. 4, Nasher Sculpture Center.

---
Spamalot/Stolen Shakespeare Guild
Ripped off with love from the classic film comedy Monty Python and the Holy Grail, Spamalot tells the legendary tale of King Arthur and his knights of the Round Table, featuring a bevy of show girls and an occasional killer rabbit. Oct. 11 28, The Fort Worth Community Arts Center.

---
Dracula Phillip Glass/Performing Arts Forth Worth
Glass and his Ensemble perform the score to the classic 1931 frightfest, Dracula. Oct. 29.

---
Tony N' Tina's Wedding/Performing Arts Fort Worth
Enjoy an evening that includes the ceremony, the reception, Italian baked ziti dinner, champagne toast, wedding cake, music and dancing. Oct. 23-27, McDavid Studio.

---
Hank Williams: Lost Highway/Watertower Theatre
The musical biography of the rise and fall of the legendary singer-songwriter Hank Williams features such hits as "I'm So Lonesome I Could Cry," "Jambalaya" and "Hey, Good Lookin'." Oct. 11 Nov. 3, Addison Theatre Centre.

---
A Gathering: The Dallas Arts Community Responds to AIDS
The Dallas arts community comes together again for a A Gathering, collaboration between some of the finest arts organizations in Dallas is produced by TITAS in collaboration with the AT&T Performing Arts Center and 10 other arts organizations. Proceeds from A Gathering will directly benefit four Dallas AIDS service organizations. Oct. 7.

---
D'Drum/Fine Arts Chamber Players
The music of D'Drum is derived from the traditional cultures of Bali, Africa and Persia blended with the influences of western classical and jazz forms. Oct. 26. Dallas Museum of Art.

---
Romeo & Juliet/Texas Ballet Theater
Ben Stevenson's masterful adaptation brings Shakespeare's classic story to life through Stevenson's riveting choreography and Prokofiev's sweeping score. Oct. 8 20, Bass Performance Hall.

---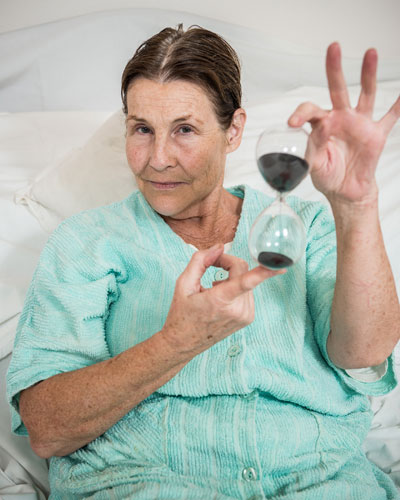 Death Tax/Amphibian Stage Productions
Lucas Hnath's Death Tax is a darkly comic play about death and taxes and how we live with both. Oct. 17-Nov. 10.

---
Dallas Opera Perspectives/Dallas Opera
Dallas Opera Perspectives is a series designed by Dallas Opera General Director and CEO Keith Cerny to share his personal perspectives and those of a host of arts leaders—both local and national—on a wide variety of topics relevant to opera and the performing arts today. Oct. 8, The Meadows Museum at SMU.

---
Carmen/Dallas Opera
Mezzo-soprano Clémentine Margaine in her American debut of Carmen. Oct. 25 Nov. 11,Winspear Opera House.

---
Fuzzbug Follies/Hip Pocket Theatre
A pastiche of pantomime, dance, and popular music recordings
from the 1940s. Oct.18–27.

---
Clybourne Park/Dallas Theater Center
Bruce Norris' 2011 Pulitzer Prize winning play Clybourne Park is a biting response to Lorraine Hansberry's iconic play, A Raisin in the Sun. Oct. 4 27, Wyly Theatre.

---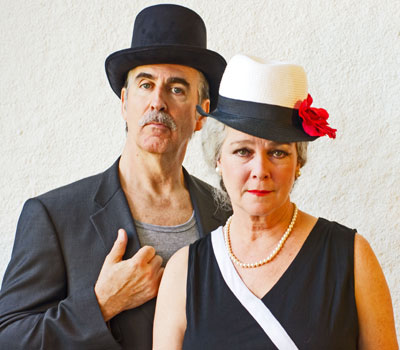 Happy Days/ WingSpan Theatre Company
Samuel Beckett's absurdist masterpiece, Happy Days explores the tenuous relationships that bind one person to another and to time past and time present. Oct. 10–26, The Bath House Cultural Center.

---
The Lion King/Dallas Summer Musicals
The circle of life continues with Simba and the gang. Oct. 2-20, Music Hall at Fair Park.

---
Sandra Bernhard/Wordspace
American comedienne, singer, actress and author Sandra Bernhard appears as part of the Wordspace series. Oct. 23, Kessler Theater.

---
DanceAfrica/Dallas Black Dance Theater
DanceAfrica unites Dallas Black Dance Theatre, Bandan Koro Drum and Dance Ensemble and the Booker T. Washington HSPVA World Dance Ensemble to celebrate the cultural vitality of Africa with two evenings of performances. Oct. 4-5, Winspear Opera House.

---
Deconstructing Broadway/Turtle Creek Chorale
Broadway insider Seth Rudetsky in an evening of classic show tunes and a behind-the-scenes peek at the Great White Way. Oct 30, Meyerson Symphony Center.

---
Garland
Daddy's Dyin'/Garland Civic Theatre
Del Shores' comedy Daddy's Dyin' Who's Got the Will? examines death Texas style. Oct. 4-26, Granville Arts Center.

---
Denton
Marisol/UNT
Winner of the 1993 Obie Award, Marisol was written by José Rivera as a "wake-up call" to society to find a way to recover the long-lost and much-needed compassion for our fellow man, as this is the only way to save our world.Oct. 31-Nov. 10, University Theater.

---
Houston
TEDxHouston/Culture Pilot
Artists speaking include Taylor Gahm, stand up comic, a writer, and a visual artist; Sehba Sarwar is a writer, multidisciplinary artist, and activist; Scott Turner Schofield who has made a successful career out of being openly transgender; and Outspoken Bean, a Texas Poet Laureate nominee and ranked 25th in the Individual World Poetry Slam 2012. Oct. 12, Rice University.

---
Kino B: Contemporary Cinema by Berlin-based Artists/Aurora Picture Show
Kino B initiates viewers into the swarm of moving images made thus far in the 2010s by Berlin-based artists. Oct. 19.

---
William Basinski with James Elaine/CAMH
Using original compositions, found sound, tape loops, and delay devices, Basinski's experimental music compositions provide accompaniment to Elaine's fragmented and painterly moving images recorded using super-8 video. Oct. 11.

---
Shifting Spaces/Chapman Dance
Shifting Spaces is a collaboration between choreographer Teresa Chapman and visual artist Lucinda Cobley. Oct. 18-19, The Barn.

---
Paul Taylor Dance Company/SPA
The Paul Taylor Dance Company performs such classics as Airs, Esplanade and Sunset, and will feature live music performed by Mercury. Oct. 12. Jones Hall.

---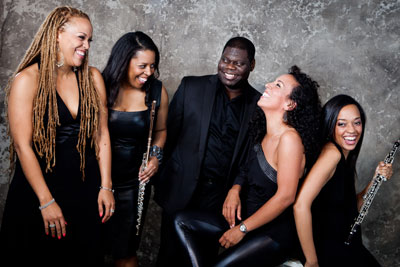 Imani Winds/Houston Friends of Chamber Music
Imani perform a culturally diverse repertoire ranging from classics to contemporary and folk-inspired pieces. Oct. 15, Stude Concert Hall.

---
Takacs Quartet/SPA
The Grammy winning quartet will perform Mozart's String Quartet K458, Janaček's String Quartet No. 2 and Dvořak's Bass Quintet Op. 77. For the final piece, the musicians will be joined by double bassist and Rice University professor Timothy Pitts. Oct. 24, Stude Hall.

---
Midori plays Mendelsssohn/Houston Symphony
The unrivaled Midori joins music director designate Andrés Orozco- Estrada and the Houston Symphony to perform Mendelssohn's Violin Concerto. Oct. 18-20, Jones Hall.

---
Audra McDonald/SPA
Broadway legend Audra McDonald, accompanied by Houston native and Rice alum, Andy Einhorn, in an evening of favorite show tunes and unforgettable songs from the movies.Oct. 19, Wortham Center.

---
Peter Brötzmann & Keiji Haino/Nameless Sound.
Nameless Sound, the Rice University Department of Visual and Dramatic Arts, the Shepherd School of Music, and the Chao Center for Asian Studies present three nights of solos, duos, and an art opening at Rice Media Center. Oct. 7-9, Rice University.

---
Lizzie/TUTS Underground
Lizzie is a rock musical that retells the legend of America's first and favorite axe-wielding double-murderess and Victorian hometown girl, Lizzie Borden. Oct. 10-12, Hobby Center.

---
Buffy The Vampire Slayer Benshi/Bootown
BooTown resurrects the film Buffy the Vampire for a Benshi-style performance at several locations. Oct. 4-19.

---
Venus in Fur/Alley Theatre
David Ives' Venus in Fur is an electrifying game of cat and mouse between a young actress and a playwright-director; it blurs the lines between seduction and power. Oct. 16-Nov. 10, Neuhaus Stage.

---
All Girls/Stark Naked
The regional premiere of Anna Greenberg's All Girls explores the credulity of a set of 13-year old girls. Oct.10-26, Studio 101.

---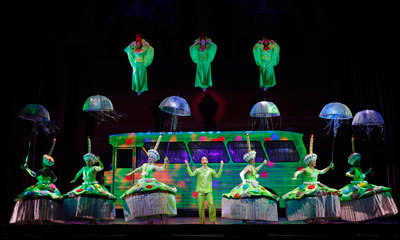 Priscilla Queen of the Desert/TUTS
This fun show tells the uplifting story of a trio of friends on a road trip of a lifetime, who hop aboard a battered old bus searching for love and friendship in the middle of the Australian outback. Fabulous songs ensue. Through Oct. 19, Hobby Center.

---
Peter and the Starcatcher/Gexa Energy
The winner of 5 Tony Awards, this swashbuckling prequel to Peter Pan Peter and the Starcatcher, is the innovative and imaginative musical play based on the best-selling Disney-Hyperion novel by Dave Barry and Ridley Pearson. Oct. 15-20, Hobby Center.

---
Edwidge Danticat & Daniel Woodrell/Inprint
Edwidge Danticat & Daniel Woodrell from their novels Claire of the Sea Light and The Maid's Version. Oct. 13, Wortham Center.

---
The Jerusalem String Quartet/Da Camera
The world-renowned Jerusalem String Quartet performs Shostakovich's middle quartets, a showcase of a composer at the height of his creative powers. Oct. 14-15, The Menil.

---
ACS/Da Camera
Geri Allen, Terri Lyne Carrington and Esperanza Spalding play Carrington's Grammy Award-winning The Mosaic Project. Oct. 19, Wortham Center.

---
Die Fledermaus/HGO
Die Fledermaus offers captivating serenades, a famous Hungarian csárdás and lilting waltzes, all set in a stylish deco-inspired world. Oct. 25-Nov. 10, Wortham Center.

---
Aida/HGO
Lyudmila Monastyrska stars as Aida with Riccardo Massì as Radames. Oct. 18-Nov. 9, Wortham Center.

---
Veronica's Room/Stages Theater
Ira Levin's forgotten gem tells the story of a young couple visiting a dying woman in her isolated mansion. Oct. 9-Nov. 3.

---
Opening Night/WindSync
WindSync's Carnegie Hall send-off concert will feature original WindSync arrangements of music inspired by Broadway, ballet, and jazz in the Big Apple. Oct. 5, First Unitarian Universalist Church.

---
Pier Paolo Pasolini/Films at MFAH
MFAH's 8th annual Italian Film Retrospective focuses on the films of the legendary Pier Paolo Pasolini, known for his cinematic composition and tone, along with his ease across the genres. Through Oct. 27.

---
The 5th Annual Indian Film Festival/Asia Society
From blockbusters to docs, the Indian Film Festival of Houston has gained a well-deserved reputation for presenting the best cinema India and its diaspora have to offer. Oct. 4-6, Asia Society Texas Center.

---
San Antonio
4th Annual Flamenco Fest/SA Parks and Recreation
Celebrate Hispanic Heritage Month with performances by SA Parks and Recreation Flamenco Dance Program The Guadalupe Dance Company and Los Flamencos de La Chispa. Oct. 11& 13, Guadalupe Theater.

---
American Brass Quintet/San Antonio Chamber Music
American Brass Quintet performs works by Luca Marenzio, Osvaldo Lacerda, David Sampson, Ludwig Maurer, Josquin des Prez, and Joan Tower. Oct. 20, Temple Beth-El.

---
New Play Festival/Atta Girl Productions
Nine staged readings of the most boundary bending plays from throughout the US, taking on everything from transgender identity to schizophrenia. Oct. 4-13, Gemini Ink Literary Art Center.

---
Detained in the Desert/Atta Girl Productions
Josefina Lopez's Detained in the Desert explores how we, as humans can reach across our political stances amidst the treacherous anti-immigrant environment. Oct. 6-28, The Historic Guadalupe Theater. attagirlproductions.org.

---
Young Frankenstein/Woodlawn Theatre,
A wickedly inspired re-imagining of the Frankenstein legend based on Mel Brooks's classic comedy masterpiece. The story follows bright young Dr. Frankenstein as he attempts to complete his grandfather's masterwork and bring a corpse to life. Oct. 4-Nov. 3.

---
Les Misérables/Playhouse
The Playhouse gets a go at the world's longest running musical. Oct. 3-Nov. 3, Russell Hill Rogers Theatre.

---
TEDx San Antonio
Artists speaking include photographer Nelson Guda, architect Brantley Hightower and performance artist Julia Langenberg. Oct. 12, Rackspace Global Headquarters.

---
Diavolo/ArtsSA
Jacque Heim's daredevil dancers from Los Angeles bring a variety of backgrounds to the stage. Expect eye—candy virtuosity, oversized surrealistic sets and innovative choreography. Oct. 5, Lila Cockrell Theatre.

---
Willy Wonka/Magik Theatre
The Ronald Dahl classic chronicles the trials of Charlie Bucket, who competes with four other selfish kiddos to win the riches of Wonka's chocolate factory. Oct.11-Nov.9.

---
Dearly Departed/The Vexler
Mayhem ensues when a family gathers together to bury their loved one in David Bottrell and Jessie Jones's dark comedy. Oct.19 – Nov. 17.

---
Yamato Drummers/ArtsSA
Founded by Masa Ogawa, Yamato Drummers envelops the audience and performers with the energy of life. Oct. 27, Lila Cockrell Theatre.

---
San Marcos
Adrift in Macao/Texas State University
Christopher Durang and Peter Meinick's Adrift in Macao is a loving parody of film noir movies. Tony Award-winning playwright Durang will do a talkback following the performance on Oct. 11-12. Oct. 8-13, University Theater Center.

---
Brenham
You Never Can Tell/Unity
George Bernard Shaw's multi-generational romp of mistaken identity and ever-changing relationships. Through Oct. 13.