---
IMAGE ABOVE: Francisco de Goya y Lucientes (1746-1828), Two Groups of Picadors Overrun Consecutively by a Single Bull, 1814-16. Red chalk and red-ink wash on laid paper. Hamburger Kunsthalle, Kupferstichkabinett (38541). On view in The Spanish Gesture: Drawings from Murillo to Goya in the Hamburger Kunsthalle at the Meadows Museum in Dallas. Photo by Christoph Irrgang.
---
Abilene
Home on the Range
The 22 sparsely populated counties of the Central West Texas region share a history as an important concourse for indigenous people, ranchers, farmers and merchants in the 19th and early 20th centuries. Work by important artists who documented early impressions of the area, historic photographs, oral histories and rarely-seen artifacts from private and public collections reveal a historical link to the area's past. Through Aug. 8, The Grace Museum.
---
Albany
West Texas Triangle: Ken Little
Discarded shoes, bodiless garments, animal masks and figures all suggest the existence of former selves in the work of San Antonio sculptor Ken Little, the selected artist for the 2014 West Texas Triangle exhibition. Little utilizes these "shells" to create works whose sense of humor belies notions of loss, nostalgia, death, voids and emptiness. Through Sept. 7, The Old Jail Art Center.
---
Austin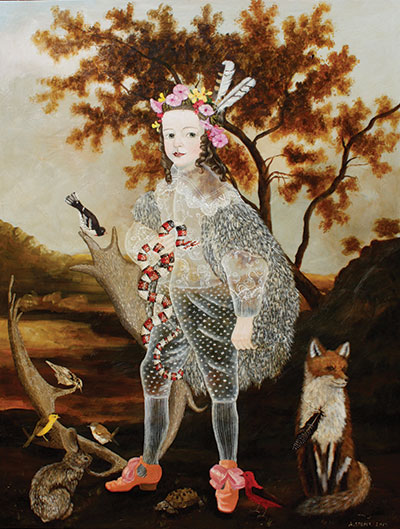 Anne Siems | Flora and Fauna
Siems is German-born and now lives in Seattle. Her figurative work has typically been influenced by the landscape of her youth. However, for this show, Siems explores the Pacific Northwest. Exploring a deeper connection with nature, she creates portraits not of solely the human figure but also of the old growth in the area. Aug. 9-30, Wally Workman Gallery.
---
Wall Dependent?
Troy Campa, an architect and former partner in Houston-based Newberry Campa Architects, is now mounting a pop-up exhibition highlighting works by Texas-based artists Orna Feinstein, Jonathan Leach, Edward Lane McCartney, and Charlotte Smith. Each creates works with a varying dependence on the wall, include two-dimensional wall works, three-dimensional wall works and fully sculptural installations. Aug. 2-Aug. 30, O2 Gallery and Project Space at the Flatbed Building.
---
Lifecycles | John Self + Matt Norris
The precise mechanics of Matt Norris and imaginative compositions of John Self combine in Lifecycles to create an ecosystem of interacting assemblage creatures. Both artists give new life to discarded objects—Norris with bicycle chain, nails and sheet metals; Self with "authentic garage sale artifacts". Their art ties together the lifecycles of organisms with those of consumer products in this dual exhibition of sculptural work. Last chance: Through July 26, Art. Science. Gallery.
---
Orly Genger: Current
"By choosing to work with materials not traditionally associated with high art, Genger creates alliances within the larger social and economic community," writes A+C contributor M. M. Adjarian. "Her choice of lobster rope further suggests that like the fishermen who used it to capture creatures from the sea, she seeks to 'capture' the viewers and recreational users of the Laguna Gloria landscape—or at least their attention and curiosity." Through Aug. 24, The Contemporary Austin–Laguna Gloria.
---
Dallas + Fort Worth
Longitude/Latitude, Part I
Marking Conduit Gallery's 30th anniversary, this group show features work by Jeff Baker, Susan Barnett, Ellen Berman, Matt Clark, Annabel Daou, Vincent Falsetta, Heyd Fontenot, Susan Kae Grant, Billy Hassell, Ted Larsen, Lance Letscher, Steven Miller, Roberto Munguia, Fahamu Pecou, Susie Phillips, Johnny Robertson, Ludwig Schwarz, Michael Tole, and Joan Winter. Last chance: Through July 26, Conduit Gallery.
---
Robert Milnes, I'm (Moving on/Alright)
The earthenware series in the exhibition includes Milnes's "big heads" that play with the notion of what it means to know something, or to believe you know something.  The exhibition also includes a series of wall hanging sculptures influenced by the works of Ludwig Wittgenstein. Last chance: Through July 26, Cohn Drennan Contemporary.
---
Archibald Motley: Jazz Age Modernist
The first retrospective of the American artist's paintings in two decades includes 43 works spanning each period of Motley's career, from 1919 to 1960. Motley's scenes of life in an African-American community, often in his native Chicago, depict "a parallel existence of labor and leisure." His work "examines this community, carefully constructing scenes that depict Chicago's African-American elites, but also the worlds of the recently disembarked migrants from the South and other characters commonly overlooked." The exhibition also features his depictions of Jazz Age Paris and 1950s Mexico.Through Sept. 7, Amon Carter Museum of American Art.
---
The Spanish Gesture: Drawings from Murillo to Goya in the Hamburger Kunsthalle
The Kunsthalle of Hamburg holds one of the most significant collections of Spanish drawings to be found outside of Spain. Much of the core of today's Hamburg collection was assembled by Bartolomé Esteban Murillo (1617-1682) and was produced in and around the Academia de Murillo he established in Seville in 1660 with Francisco Herrera the Younger, Juan de Valdés Leal, Cornelis Schut and others. Among later works, together with Goya's Tauromaquia prints and drawings from his Album B, the collection holds the majority of Goya's drawings after Diego Velázquez that he subsequently used (or intended to use) for his etchings. Through Aug. 31, Meadows Museum, SMU.
---
Samurai: Armor from the Ann and Gabriel Barbier-Mueller Collection
The first traveling exhibition in the Kimbell's new Renzo Piano Pavilion traces the evolution of the distinctive appearance and equipment of the Japanese Samurai from the 12th to the 19th centuries. Highlights include warriors' helmets of lacquered metal, adorned with emblems often inspired by nature; combat-ready samurai in full regalia on similarly armored steeds; and accoutrements used both for battle and ceremonies. Through Aug. 17, Kimbell Art Museum.
---
Richard Phillips: Negation of the Universe
Presented in tandem with his monumental outdoor sculpture Playboy Marfa, which will be installed outside Dallas Contemporary, Phillips's first U.S. solo museum exhibition will feature both past and new works that emphasize his career-long exploration of political and social identity, consumerism, eroticized desire and social constructs. Through Aug. 10, Dallas Contemporary.
---
Houston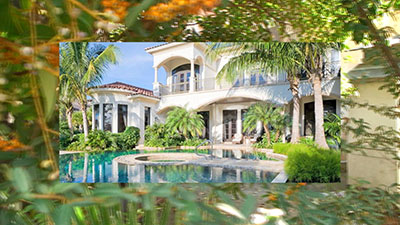 ---
More Real Than Reality Itself
Organized by CAMH curator Dean Daderko, this group show brings together single-, multi-channel, and installation-based video works by four artists who breathe new life into the medium's familiar documentary parameters. Andrea Geyer, Camille Henrot, Laure Prouvost, and A. L. Steiner use video as a vehicle to communicate their unique understandings of the world. Their works expose video's capacity for poetry, its materiality, and its ability to suggest alternative futures by reframing how we see the present. Through Sept. 21, Contemporary Arts Museum Houston.
---
Altered Angles: George Grochocki and Shayne Murphy
While working between Warsaw and Houston, George Grochocki has spent nearly half a century constructing a body of work in the tradition of "one-image" systemic paintings. Emerging Houston artist Shayne Murphy joins elements of realism with geometric abstraction to create otherworldly representations of people, places, and happenings. Combinations of sharp, graphic shapes, precisely modeled forms, and hazily applied graphite generate the works' depth of field, cerebral content, and spatial perceptions. July 11-Aug. 15, Anya Tish Gallery.
---
Candice Breitz: The Woods
The Woods traverses three continents to explore the rituals and conventions governing the on camera and off-camera personae of professional child actors, as well as adult actors who have become famous playing child roles. The trilogy brings together footage shot in Los Angeles, Mumbai and Lagos, seeking to observe and grasp the aspirational logic that is shared by Hollywood, Bollywood and Nollywood. Engaging actors and crews whose creative labor would ordinarily be subsumed into these three giant popular cinema industries, the three chapters of The Woods bring a behind the-scenes eye to industries that typically prefer to mask their inner workings. Through Sept. 6, Blaffer Art Museum.
---
La Frontera
Curated by Mike Holmes and Elizabeth Shypertt, founders of San Francisco's Velvet da Vinci gallery, and Mexico City-based jewelry artist Lorena Lazard, La Frontera (The Borderlands) is an international exhibition of contemporary jewelry that explores the physical space where the complex relationship between Mexico and the United States is most evident. Ninety artists from the U.S., Mexico, Europe, Australia, and Latin America explore the underlying currents of the border environment within geographic, political, social, cultural, and ideological contexts. Through Sept. 7, Houston Center for Contemporary Craft.
---
Transcendent Deities of India: The Everyday Occurrence of the Divine
This group show marks the first joint presentation in Texas of works by photographer Manjari Sharma, graphic novelist Abhishek Singh, and the Raja Ravi Varma Press. The three artists render Hindu gods and goddesses in modern and contemporary forms to refresh the classical imagery, resituate the deities in the viewers' frame of reference, and ensure their applicability in new eras. Through Sept. 14, Asia Society Texas Center.
---
Marfa
Sound Speed Marker: Theresa Hubbard and Alexander Birchler
"Through three video installations—Grand Paris Texas, Movie Mountain (Méliès), and the premiere of their most recent film, Giant—Hubbard/Birchler frame the traces that filmmaking leaves behind in physical places as well as in people's psyches," writes A+C contributor Nancy Zastudil. Sound Speed Marker also includes related photographs and a comprehensive catalogue due to be published in December. Last chance: Through July 31, Ballroom Marfa.
---
San Antonio
---
Summer 2014 International Artist-in-Residence Program
N'Gone Fall, an independent curator, art critic, and consultant in cultural engineering, has curated the new round of artist-in-residence exhibitions, inviting Kader Attia, whose installations and video pieces deal heavily with the interactions between Christianity and Islam and the post-colonial mire of Franz Fanon's France; Dallas artist Margaret Meehan, whose installations, drawings and photos juxtapose the grotesque with the delicate; and Frisco-based Jungeun Lee, whose stark textile photographs and installations explore the relationship between human experience and cultural memory. July 10-Sept. 14, Artpace.
---
Ed Saavedra: Ain't Necessarily So
Saavedra's previous work has been featured in the McNay Art Museum, San Antonio Museum of Art (permanent collection), Institute of Texan Cultures, Museo de Arte Moderno (Peru), Blue Star Contemporary Art Museum, Granado Veintiséis (Mexico City), and Art Lies: A Contemporary Art Journal. July 26-Aug. 24, Sala Diaz.
---
Te Quiero A Lot Mamacitas: Cruz Ortiz
The exhibition exemplifies the San Antonio artist's way of blending language, imagery and mixed meanings with a rasquache approach.  By pulling from art movements, such as Pop Art, Conceptualism and Art Brut, Ortiz spontaneously blasts both humorous and dramatic Tex-Mex cultural realities. Last Chance: Through July 23, The Guadalupe Cultural Arts Center.
---
Matisse: Life in Color, Masterworks from the Baltimore Museum of Art
Most of the show's nearly 100 paintings, drawings and works on paper come from the renowned Cone Collection, which was formed during the first half of the 20th century by Baltimore sisters Claribel and Etta Cone. They acquired some 500 Matisses spanning six decades, as part of a collection that included works by Picasso, Cézanne, Paul Gauguin, and Vincent van Gogh, as well as a variety of textiles, jewelry, furniture, and African, Asian, and Near Eastern art. Considered the Baltimore Museum of Art's crown jewel, the Cone Collection's Matisse holdings may be the best anywhere. Through Sept. 7, San Antonio Museum of Art.
---
Tyler
Scott M. Lieberman, M.D.: At the Vantage Point
The exhibition brings together more than 90 images representing Lieberman's body of work as a photojournalist with the Associated Press and numerous publications, encompassing a broad spectrum of subject matter including celebrity portraits, sporting events, nature tableaus and aerial photography. Last chance: Through July 13, Tyler Museum of Art.
— DEVON BRITT-DARBY
Email your upcoming visual-arts submissions with hi-res images to devon@artsandculturetx.com.