Lena Oren, Hattie Haggard and Joshua L. Peugh in his Big Bad Wolf.
Photos by Sharen Bradford.
---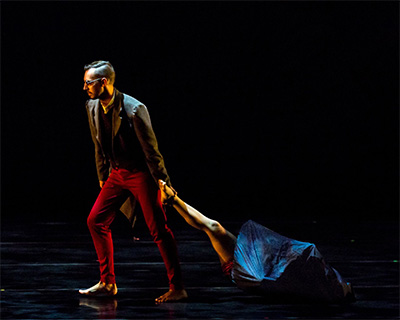 In Heinrich Hoffmann's 1845 children's book Struwwelpeter, a little boy is warned by his mother to stop sucking his thumbs, lest they be cut off by a scissor-wielding, red-legged tailor. When she goes out, her son can't resist resuming his nasty habit. "And it happens," says Joshua L. Peugh, who was inspired by the dark fairytale to create a new dance piece. "She comes home, his thumbs are cut off and that's the end of the story."
The Dallas choreographer also draws on Little Red Riding Hood, which can be traced back to a 10th century European folktale later popularized by French author Charles Perrault and the Grimm Brothers, and on the ancient, universal character of the Sack Man, a kind of anti-Santa who bags naughty children and carries them away. He appears in stories from Latin America to Eastern Europe, the Middle East and Asia. "It's the same character in these really spread out, culturally diverse places, the same story —adults using an imaginary figure or cautionary tale, some sort of boogeyman, to elicit good behavior," Peugh says, in an interview at an Arts District coffee shop in front of the Winspear Opera House. "It's interesting to me that we do that as humans worldwide."
His Dallas-based company, Dark Circles Contemporary Dance, will premiere Big Bad Wolf, Peugh's take on the terrorizing tales we've been telling children for centuries, on Oct. 13 in South Korea, where he was a ballet dancer after graduating from Southern Methodist University. The 30-minute work then opens the troupe's 2017-18 season as part of the AT&T Performing Arts Center's Elevator Project, an attempt to give smaller groups access to spaces in the downtown Arts District. Along with his interpretation of the classic ballet Les Sylphides, Big Bad Wolf runs Oct. 19-21 in the sixth-floor black box at the Wyly Theatre. Dark Circles brought an excerpt to the Dallas DanceFest last month.
Peugh plays the tailor/sack man/wolf, his first role since badly injuring his right knee last year. He is first seen in red pants and sunglasses dragging Victoria Daylor across the stage in a bag. After establishing the five characters, including two adults and two children, the piece has Lena Oren telling the story of Little Red Riding Hood while improvising movement. She is then carried away herself. "It's entertaining to adults in a weird, creepy way because we understand fantasy," Peugh says. "As adults, we also have imaginary evil figures, but they're not the tailor or the Big Bad Wolf anymore. They're bills or North Korea — whatever the monster is that we're afraid of right now."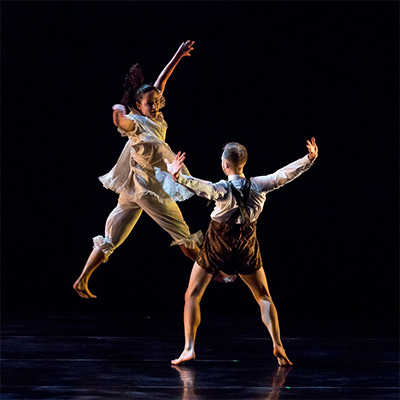 These vignettes play like vaudeville-style variety acts, full of melodrama, "like the circus, where the veneer is bright and shiny, and then there's this weird darkness put on underneath." The costumes also have a baroque quality, from lederhosen to ruffled dresses to the baby-doll worn by Oren. Peugh, who originally wanted to be a musical-theater performer, uses a musical thread to hold the quasi-narrative together, a new composition commissioned from recent SMU graduate Brandon Carson. "I'm more concerned with telling the story clearly than creating a concert-dance work," he says. "I'm coming back to my love of the theatrical world."
Peugh had personal experience as well as a rich catalog of cautionary tales to pull from. Besides Hoffmann, Perrault, the Grimms and Aesop, he remembers Shelley Duvall playing the lead in a PBS production of Little Red Riding Hood, which his family had on laser disc. His sister would terrorize him just by mentioning the Big Bad Wolf. "To this day it makes me feel uncomfortable. I still haven't watched it since I started working on this project."
Peugh also reaches back to his past for Les Fairies, his version of Fokine's plotless 1909 ballet Les Sylphides. At first, he intended to create something campy, but wound up with a hardcore ballet that goes for the same kind of atmospheric beauty. Chopin's original score will be played live on piano by SMU Meadows School of the Arts staff musician Richard Abrahamson. "I'm paying homage to my background as a ballet dancer, going back to some of the colors in my palette that I don't use anymore," Peugh says. "Although I want the dancers to feel heavy and weighted with their bodies and gravity, I also want more delicacy than in Big Bad Wolf. It's important to me that they're really hearing the music and connecting to the piano."
Les Fairies started forming in his mind as he watched The Adventures of Priscilla, Queen of the Desert for the first time. He was struck by a scene of one of the drag queens sitting inside the oversized high-heeled shoe on top of their bus that acts as a throne. As they cavort down a desert dirt road, she's lip-syncing an aria, a long stretch of fabric trailing behind her.  "It was at this moment when I realized there are so many beautiful moments in gay culture that I forget. I forget that about my tribe. I forget sometimes that gay people make magical, beautiful things. That's what I'm trying to do with Les Fairies, which is why it's called Les Fairies."
Peugh has been frustrated over his inability to find affordable performance space in Dallas, where he lives and works, so he has been doing his shows at Texas Christian University in Fort Worth. By the time the Elevator Project opportunity came around, he'd decided to take his company wherever they could perform in small, intimate spaces rather than worry about geographical location. He continues to receive commissions for new choreography from dance companies around the country, including Dallas Black Dance Theatre, which will premiere a new work by Peugh in the spring. He has a crop of new dancers he's excited about, even as he realizes they will use their time with him as a springboard to bigger stages.
"The caliber of dance that we do and the caliber of respect that we have in the dance community at large, that says something about what we're up to," Peugh says. "This isn't me and my buddies doing a show anymore. We're training five days a week. We're doing a premiere on the other side of the world. For us to treat Dallas like there's something happening here, which clearly there is, for us to treat this company like it's a legitimate company that could be put up against these other companies being brought in by TITAS, because it can — to refocus that way is important to me. What's happening here is nothing to sneeze at."
—MANUEL MENDOZA