Kelly Myernick in Christopher Bruce's Hush. Photo by Amitava Sarkar.
---
Houston Ballet's Jubilee of Dance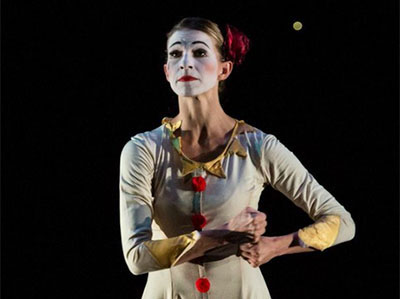 Bobby McFerrin wasn't three notes into his scat style "Ave Maria" when I felt the full weight of the moment. This would be the last time I would get to see Houston Ballet's treasured dancer Kelly Myernick in Christopher Bruce's Hush, a ballet so hand-tailored to her set of skills and range as a dancer that it is always breathtaking. I was privileged to have seen her in this ballet for the first time, and now I was watching her for the last time. Whether she is making her fingers scramble like a spider or mopping the floor, and other gestures of motherhood, she draws our eyes near to her. I was hoping during those moments every young dancer in the theater was watching and learning, because if anything, Myernick taught us that dance is a wide open field and you just better get good at moving large and small. She excelled in contemporary work, especially Bruce's works, but also had a fabulous show off side, as evidenced in her performance as Gamzatti in Stanton Welch's version of La Bayadere. Myernick, now a mother, freelance dancer and teacher, used Bruce's poetic side skittering right and left to drift upstage, out of the Houston Ballet chapter of her dancing life, with her husband and baby daughter Edie, looking on.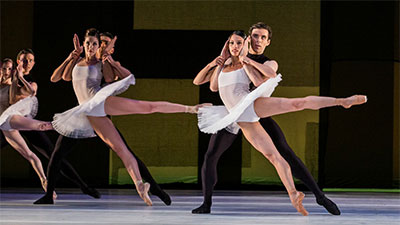 There were other treats in store, some considerably less bittersweet, like watching Karina Gonzalez and Connor Walsh looking lush and in love in the pas from La Bayadere, then later together again in Stanton Welch's nervy and electric Velocity. So well matched in temperament and artistry, their partnership continues to deepen.
There was kind of a wild energy to much of the evening, some purposeful, some due to the difficulty of putting on such a diverse program in the middle of Nutcracker season, and some because that's what happens with you have a  Welch-centered evening. The choreographer packs a wallop of detailed movement into most of his ballets, which brings me to Clear, Welch at his minimalist best.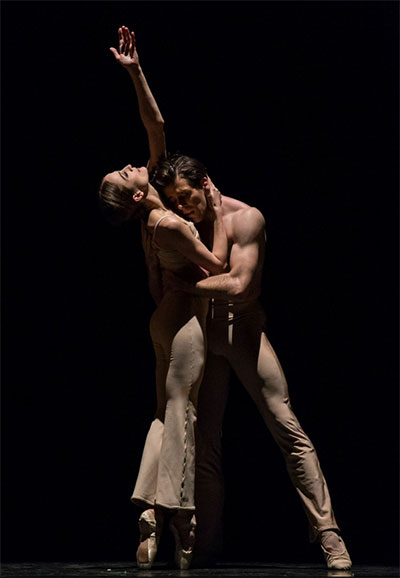 Clear, created on American Ballet Theatre in 2001, proved another high point of the evening. First, it's simply a stunning and spare ballet, musical in the way a Welch ballet can be, complicated but not note per movement, and full of intricate ensemble architecture . Even the set up, 13 men and one woman, is unique, and when that one woman is ABT's Julie Kent, who premiered in the role, that only adds to the drama. Kent's elegant and understated performance felt spot on for the somber tone of Welch's poignant elegy. The tribe of men, led by turn master Derek Dunn, also looked smashing, and it's great to see Dunn developing some nuance along with his flashy bravado.
Kudos to the flute section in Welch's charming The Young Person's Guide to the Orchestra, which closed the first section of the evening, complete with sparkling confetti. Again, Dunn looked at home as the center of Welch's extravaganza.
Other highlights included the way Jessica Collado commanded the space in in the first movement of Maninyas, new principal Yuriko Kajiya's ghost-like floating quality in the Giselle Act II pas, and the entire cast of Welch's Tapestry, a hidden gem of a ballet that was a pleasure to see again on the Houston Ballet stage.
— NANCY WOZNY