Artifact, Egypt, ca. 500,000-50,000, flint, 5 1/2 x 7 x 3 inches, Tony Berlant Collection.
---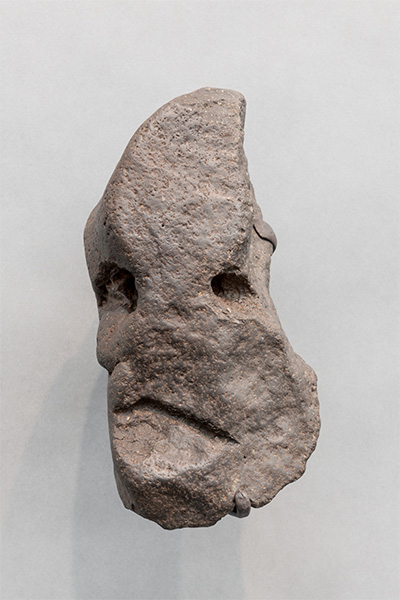 Extraordinary examples of handmade stone tools, some of the first aesthetically-conceived objects known to humankind, will be included in the exhibition First Sculpture: Handaxe to Figure Stone which opens Jan. 27 at the Nasher Sculpture Center. Arie Bouman catches up with artist Tony Berlant and Thomas Wynn, Professor of Anthropology at the University of Colorado, Colorado Springs, who, for the past 8 years, have traveled to more than 22 museums across Europe, the U.S., Africa, and the Middle East in pursuit of ancient  tools, some of which are more than 2 million years old.
A+C TX: How did the two of you decide to collaborate on this exhibition?
Tony Berlant: Well, that really starts [with me] as a five-year-old—a rock hound—and my parents giving me the family den to use as my museum. I have a long, long history of collecting rocks, and I think it was about 18 years ago that I first acquired handaxes at an auction. But the real catalyst for this exhibition was when I told British Museum curator Jill Cook about my theories that some of these hand axes were aesthetic objects. She said, "Well there is this archeologist Thomas Wynn who you should know," basically telling me I was reinventing the wheel and that Tom had written about these ideas decades before. So, I called Tom up, we had a wonderful conversation, and immediately found we had a great deal in common in terms of our fascinations. Tom has the scientific knowledge and mine is really very romantic: this idea of holding this thing in my hand, holding hands with a distant ancestor.
A+C TX:  Reading about this exhibition it often feels like a research project as much as a museum show. Was that part of your approach? Did you begin with a strict idea of what to include, or a structure you wanted to follow?
Thomas Wynn: We didn't really think about it ahead of time, and basically the method of operation was to look at as many of these objects as possible.
TB: In a way, the biggest surprise for both of us—considering what different angles we came from—is that working side-by-side, opening and closing drawers, every once and a while both of us would reach for the same object, independently of each other.
TW: It would happen immediately. We pulled the drawer out, and within a tenth of a second we were both grabbing at the same artifact. It was quite impressive.
A+C TX:  You were both unconsciously drawn by these same particular shapes; what did that tell you?
TB: That told me something very profound: that there is an underlying neurological attraction to a particular kind of shape and particular kind of form.
TW: At the British Museum in 2015, we brought together two other archaeologists, Natalie Uomini and Frederick Foulds, along with the artist Richard Deacon. They actually identified some groups of handaxes as being made by the same hand. I thought that was very exciting to watch these people coming from different directions and identifying the same artifacts. I just found that to be really profound.
TB: These artifacts were half a million years old. There's this idea of exceptionalism—that there were places and individuals who made things shaped in a way that had nothing to do with their functionality as cutting tools.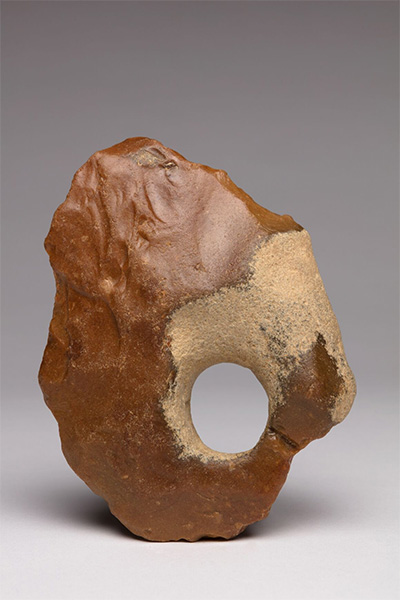 A+C TX:  Did traveling to all these museums with Tony, an artist who's not part of your academic field, who came at this from a very different perspective with his own theories and ideas, influence your thinking and research on the matter?
TW: Actually, it did take me in a new direction. I was not the first person to suggest that handaxes might be aesthetic objects, but very few people had tried to explore how this might actually have played out in human evolution. Tony got me looking in a very interesting direction, and I did a lot of reading in a field of neuroaesthetics. One of the interesting things I learned is that the part of the brain we use to make judgments about art is also the part of the brain that has evolved for physical taste. Our artistic taste is based on our actual gustatory taste. So, if someone says 'this painting tastes good,' it's actually true in a way.
A+C TX:  I was very surprised and excited to learn that in your research for this show you discovered a new and unknown kind of hand axes called Zoomorphs. Could you tell me a little bit more about how you discovered them?
TW: That is probably the most unexpected thing we found. We were opening cases, and when we opened one, we looked, and I thought, "That's the strangest cleaver I've ever seen." And suddenly it just jumped out at me—it looked like a horse. No one has ever identified animal-shaped hand axes before. They're probably 300 to 400 thousand years old. Which makes them the earliest animal representation ever identified. I think they're really cool.
A+C TX:  Does this change how we should view art history?
TW: Art history courses start with cave paintings but what you see is aesthetic experience expressed in these kinds of stone artifacts, going back not just several thousand years but two million years before cave paintings. It's much deeper into the past. From an evolutionary point of view, it is important to understand that there is something very fundamental in our aesthetic experience.
TB: It's something basic; unconsciously evolved values—beyond just culture—that go into neurology and what we share with our most distant ancestors. We can see a direct connection to contemporary art, which is always moving away from representation and towards some kind of eternal, generative force.
A+C TX:  Apart from deepening our understanding of the past, do these hand axes have other significance?
TB: A big part of contemporary art has been the interest in the art of "the other," making a jump that goes across language. Even if you don't understand the cultural context in which an artwork is produced, you still feel a connection. And I would say that this was the ultimate "other" and to be able to have a sense of connection was kin-aesthetic. Meaning you can hold it in your hand and get a feeling of what it felt like for the person who made it—a kind of intimacy that is in our bones, in our blood.
—ARIE BOUMAN