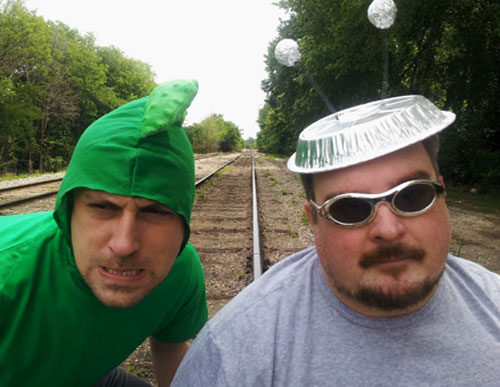 Celebrating its fifteenth season this year, thumb the Festival of Independent Theatres has a unique history of showcasing new talent, encouraging innovative risk taking and premiering new works by local playwrights. Over the last decade and a half, some of Dallas' most prominent artists have honed their early skills on FIT's stages with many frequently returning to participate in the festival. Many works have also advanced from the festival to be adapted into short films or remounted on the main stages of other theaters.
Once again presented at the Bath House Cultural Center on the edge of White Rock Lake, this year's line-up includes many audience favorites including Churchmouse Productions, WingSpan Theatre Company, and One Thirty Productions. There are several debuts, including solo performance artist John Michael's provocative new show, Like Me, and the first-ever dance troupe, Rhythmic Souls.
Arts writer Lauren Smart highlights some of the top performers of this year's festival, which presents one-act plays paired in two show blocks May 31-June 22, 2013.
Katelyn Harris
Rhythmic Souls breaks ground this year as the first dance troupe to perform at FIT with the show Play It By Ear. Led by the local instructor and life-long dancer Katelyn Harris, this tap dance ensemble was a festival favorite at WaterTower Theatre's Out of the Loop festival earlier this year, due to the infectious hoofing and live music. In that show she performed with her collaborator Keira Leverton, but for this year's FIT, Harris takes the stage with new performers, some of whom were previously students.
"Our show combines the auditory and the visual aspects of tap dance," says Harris, an ebullient smile crossing her face. "Audiences respond to tapping because it engages them on multiple levels."
Harris and Leverton have made it their goal to introduce performers and audiences in Dallas to this indigenous art form. In addition to the performance troupe, they started The Drawbacks Youth Tap Ensemble for the younger generations, where they teach both the technique and history of tapping. The professional shows usually have an educational aspect as well.
"There's a lot of support for ballet and for jazz, but there isn't enough tap dance out there," Harris says. "Developing that community is what I'm passionate about. It's what I love."
Jeff Swearingen
"It's been a lifelong goal of mine to play a dinosaur," local funnyman and theater teacher Jeff Swearingen says about his performance with Audacity Theatre Lab at the festival. "Seriously, ask anyone who knows me well."
In the middle of Black Forest Coffee next door to Half Price Books, he's stopped speaking to imitate a Tyrannosaurus Rex. Just a minute later he untwists his head and stretches his arms out to explain the plot of Dinosaur and Robot Stop a Train.
Playwright and Audacity Artistic Director Brad McEntire's festival entry has a dinosaur (Swearingen) and a robot (McEntire) from the future converge in the present day. The audience meets them at a press conference where the odd duo attempt to explain how they unwittingly arrived in the 21st century and what they will do now.
"The play has aspects of vaudeville about it. It's a very funny play that uses clever wordplay," Swearingen says. "It's the perfect show for FIT because it's original and experimental."
Swearingen's relationships with both the festival and with Audacity span roughly a decade. In a quick count, he's performed in seven seasons of FIT, one year acting in three shows. This man stays busy.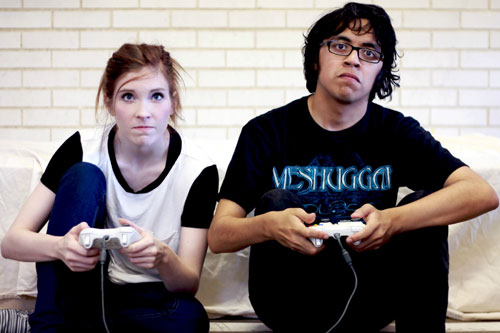 An in-demand theater instructor, Swearingen also founded Fun House Theatre and Film with marketing aficionado Bren Rapp in 2011. In less than two years, he's adapted or written eight-nine plays, which he then directs with a cast of all children. In the company's early years he garnered critical acclaim for his adaptation of The Little Prince and more recently his version of David Mamet's Glengarry Glen Ross, in which he recast the salesmen as Girl Scouts (this show is scheduled for a return engagement June 5-8).
"I've always believed that kids are smart, they just need someone to challenge them," Swearingen says. "I've been so lucky with Fun House because I will never get tired of teaching kids to really go after the things they want
But what does he want? Well for starters, you could come see his show at FIT, in which he'll fulfill his lifelong dream in bright green, dinosaur footie pajamas.
Ian Ferguson
Although I'd never met him before, I instantly recognized Ian Ferguson when I walked onto the patio at Ascension Coffee for our interview. He's performed a variety of roles in back-to-back shows all over town from Present Laughter at Theatre Three, to Echo Theatre's The Lucky Chance, to On the Eve at Nouveau 47 Theatre.
"You could call me a chameleon," Ferguson laughs, after I've asked him to list his recent shows. "I must not have a type, because I've played different characters in almost every show."
An Amarillo native, Ferguson launched his career with a degree in theater performance from West Texas A&M University. He spent a few months in New York City before moving back to Texas with his wife Aubrey, who is also an actress.
"Dallas has been a very welcoming place to work as an artist," Ferguson says. "I've worked with incredible directors and actors."
At FIT, Ferguson plays a high school English teacher who is involved with a student in Rite of Passage Theatre Company's production of Ask Questions Later, which will be directed by Kelsey Ervi. One of the more topical plays on the festival line-up, this new work by Meggie Spalding explores the subjects of inappropriate relationships and gun violence.
This follows Rite of Passage's wildly successful festival entry last year, My Name is Rachel Corrie, in which Barrett Nash tackled a one-woman show about the peace activist who was killed during the second Palestinian intifada. The company – comprised primarily of Baylor University theater alumni – is committed to developing new work that challenges its audiences.
"Ask Questions Later addresses the topic of gun violence, as well as student-teacher relationships," Ferguson says. "But it does it in a thoughtful way. I think theater should ask questions rather than try to answer them for people, and this show does that."
Following his performance at the festival, Ferguson will jump into rehearsal for The Winter's Tale at Shakespeare Dallas, in which he will play Autolycus, a roguish pedlar.
---
Festival of Independent Theatres May 31-June 22, 2013 at Bath House Cultural Center.