Ofir Yudilevitch and Uri Shafir in Shafir's Somewhere in the Now.
Photo by Tamar Lamm.
---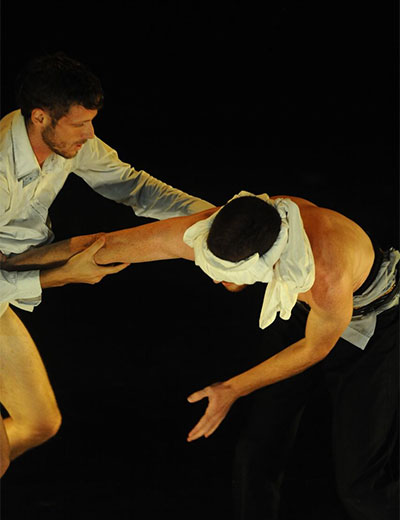 On the plane to Tel Aviv I tried to count how many times I have seen Ohad Naharin's Minus 16. I lost count at about 12. Technically, I even danced in it when I was dragged on stage at Cedar Lake Ballet during the notorious audience participation section. Other than a sprinkling of work by Hofesh Shechter, Emanuel Gat, watching Mana-Vessel of Light (Vertigo Dance Company) 100 times to make a three-minute video for ADF, Barak Marshall's work for BODYTRAFFIC (which recently stopped in Dallas on Jan. 22 through TITAS and Houston on Jan. 23 through SPA), along with a smattering of work by artists with Batsheva lineage like Danielle Agame, Roni Koresh and Andrea Miller, I would say I had a rather fixed idea of what Israel dance looked like, which for the most is characterized by a quality of undeniable intensity.
After five days of dance watching in Israel as a guest at International Exposure 2015 at the Susanne Dellal Centre for Dance and Theatre, I have an entirely different picture in my head of what dance in Israel is all about. And it's much broader, deeper, funnier, political, whimsical and (who knew it) minimalist than I ever expected.
Sure there are some trends worth mentioning. Israeli dancers generally possess strong technical skills, but never stop looking like people when they dance. As the Dead Sea is the lowest elevation on Earth, it makes sense that the deepest plies on the planet also be found in Israel. Dancers seem to be able to drop their torso's directly to the ground with their legs in just about any position. Many are also able to bend completely backwards while in these deep plies. And then there were other trends less related to technique, such as a penchant for techno music and politics. I lost track of how many times the men removed their pants during a dance; occasionally the women did, but mostly men.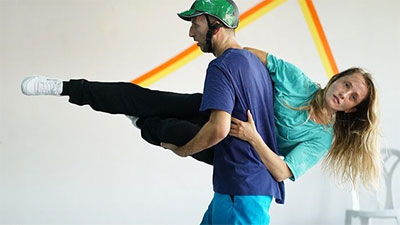 Speaking of men, I witnessed so many exquisite duets between men, most notably Liron Ozeri and Nir Even Shoam in Yin Yang. I may have said something about Israeli dance being all about men, but that was before I saw the gorgeous Valentina Moar of Kaiser Antonio Dance Ensemble, in Land Acupuncture, the sassy sexiness of a spike-heeled Ella Rothschild in her real estate in chaos rant, 12 Postdated Checks, the nimbleness of Ravid Abarbanel in Underneath, Sofia Krantz's mysterious veiled woman in her untitled work, the unfussy approach of Noa Shadur's dancers in Entropy, based on dance compositions of the legendary Israeli choreographer and dance notation pioneer Noa Eshkol.
And what a rare privilege to see two noble dancers from Chamber Dance Group, Racheli Nul Kahana and Ruti Sela, perform Eshkol's works. It was also great to see Danielle Agami's recent work with the Batsheva Ensemble, after seeing her company Ate9 headline the 2014 Dance Month at the Evelyn Rubenstein Jewish Community Center of Houston. And what a delight to see Booker T. Washington alum Stephanie Troyak dancing in the Batsheva Ensemble.
More surprising discoveries are listed below.
Uri Shafir's Somewhere in the Now, performed by Shafir and Ofir Yudilevitch, with video surroundings by Nimrod Alexander Gershoni, had a way of unraveling the obvious strangeness of live performance that proved both evocative and persuasive. It was one of those pieces that wanders into its subject matter, but with such finesse that we willingly follow along. And it was the only piece to use live camera work during the festival.
Shafir and Yudilevitch also demonstrated their rough and tumble chemistry in Dana Ruttenberg's signature work, Private I's, an kinetic mashup of pop culture masculinity.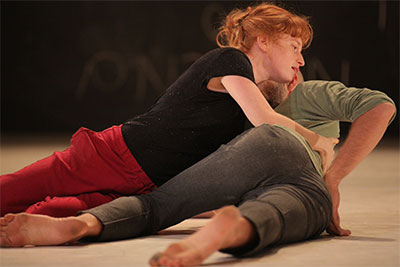 Yudilevitch's Gravitas, performed on an Air Floor by the choreographer and Asher Ben Shalom, let force, gravity, falling, crashing, jumping, along with amble doses of oneupmanship, take center stage in one of the most original and minimalist works of the festival. Although there was plenty of understated acrobatic virtuosity in their rather reckless form of risk taking, there was also a sense of restraint, in that each challenge between the dancers need be nothing more than it was. The tension between the two men was enough, even in their silent mid piece water break. I appreciated the paradox of a rough-hewn performance embedded in a tightly structured contest.
Also in the stripped down category was Dafi Altabeb's It Couldn't Have Happened Before, danced and co-created by Adi Elzam and Noga Golan, who moves with such a understated grace that I imagined her doing Feldenkrais lessons in utero. Altabeb traverses the landscape of a relationship through the push and pull of it all, punctuated in the middle with the iconic 1967 Turtle's song "So Happy Together." Golan's quiet, yet exacting, presence brought this piece to life.
Golan was also memorable in Altabeb's endearing Pleasantly enough, performed on a platform in a bar as part of Jaffa to Agripas: Dance at Mahane Yehuda Market, a super cool idea of hosting simultaneous short performances in a cluster of nearby bars in the market section of Jerusalem. I enjoyed the mix of dance, drink, food and conversation. This is an idea I would love to see us try in Houston.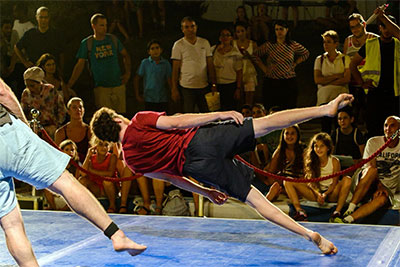 Come Jump with Me, another standout, created by Yossi Berg and Oded Graf, had the feeling of being on a journey of sorts, albeit a more politically charged one. Performed with verve and charisma by Berg and Olivia Court Mesa, Come Jump with Me melds the personal with the political, borders and boundaries, identity and cultural meaning in a tour de force hour of movement spiced with punchy text.
Niv Sheinfeld and Oren Laor's clever Cowboy also delved into issues of borders, insiders and outsiders. Lucky for us, the Atlanta/Houston based CORE Performance Company, directed by Sue Schroeder, will be doing a new work by Sheinfeld and Laor this upcoming season. CORE will be participating in Vertigo Dance Company's summer intensive and Schroeder is also in the planning stages for an Israeli Dance Festival at Miller Outdoor Theatre in the Fall of 2016.
Idan Sharabi's ongoing interest in the definition of home, Interviews / Makom, brought some of these ideas into a more personal realm, which was beautifully realized by his fine dancers, whose sinewy qualities reveal a multitude of meaning possible in defining home and place.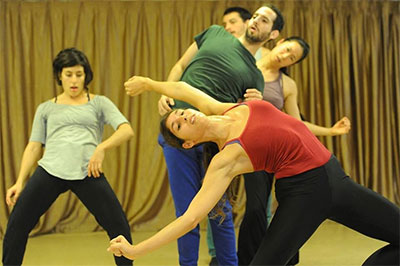 A jaunt to Vertigo Dance Company's Eco-Art Village, which included an inside glimpse into choreographer Noa Wertheim's process, along with rousing performance of their signature work, Birth of the Phoenix, performed in the round underneath a tensegrity structure.
Other highlights included seeing the large companies and big names, of course, starting with Itzik Galili's compelling chamber dance/opera Man of the Hour, Inbal Pinto & Avshalom Pollak Dance Company in their 2000 Bessie Award-winning quirkfest, Wrapped, Inbal Dance Theatre Company in Barak Marshall's lush and atmospheric, 1972, L-E-Vin Sharon Eyal and Gai Behar's pulsing OCD LOVE, Kibbutz Contemporary Dance Company (who made a TITAS stop in Dallas last season) in Rami Be'er's visually arresting Lullaby for Bach and Batsheva Dance Company in Naharin's relentless and yes, as expected, intense, Last Work, which concluded our five days of glorious non-stop dance watching. Texans can learn more about Naharin's legacy when Tomer Heymann's Mr. Gaga screens at SXSW in March.
—NANCY WOZNY