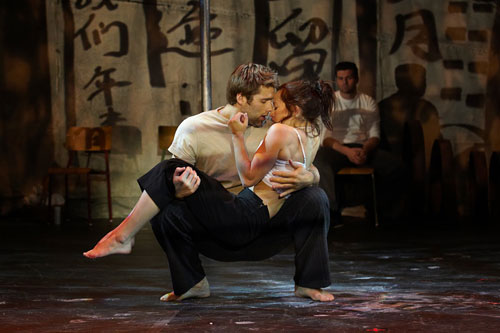 Candied peanuts, cialis popcorn, treat clown cars, viagra 60mg and flying ladies. That's the circus. Or is it?  That antique thought is one that the Montreal-based group 7 Fingers intends to break down.
Founded in 2002, 7 Fingers' initial goal was to bring circus to a human scale. They began as artists on stage, creating collectively, and soon branched out, expanding their creative talents to a new generation of circus artists. Call them the circus for the Facebook generation.
The group brings its mind-bending acrobatic show to the Winspear Opera House stage for a two-week run beginning June 11. Traces takes place in a makeshift shelter, an unknown catastrophe waits outside the doors of tarp and gaffer tape for the seven characters. In the face of this impending disaster, they determine that creation is the only antidote. Through music, song, dance, speech, illustration, and high-risk acrobatics, they live out their last moments, leaving behind only a trace of their talents, lives, and their bond.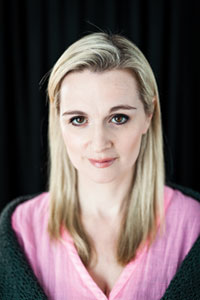 Founding member and choreographer Shana Carroll speaks with Art+Culture's Danielle Georgiou about her circus dreams and the meaning of Traces.
A+C: How did all of this happen? I always wanted to join the circus! But you really did it!
SHANA CARROLL: It just sort of happened! I was 18 years old and I had grown up doing theater. I wanted to be an actress…but my dad, who was a columnist in San Francisco at the time and was writing about the Pickles Family Circus' 10th anniversary, suggested that I go and work and learn what the art world was like out of school.
So, I starting working for Pickles administratively, but I was always ten feet from a performer and every day I would see this trapeze artist, and it was the most beautiful thing I had ever seen. I watched her and I saw myself; she moved me emotionally.
Everybody is always looking for that right metaphor to describe the circus, you know, like "they're really flying," or "I'm going to run off and join the circus, I'll be free!" And they are. I saw it. They're human, but they're doing what we wish we could do, fly. I fell in love with it.
A+C: How did you move from "girl behind the desk" to "trapeze artist?"
SC:  Oh, it was under the most dramatic of circumstances, but I did start by joining the Pickles' Apprentice Program. I knew from the moment that I auditioned that I wanted to do the trapeze. There wasn't a specific trainer, so I taught myself. I watched videos, and after working the shows, I would just play.
At the end of my first year, we were preparing for a show, and the current aerialist skipped town. Just disappeared! So with no warning, no real prep time or training, I had to fill in. I was the only one.
A+C: It's kind of like a movie!
SC:  It does sort of seem that way! But it was great. I'll never forget that feeling. And my love for trapeze just grew after that. I went off to Montreal to train, then to Paris, and then found Cirque.
A+C: What was it like working for Cirque du Soleil?
SC:  It was great. I mean, that's a hard question to answer, because they are my family. I met my first husband there, and my second! I met Gypsy (Snider, her partner at 7 Fingers) and so many of the performers that I'm working with. We lived on that stage; it was our lives. I developed a comfort there; it really broke me in. I was a part of Cirque for about ten years, on and off.
A+C: What prompted you to start 7 Fingers?
SC:  I always had this desire to create. But it's really hard to go and knock on other people's doors; it's much easier to do it on your own. 7 Fingers came out of that desire. There are seven founders and we all had similar goals and were in similar places in our lives when we began. We were a group of longtime friends who wanted to make our own work.
A+C: Traces has been a project in the works since 2005, what was the inspiration for it?
SC:  We had been watching these five artists (four boys and one girl) grow up in our world, but they had something special. There was a sense of rebelliousness in their performance; they were pushing the limit of human possibility. They were young and so full of energy, and Gypsy and I wanted to capture that. 2005 was a tough time; there was a lot of upheaval socially, and we saw their youth as a remedy. They say that creation is the antidote to destruction. When we create we leave a trace of our passion behind, and we can rebuild from there. For that idea, we had Traces.
A+C: This is the first time 7 Fingers is coming to the Winspear Opera House, a large-scale performance hall. Is location a huge factor with this production?
SC:  It can work in any space. It is an intimate show, so a smaller space suits it. But it also works in a large space because it forces the performers to project and pull the audience in. It's an ever-evolving show, so each space makes it a new experience.
A+C: What does "choreography" mean in this context? I know what it means for dance, but how does it change for the circus?
SC:  I don't have an intensive dance background, and neither do these performers. But they are agile and expressive in their movements, and it's my job to find the genius there and create a structure. I'm creating a skeleton of the show, designing transitions and fine-tuning their craft. There's a lot of freedom in my choreography; but then again, there's a lot of freedom in their movement. They are dancing in the air.
–DANIELLE M. GEORGIOU
Danielle M. Georgiou is the Artistic Director of DGDG (the Danielle Georgiou Dance Group), and directs the dance department at both Eastfield College and the University of Texas at Arlington.
---