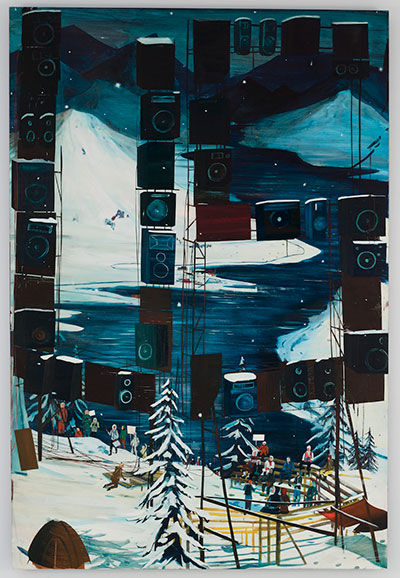 "I want my art to be accessible" is not a statement one hears from many contemporary artists in the year 2014. It's been quite a few years since art subsumed the written word as the mouthpiece of philosophy and metaphysics, but you wouldn't know it if Jules De Balincourt were your primary experience with art in the 21st century.
The Brooklyn-based artist's work is currently on view at the Modern Museum of Fort Worth as a part of their FOCUS series in what is De Balincourt's first solo museum show in the US. De Balincourt isn't an unknown though, he's shown throughout the world since he received his MFA from Hunter College, but, as curator Allison Hearst is quick to point out in her essay for the FOCUS guide, De Balincourt is often considered an outsider for his "faux-naif" painting style.
De Balincourt is first and foremost a painter.  In the opinion of this writer, a really, really good one. Although he's rather modest, De Balincourt is skilled in creating self-contained worlds in his paintings; worlds which resonate far beyond the activity contained on De Balincourt's characteristic wood panels. He may not know where the painting is going when he begins, but somehow each painting seems to arrive where you feel it was always meant to.
As viewers have observed, his paintings are happy, and on first glance they certainly are, all vibrant colors and exotic settings. We're voyeurs in De Balincourt's world though, and the peaceful, "pretty" scene in his Idol Hands, for example,becomes more unpleasant the longer you look.He's playing with us, his audience, placing us at the exhilarating, but terrifying crossroads between the dream of utopia and its almost inevitable counterpart, the dystopian nightmare. It's that Lynchian idea represented here in De Balincourt's beautiful "faux-naif" paintings; underneath the sheen of peace and beauty we want to collective show the world, lies something horribly ugly. Maybe De Balincourt's paintings are happy, but they're too happy.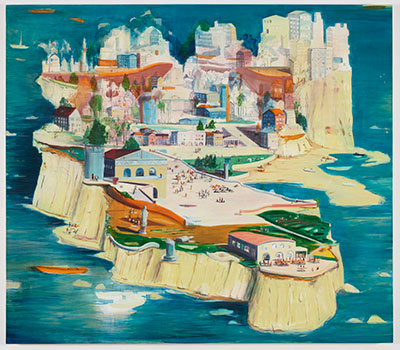 In his own words De Balincourt "likes to make pretty things" but is also "sensitive to global anxieties." Both statements are made obvious in the Modern's show which ranges from a colorful map of China menacingly named We Warned You About China, to the seemingly peaceful landscape in Idol Hands, which, on closer examination, reveals itself to be the site of a protest, a formerly peaceful form of rebellion, which in the 21st century, as we are seeing, is being violently co-opted throughout the world.
De Balincourt is a self-described realist. "I have a hard time with abstract painting, I always need to ground everything in reality," he explains. Hence, a painting like Illuminated may have started with the oil stick 'fireworks' as visual motif, but the ships and the ocean which ground it were a necessary end point.
His is not the realism of Balthus though, his paintings instead, Idol Hands and Fortune Island, for example,remind the viewer more of the detritus left behind by Bosch; less a window onto the world, than a window into the subconscious, our ugly, collective subconscious. While De Balincourt begrudgingly admits the inner workings of his own brain play a dominant role in the painting's inception, its not until pressed that the he will admit what he was thinking while he was painting, preferring for the viewer's own experience of the work to take precedence. Instead of dictating what we are seeing, De Balincourt's work requires a more active viewing experience, answers are not forthcoming.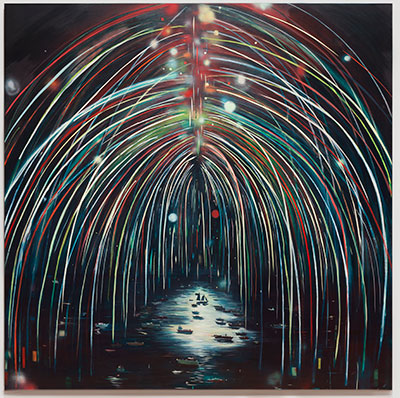 That's why, it would seem, that there is no 'theme,' at least not one given to us, for the small group of paintings currently on view at the Modern. The free associative nature of the paintings when placed side by side is something De Balincourt finds fascinating,he leaves us with the exhilarating opportunity to construct our own narrative for his worlds. Unless you refuse, it can be a wild ride.
I found myself thinking while wandering the gallery that unless you were an uncurable cynic, you'd have a difficult time not enjoying De Balincourt's work, despite the underlying sense of impending doom.  His color palate is intoxicating and his detailed works do, more than anything else, prompt one to want to wander, evoking vintage travel posters or advertisements, everything covered in a delicate, blurry sheen, almost signifying the impossibility of his idyllic landscapes. These places exist only in dreams, and maybe its better that way.
-JENNIFER SMART
---