Tristan Smith
Photo by Julian Johnson.
---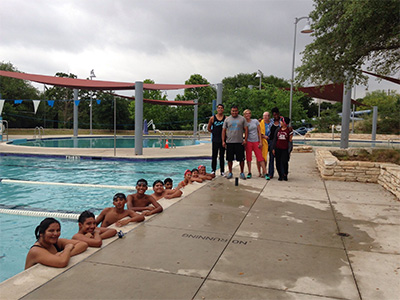 It only takes one summer in Texas to feel the heat, and the City of Austin Aquatics Division is feeling it these days in more than one way.
Site-specific performance troupe Forklift Danceworks' newest project is ready to make a big splash—and to garner community support for the city's public pools, just in time for summer. This month, the company launches the My Park, My Pool, My City project, featuring choreography by Artistic Director Allison Orr and Associate Choreographer Krissie Marty.
My Park, My Pool, My City is a three-year artistic collaboration with the City of Austin Aquatics Division which operates 51 public pools, including well-known swim spots like Barton Springs Pool as well as smaller neighborhood pools, wading pools and splash pads. In addition to City of Austin Cultural Arts Division funding, the project has received grants from the National Endowment for the Arts "Our Town" program and the Texas Commission on the Arts.
Bartholomew Swims, running July 21-22 and 28-29 at Windsor Park neighborhood's Bartholomew Municipal Pool, is a dance performance for a public pool and its people. The work is first in a series of shows that will be created over the next three years at underserved East Austin neighborhood pools.
My Park, My Pool, My City was designed upon the invitation of Sarah Hensley, director of the Austin Parks and Recreation Department. At a celebration luncheon for Forklift's 2015 work The Trees of Govalle (in collaboration with the City of Austin's Urban Forestry Division), Hensley turned to Orr and Marty and said, "Will you do pools next?"
Said Orr, "We're in this complicated crisis with our city's pools. With this project, we want to help people understand what it takes to maintain and run them. We want to get Austin to fall in love with its pools again."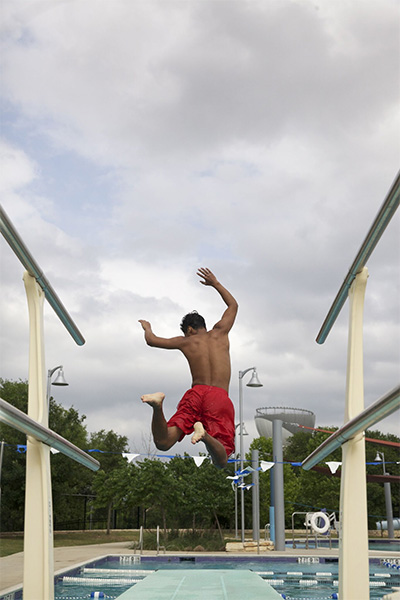 The city is about four years into a deep dive examining the status of Austin's public-pool infrastructure, the results of which will lead to the capital city's first-ever aquatics master plan.
Austin has a high number of pools per capita when compared nationally, and because maintenance and much-needed renovations have been pushed off for decades, the city is currently estimating it will take $70-80 million to bring its current facilities back up to standard.
"The long-term solution won't be the Aquatics Division paying solely for it," said Orr.
Because Bartholomew Pool was renovated and reopened in 2014, it boasts high usage, earning it the nickname "the Schlitterbahn of Austin." In the second and third years of the My Park, My Pool, My City residency, Forklift will create dances at pools in the opposite condition, where fixes and upgrades are sorely needed and attendance has dropped off.
The free July performances at Bartholomew Pool will feature movement and storytelling by aquatics maintenance staff, neighborhood residents and young adult lifeguards from the YMCA of Austin's SwimATX program in partnership with Austin Independent School District, through which high school students get physical education credit for lifeguard training.
"There's one girl who just learned to swim (in the spring) semester and is now learning to become a lifeguard. How cool is that, that your first job at 15 is to save people's lives?" said Marty.
Timed drills and in-unison cannonballs will demonstrate the skills of the teenage lifeguards.
Favored local composer Graham Reynolds' music will be played live at each performance, and scenic lighting and production elements by longtime Forklift collaborator Stephen Pruitt will round out the experience.
Orr reports the aquatics maintenance department is a staff of 10 men for 50-plus pools and water systems in Austin.
"They are the frontline to the infrastructure crisis. They have to find ways to keep these pools operational in the most challenging situations. They talk about these pools like they're people. They even have nicknames for them. They're oftentimes saving parts from one pool to be able to use at another. They've rerouted major leaks. The knowledge they have is so fascinating."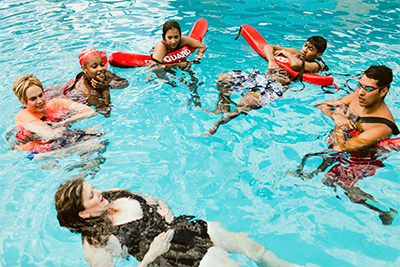 As such, maintenance staff will serve as the narrators of Bartholomew Swims, describing the underbelly of the pool while walking along its edge, marking the first incorporation of spoken word in a Forklift performance.
"I want the audience to become knowledgeable, to be trained to understand the complexity of the problem and come together as a community to solve the infrastructure problems," Orr explained concerning this first use of spoken word.
It's this call to action that makes Bartholomew Swims different from any prior Forklift work.
In past projects such as The Trees of Govalle, PowerUP (2013, with employees and machinery of Austin Energy) and The Trash Project (2009 and re-mounted in 2011, with the City of Austin Sanitation Department), the goal was to reveal the hidden figures that keep Austin operational, highlighting their hard work.
Bartholomew Swims, on the other hand, is intended as a "catalyst for moving people forward in a direction on something that matters to them," said Marty.
Audiences will be encouraged to dip their feet in the pool (or even jump in), helping to create an intimate environment and shared experiences between the viewers and performers. Orr and Marty hope the sensory nature of the performance will get the audience excited about coming together for this important community project.
The wonderfully wet performances over the next three years will be supplemented by axillary events, such as neighborhood engagement opportunities, question-and-answer periods after each show, and "Taco Talks"—post-performance gatherings that allow attendees and performers alike to discuss the experience while breaking bread.
"If there's one common thing we've seen, it's that people are usually eager to connect after seeing our shows," said Orr—great news for Austin's pools.
—CLAIRE CHRISTINE SPERA