Thanks to his boundless optimism, the hero of Porgy and Bess is one of opera's most lovable characters. Porgy needs all the hope he can summon, because he often contends with the weaknesses and errors of others–especially those of his beloved Bess.
George Gershwin's tune-filled drama is a portrait of a community contending with individuals' frailties. Stage director Francesca Zambello makes Catfish Row's challenges especially vivid, says Fort Worth Opera's artistic director, Joe Illick. Zambello's production, premiered by Washington National Opera, "creates a feeling of Catfish Row as a neighborhood, but it's also a little like a prison," Illick says. "The people really look out for each other. But there's no easy way out of Catfish Row."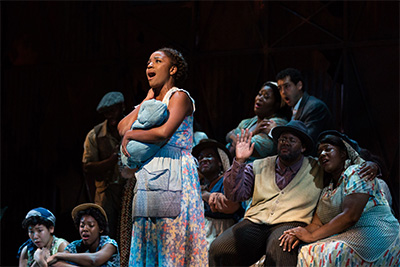 When Zambello's staging headlines this year's Fort Worth Opera festival, which opens April 26, the company will perform Porgy and Bess for the first time since 2002. As the indomitable Porgy, the company has tapped Thomas Cannon, a young baritone playing the role for his first time. Not only does he boast "a rich, big, beautiful, booming voice," Illick says, but "it's a big, rich, beautiful, booming voice in a person who uses it with incredible expression and heart and soul and love." Soprano Indira Mahajan will portray Bess, a role she sang with "brilliance and ardor," the Washington Post declared, when Zambello's production debuted at the Kennedy Center.
In Act 1 of Porgy and Bess, Bess gives in to the drug dealer Sportin' Life after he tempts her with "happy dust." Her lapses are just one element of the opera that still echoes in the real world, 84 years after Porgy's premiere. Fort Worth Opera will put the American classic alongside a new work that also speaks to the contemporary world: El Pasado Nunca Se Termina, which leads from a hacienda romance during the Mexican Revolution to a Mexican-American family's life today. Premiered in 2014, it asks how our family histories influence our identities.
"The conventional opera lover will go to La Boheme 30 times, and that's great," Illick says. "But Boheme doesn't really speak to contemporary issues. …This (Fort Worth) season has two pieces that speak to social issues that are still real and relevant–and they're musically superb."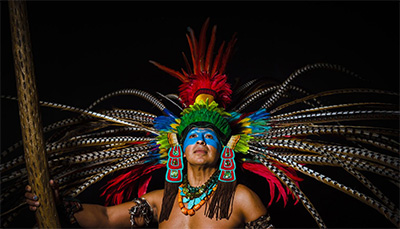 El Pasado comes from mariachi composer Jose "Pepe" Martinez and librettist Leonard Foglia, the duo whose earlier Cruzar la Cara de la Luna looks at a family that's divided by the Mexico-U.S. border. When Fort Worth staged Cruzar in 2017, "people went crazy for it," Illick says.
"A lot of people came into Bass Performance Hall who had never gone to shows there," he continues. "Many of them came from Mexican families, and they said, 'Oh my God! This is my story,' or 'This is my family's story.'"
Like its predecessor, El Pasado Nunca Se Termina–in English, "The Past Is Never Finished"–tells its story in mariachi-style music. But El Pasado's score takes a few steps closer to opera, Illick notes. Martinez, who died in 2016, and Foglia crafted more-extended musical numbers that call for bigger-scale singing.
"They attempted something more ambitious," Illick says. "I think it's a very successful piece, and also a very emotional piece. And it's an optimistic piece." The festival is reuniting much of the cast that has performed El Pasado since its premiere, including in Houston in 2015.
As this year's third main work, the festival will stage the world premiere of Companionship by Rachel J. Peters, a composer-librettist from Brooklyn. Peters' dark comedy bubbled up last year in the festival's Frontiers new-works showcase.
"I said, 'Rachel, we've got to do this piece,'" Illick recalls. "In the first minute, a young woman who's a baker–and has just come home from the hospital after a psychotic episode–is trying to bake the perfect baguette. The dough begins to talk to her. The audience has to decide whether these things are really happening or not. And that's only the first minute of the piece."
Illick thinks Peters has "a voice that should be heard. … She always uses musical language to underline her emotional points. Great composers have done that throughout history. But sometimes, in new works, that way of using the voice and harmony is neglected. In this, it's very present. Even a person who didn't understand English would hear the piece and get what's happening emotionally."
Continuing the quest for distinctive new operas, this year's Frontiers showcase will feature scenes from five works. The list includes Steven B. Aldredge's The Hatfield McCoy Triptychs, inspired by the legendary 19th-century feud, and Brian Rosen's Death of a Playboy, a fictional tale in which two former Playboy bunnies meet at Hugh Hefner's funeral.
Right after the festival, the company will workshop The Last Dream of Frida & Diego by Gabriela Lena Frank–former composer-in-residence of the Fort Worth and Houston symphonies–and playwright Nilo Cruz. The session will climax May 30-31 with concerts featuring scenes from the work, which Fort Worth Opera will premiere in 2021.
The Last Dream is a fantasy that melds the stormy love of Frida Kahlo and Diego Rivera with hints of the Orpheus legend. As the opera begins, Illick says, Kahlo is dead and in the underworld. Katrina, the official in charge of bringing in new souls, tells her that Rivera has died and invites her to escort him to the underworld. After struggling with the idea, Kahlo agrees.
"But there's a caveat," Illick explains. "Katrina says, 'You cannot touch him, or else you will feel pain like you've never known before.' What an operatic setup, right? … It's a very moving piece about love, about devotion, and about how love doesn't look like what we think it should look like."
-STEVEN BROWN