Houston Ballet brings Stanton Welch's Swan Lake to Dubai, United Arab Emirates, Oct. 24-27, 2018.
Pictured: Karina Gonzalez as Odette in Swan Lake.
Photo by Amitava Sarkar.
---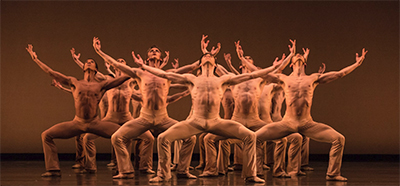 It has been quite a year for Houston Ballet, rife with Harvey-related challenges and triumphs, such as taking its place in history as the first North American Company to perform Sir Kenneth MacMillan's epic drama Mayerling.   As the company readies for its first performances in George R. Brown's Resilience Theatre, March 1-4, they have Texas-sized plans ahead. The company heads to the storied dance mecca of Jacob's Pillow Dance Festival, Aug. 15-18, then to Dubai, United Arab Emirates, Oct. 24-27.
Although Houston Ballet's artistic director Stanton Welch understands the weight of the moment with these historic tours, he also realizes that much needs to happen between now and then, as they spread the rest of the season to the George R. Brown Convention Center for Rock, Roll & Tutus, March 1-4, and Play, June 8-10, to the Hobby Center for Don Quixote, April 13-15, and back to their first home in Jones Hall for Swan Lake, June 23-July 1.
In 1979, ten Houston Ballet soloists performed a program of works by Ben Stevenson, Rudi van Dantzig and John Cranko at Jacob's Pillow. Knowing I was from Houston, Director of  Preservation Norton Owen handed me the typewritten program on my first Pillow visit. I recognized a few of the names and wondered if the company would ever be back.
In the subsequent years that I returned to the Pillow as a scholar-in-residence,  I also was able to watch Welch at work as he set a new ballet on the students at The School at Jacob's Pillow for the 2011 Pillow Gala. I was also there when the Joffrey Ballet premiered Welch's Son of Chamber Symphony. I still wondered if they would ever be back.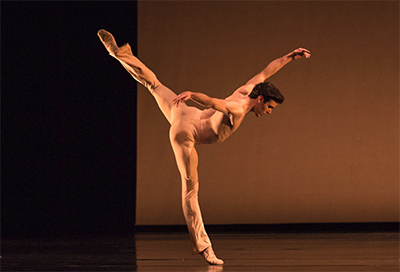 Pillow Director Pamela Tatge is committed to presenting dance from all over the U.S. and the world. This year, she showed some Lone Star love by inviting Houston Ballet back. "It's high time, it's been 39 years," says Tatge about the company's return. "This is one of the largest ballet companies in the US. They tour internationally and we have a long history of Houston Ballet students at the school. We want to celebrate the important dancing going on in Texas."
Welch is excited to finally be back this time, with his company in tow.
"It's a big deal," says Welch. "Jacob's Pillow is so important to American dance history. It's such a great step for us."
The program includes a terrific trio of works—two by Welch and one by Trey McIntyre, which should place the extraordinary range of the company on full display.Welch's Clear, an abstract work for seven men and one woman, was originally created for American Ballet Theatre in 2001. Set to music by Bach, Clear also features costumes by fashion designer Michael Kors. The company also performs McIntyre's In Dreams, set to Roy Orbison's iconic anthems. Created for Ballet Memphis in 2007, In Dreams has its Houston premiere coming up on March 1-4 as part of Rock, Roll & Tutus at GRB.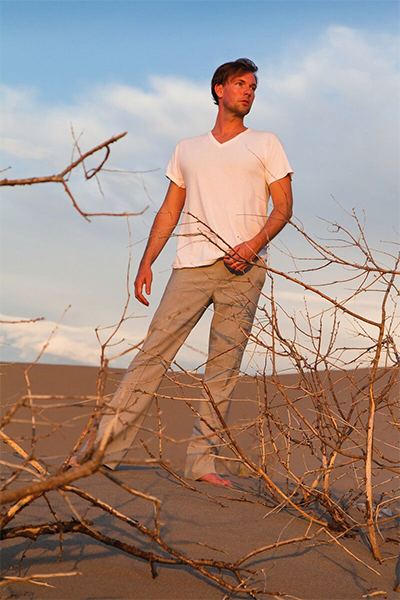 McIntyre cut his teeth as a dancer and a choreographer at Houston Ballet, creating seven outstanding ballets. "Trey is a part of us, part of our history," says Welch. McIntyre also has a long history at the Pillow, having begun and ended his company, Trey McIntyre Project, at the Pillow. "We are excited to welcome Trey back," says Tatge. "His talent was grown at Houston Ballet and nurtured at the Pillow." McIntyre can't wait to get back to the Pillow.  "Both Jacob's Pillow and Houston Ballet are such important organizations to me and to my own history," says McIntyre. "I am so happy that they are coming together to present this work."
The program also features excerpts of Welch's Sons de L'âme, which premiered in 2013 at the  Théâtre des Champs Elysées in Paris, France.
The final piece will be a world premiere by Welch set to three works by the Pulitzer Prize-winning composer David Lang. "I've been wanting to choreograph to his music for quite a while," says Welch. "There's such a mood and temperament to his work." Welch will be using Lang's Gravity Cheating, Lying, Stealing and Just (After Song of Songs).
Seeing all three of these works in the landmark Ted Shawn Theatre will continue the story that began in 1979. "There are so many great spaces at the Pillow," says Welch. "And I just hope for a heat wave so we can dance with the barn doors open; imagine seeing Clear under the night sky," he says. "In Dreams would be beautiful too."
The Dubai audiences will be treated to six performances of Welch's Swan Lake (2007) on the Dubai Opera Stage with a live orchestra. Swan Lake, having been polished up for performances at the University of Minnesota in April and Jones Hall in June, will make a strong statement.
"If you had asked me when I first arrived if we would ever tour to Dubai, I could not have imagined it," says Welch. "Dubai has made a commitment to bringing in the world's best art and has built beautiful theaters. It's really becoming a dance destination. ABT and the Bolshoi have toured there; we will be among those elite groups."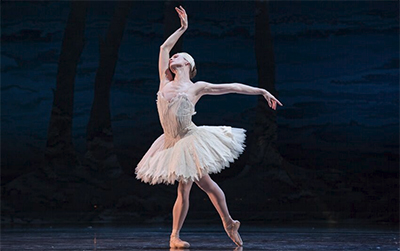 Welch's Swan, inspired by John William Waterhouse's painting, The Lady of Shalott (1888), features spectacular costumes and sets by the late Kristian Fredrikson and an updated treatment of this classic ballet. Bringing a ballet of  this scale is yet another milestone achievement. Welch says, "This is how we want to tour, with the full company, full productions and many shows."
Resilience has been the company's motto since Harvey struck. Welch is first to admit that this year has been the hardest the company has endured thus far. He also admits that getting through it means they can do anything now. He adds, "By the time we return from Dubai, we will be on the other side of the tunnel, about to move back into our glorious Wortham Center."
—NANCY WOZNY