Narcissister.
Photo courtesy of the artist.
---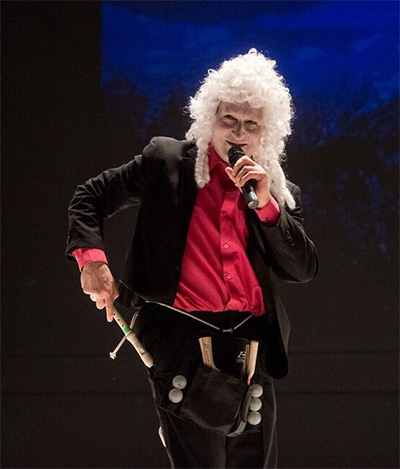 If you can dream it, you can do it: This seems to be the unofficial mantra behind Austin's Fusebox Festival, which this year will boast more than 60 performances, workshops and talks put on by some 30 local, national and international artists, all for free for the general public.
Yes, you read that right: For the third year now, Fusebox is totally and completely free to attend. Want to see what cross-disciplinary artists from such far-flung places as Angola, Argentina and Hong Kong are up to? How about troupes from Los Angeles and New York City? Or what about seeing your favorite local artists — the Rude Mechs, Steve Parker, Los Outsiders? You will have the opportunity see this and more April 6-10 across 24 venues and sites in Austin.
Welcome to Fusebox's 12th year, where attendance is expected to reach 25,000 people over five days. From its modest beginnings in 2005, when the festival had a budget of $5,000 and a strictly underground following, Fusebox has grown to have an international reputation.
This year marks the third anniversary of the Free Range Art campaign, an initiative that made the entire festival free to attend and has resulted in a 60% increase in first-time festivalgoers over the past two years. As a result, attendees are encouraged to make advance reservations for tickets on the Fusebox website, though tickets will also be available at the door.
Fusebox founder Ron Berry, executive and artistic director of the festival, travels not just the U.S. but also the world to check out performance troupes and artists to recruit for Fusebox; he's a regular at festivals in Canada, Japan, Chile and the Netherlands, for example. And this year's roster reflects his time spent scouring the globe: Local, national and international acts each represent one-third of the festival's events and cover a diverse range of art forms, from dance to theater to music to the visual arts.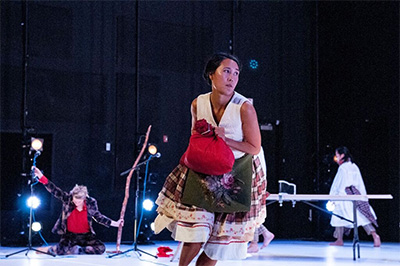 "My own background is in theater and performance, and this continues to play a central role in the festival," says Berry. "But we felt it was vital that the work be in conversation with other art forms. And we also felt that much of the really exciting work being made today was very hybrid in nature — hard to classify. We wanted the festival to celebrate and showcase this work." Berry added that the national and international components of Fusebox are exciting not only for audience members, but also for the local artists.
"We wanted to create a platform for local artists to have their work seen by the world, but also felt it was essential to keep injecting new ideas and new thinking into the local community by bringing in artists from all over. Ultimately, you could say the festival was designed to promote the exchange of ideas across disciplines and across geography."
Local theater legends the Rude Mechs will present the regional premiere of their latest project, Field Guide, April 7-10. "You can be among the first to see this major new work from one of central Texas' premier performance groups," says Berry. "The Rude Mechs continue to invent and playfully explore the theatrical medium, cracking open our understanding of what can happen inside a theater. And it's always done in such a playful, fresh manner," he noted. Field Guide is structured as you would imagine, given its title — it's about understanding life the way a birding guidebook shows you how to identify species of birds.
Creative polymath and founder of the band DEVO, Mark Mothersbaugh's April 8 performance will be another "hot ticket," as Berry put it. He'll be joined by a local musical ensemble to play orchestral renditions of DEVO covers and his compositions for numerous films. Presented in partnership with The Contemporary Austin, Mothersbaugh's performance will be conducted on a six-sided keyboard he invented. "This is a rare opportunity to experience this legendary artist in an intimate setting. The arrangements are completely unique and specifically composed for this wondrous six-sided keyboard that Mothersbaugh invented himself," adds Berry.
New York-based Big Dance Theater (April 7-8) will be another big draw. In honor of its 25th anniversary, the company is returning to its dance roots to theatrically re-imagine the conventions of a dance repertory program. Big Dance will present the company's unique blend of dance and theater on an intimate scale to tell stories inspired by disciplines of the concise: novellas, folk tales, diary entries, pencil drawings, thumbnail sketches and the single page of a notebook. In Short Form, Big Dance performs five distinct short works that embrace the granular.
"These are hugely influential artists within the theater, dance and performance world," notes Berry. "The show celebrates their 25th anniversary and gets at many of the essential, defining ideas that have made their work so remarkable over the past two decades."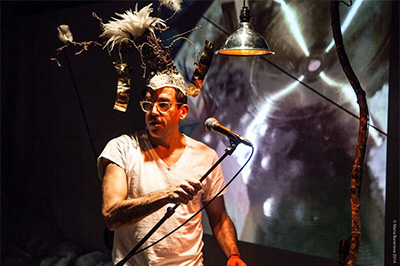 David Neumann, also New York-based, brings his Bessie Award-winning I Understand Everything Better to Fusebox April 6-7. A personal reflection on our society's impulse to report on calamity and the concurrence of unrelated events, the multidisciplinary, dance-based performance brings together narrative, traditional Japanese Noh theater and Neumann's signature virtuosic movement and humor, and features an all-star cast of collaborators and designers. "This performance was one of the most celebrated performances out of New York City the past year," says Berry. "It's hilarious, it's moving, and features one of my favorite sound designs ever. Like Big Dance Theater, Neumann is one of our country's leading artists working at the intersection of theater, dance and performance."
For a look at choreography from another part of the Americas, audiences will want to check out Colombia-born, Argentina-based Luis Garay's critically acclaimed Maneries (April 9-10). Garay's work attempts to create links between scientific theories, poetry and theatre via an "ironic" style noted for its extreme physical qualities and its search for new models of beauty. "Maneries gets at something that you always hope art can get at — something profound, something bigger than us, something that's hard to put into words. It's a truly tour-de-force performance," said Berry.
Then there's Okwui Okpokwasili's Bronx Gothic (April 9-10), a solo creation that melds theater, dance and visual art installation, presented in partnership with Women & Their Work. The production centers on a charged relationship between two girls on the verge of adolescence in 1980s outer-borough New York City, where Newports are bought in singles at the corner bodega and sex-saturated notes are passed in class.
"Okpokwasili is a remarkable performer and artist who is really coming into her own, just exploding right now," says Berry. "She's easily one of the most exciting, thoughtful, powerful artists working within the contemporary performance landscape today. She reminds me of a young Marlon Brando in terms of her sheer magnetism — so compelling."
When asked what he imagines Fusebox's "weirdest" event will be, Berry says it's a tough question. "Weirdest is hard. We're a festival that champions adventurous artists who are pushing and challenging and experimenting, so across the board the projects are pretty unusual in terms of form." He does add, however, that mask-donning performance artist Narcissister and CHRISTEENE (the alter-ego of performer Paul Soileau), both April 9, promise "sheer outlandish fun."
Fusebox will host a nightly festival hub after 8 p.m. at Austin Saengerrunde Halle, where attendees can go to connect with festival artists, crew and other festivalgoers. This pop-up bar will play host to nightly performances — including CHRISTEENE — and offer free bowling and a rooftop patio. Berry says it will be the "heart and soul of the festival." And speaking of heart and soul, how better to feed both than with an arts event like Fusebox? Berry dreamt it; now Texans can do it.
—CLAIRE CHRISTINE SPERA