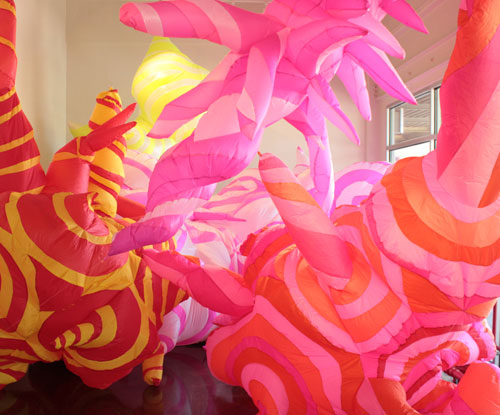 The work of French artist Anne Ferrer falls somewhere between the living and unliving. To put it more precisely, her works on paper, wearables, and large-scale pneumatic sculptures are at once material and immaterial, made from stuff as tough and memorable as a shiny polyester tarp patterned in pink and red argyle and evanescent and conditional as electricity and blown air. Her pieces shift, stagger, and catalyze the imagination in their status somewhere between the biological and artificial, transforming the large white orthogonal space of Red Arrow Gallery into a temporary carnivalesque of tickling pressures, soft walls, and erect bulbous sacks.
Ferrer locates a wealth of performativity in this in-between: the possibility that art can invite touch, be relational and interactive, and come to life as a conduit of communication between people. Ferrer's watercolor renderings of coats that might double as sea creatures, pudendas, or talking flowers are vibrant with the fantasies of as yet unseen nature. Since framed and hung on the wall, they are still within the precincts of conventional art – readymade for the museum. They are ideas painted and drawn in deep, rich hues, so many sketch-ups for their realization in three-dimensional livable form. Yet, Ferrer is not interested foremost in 'Art' for the museum; rather, she is inspired by the everyday life of street events. "I have to admit that my first influences don't come from the unchanging static work of the museums but more from Catalan (south of France where I was born) – Easter, joyful processions where the statues are all dolled-up, or the carnivals which are everywhere so interesting for their performative qualities, alive, evolving while bringing the community together."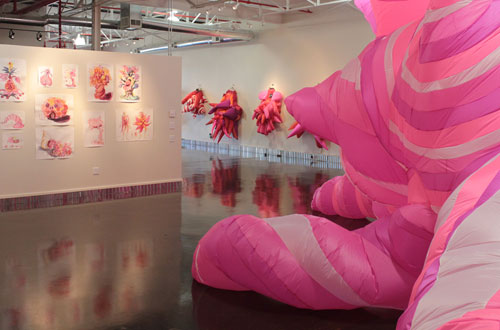 As for personal origins, Ferrer is both French and cosmopolitan, of her country and in the world. Ferrer grew up in a family of seven in which, with typical French perspicacity, attention to detail, and perfectionism of craft, the "children learned to do everything with their hands – cook, sew, build shelves, [and] repair the younger kids' toys…" While currently living in Paris, Ferrer is no stranger to the middle of America, having attended the University of Oklahoma, from where she launched into the American Northeast, receiving an MFA from Yale University. Ultimately, this patchwork world has given her a sharpened sense of the body as multiplicity and felt experience as boundless.
She combines the gritty liveliness of street theater and the carefully honed forms of fashion in her inflatable sculpture and costumes. The soft whir of wind blows from fans into the sprawling candy-striped body of "Hot Pink," the largest piece by Ferrer showing at Red Arrow, making it alive with the energies of mechanized airflow and handmade couture. It droops and bobs, floats and pushes outward, inviting touch and movement inside. But there are no entries, only a plastic circular window to see the undulating and intestinal curves of the entrails of "Hot Pink." Without a doubt, this piece, like the others, is visionary, reminiscent of pneumatic art and design both past and present, such as Ant Farm, Haus-Rucker-Co., and Jean-Paul Jungmann's inflatable nomadic living units of the late 1960s and Claire Ashley, Michael Rakowitz, and Ana Rewakowicz's wearable inflatables of the present.
These works of pneumatic art –including Ferrer's – are interconnected by the shared symbolism of the Rabelaisian carnivalesque. For literary critic Mikhail Bakhtin the age-old carnival was defined by its heady crowd and motley collectivity, the grotesque and base, the open and exotic. Writing about François Rabelais's The Life of Gargantua and of Pantagruel, the 16th-century French picaresque of father and son giants, Bakhtin gave name to a materialist utopia – the what-if having come to life – in the raunchy, stinky, ever-so-lively carnivalesque coalescing in the late medieval streets of France. Though couched in the tidy open space of Red Arrow Gallery, the spirit of Ferrer's creatures is the hedonistic and corporeal carnivalesque.
When it comes to the finesse of design within Ferrer's fashion-pneumatic venture, one might look to another realm – architecture – for an originating source of influence. "I was born not too long after these artists/designers," Ferrer says referencing the avant-garde forces behind pneumatic architecture circa 1968. Growing up "in a family of architects, I surely was aware of their work…I always loved plump and round shapes. They are reassuring, maternal, and [suggestive of] the idea that we can be children again."
Though the air of utopia circulates within Ferrer's pieces, there is, in fact, a far more practical force behind their ballooning form. They take up less space in her studio than the stuffed sculptures of her prior body of work. While sailing on the Mediterranean in 2005, Ferrer became inspired by the sail on the ship, its potential to billow out with gusts of wind and dangle flaccidly in motionless air. After her sailing experience, "the work change dramatically," she says. "I could dare to build in any scale, any shape, with the most vivid colors, and transport the work in a simple suitcase, giving it a performative quality."
Ferrer's works are, while playful and upbeat, expressive of a full existential spectrum. They are witty, cheerful, and lighthearted while also weird, perplexing, and eldritch. They tell of another world within our very own, bringing the extraterrestrial of life on Mars and deep terrestrial of the sea anemone together in the white walls of the gallery.
—CHARISSA N. TERRANOVA
---