---
IMAGE:  Airs by Paul Taylor. Photos by Paul B. Goode.
---
Paul Taylor Dance Company Returns to Houston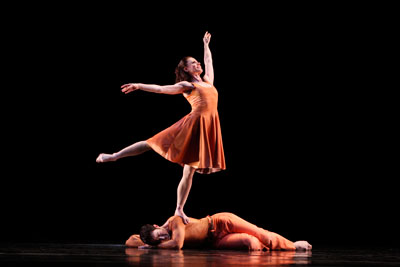 Paul Taylor's Esplanade elevated running, jumping, leaping and gleefully sliding across the stage into something sublime. Today, Taylor's iconic dance, composed mostly of everyday movements, remains a seminal statement in the American dance canon.
Society for the Performing Arts presents the Paul Taylor Dance Company on Oct. 12 at Jones Hall in their first Houston show in a decade, with a program that includes such renown works as Sunset, Airs, and Taylor's signature masterpiece, Esplanade. This engagement features Mercury in the pit.
PTDC's performance is the second event in SPA's unprecedented focus on great American Dance. It would be unthinkable to not have Taylor on the season; he's that important.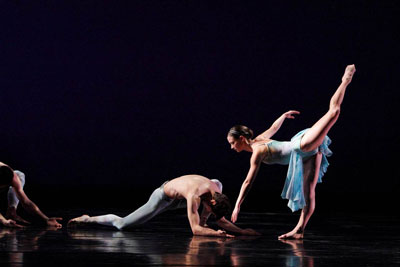 The renowned dance writer Arelene Croce famously called Esplanade "unfaked folk art." Company member and San Antonio native Francisco Graciano brings us inside the Esplanade mystique: "Those slides are thrilling," says Graciano. "There's a great sense of satisfaction and confidence knowing you are about to perform a dance that audiences around the globe have connected with and adored for decades."
Company member Parisa Khobdeh, a native of Plano, Texas, addresses the joyful spirit of the work: "Esplanade is the most cathartic dance I have ever danced. It reminds me that happiness comes from the heart; walking, running, jumping, sliding, falling is dance at it's purest."
Graciano and Khobdeh are excited to be dancing in their home state of Texas. "It just feels good to bring great modern dance to a community where it's not prevalent," says Khobdeh. "The feeling is amplified because it's happening in the place I grew up."
With Antoine Plante leading Mercury, the music of Bach, Handel and Edward Elgar  will come to life on period instruments. "Paul Taylor's musicality is really genius," says Graciano. "You really do see music come to life through his lens."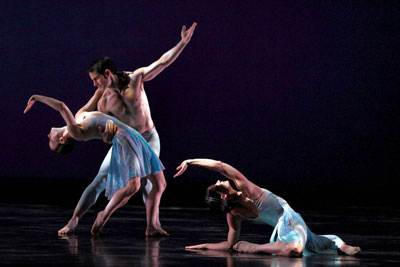 Since it has been a while since Houston dance lovers have seen the company, Graciano gives us a primer on what to expect. "Paul's work can't be pigeonholed. One dance will make you laugh. Another will scare the daylights out of you," says Graciano. "And yet another may send your soul searching. Paul has an uncanny gift for observing people and his ability to present the human element so succinctly in his dances is second to none."
Khobdeh finds a thread running through the program. "All three works have one thing in common: they are revealing of the human heart, imbuing feelings of passion, love, loss, distance, joy, peace and harmony," she says.  "They serve as a mirror to ourselves."
Dancing with the modern dance master is an ever-evolving process for the company. "Over the years, I have learned that Mr. Taylor will show you where to look and what to look for, but the rest you must do yourself," says Khobdeh. "Mr. Taylor is a gentleman and most respectable in nature; you'd think he was a Texan."
 —NANCY WOZNY
---