Horse Head company members Philip Hays, Tasha Gorel, Jacey Little, Laura Moreno and Leah Short pose in front of historic St. John Church, location for their summer production of CHURCH by Young Jean Lee.
Photo by Pin Lim at Forest Photography.
---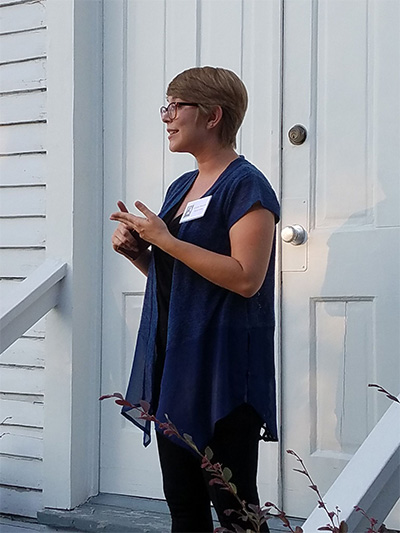 Houston's Horse Head Theatre company has a reputation for staging intriguing and occasional avant-garde contemporary plays in nontraditional and even bizarre venues, from the back porch of a bar to a geodesic event dome on the banks of Buffalo Bayou. With one or two productions a year, releasing theater out into the wild of everyday spaces and making those spaces extraordinary has been something of an integral ideal since Horse Head's founding in 2009. But now for 2017, the company attempts a feat truly radical for them, a full season of four theatrical projects that they've announced in advance.
Horse Head fans can expect the same type of provocative works and performances the company is known for, just more of them. Their 2017 season includes two free, staged readings of plays in development: MJ Kaufman's Sensitive Guys, which took place on June 5 at the Rec Room, and Neighbors by Bernardo Cubría scheduled for Sept. 18 at MECA. Along with these readings, the season brings two full productions: Young Jean Lee's Church (Aug. 4-19) and The Sonic Life of a Giant Tortoise: Youth is Not the Only Thing That's Sonic by Toshiki Okada, translated to English by Aya Ogawa (Nov. 3-18).
I recently talked with Horse Head artistic director Jacey Little about tackling a bigger lineup than the company has ever done in a season, while keeping that Horse Head style, a focus on engaging and challenging audiences. Little explained she felt now was the time in the company's evolution to try this mixture of readings and full productions.
"These are staged readings of plays that kind of scare us. We've been calling them ballsy," explained Little, with a bit of irony, especially when referencing Sensitive Guys. "They're in tuned thematically with what we want to discuss this season which is concepts of self, self-knowledge and what happens when you act on that. Or if you do not, what the consequences are."
Little described both Guys and Neighbors as "potentially problematic to produce," but noted that both plays hold stories they were "really interested in telling." Little calls the plays problematic, not in a pejorative sense, but both plays are political, to varying degrees, and perhaps confrontational. At the same time, the plays might be a casting or scenic challenge for any director and creative crew wanting to mount a full production.
Sensitive Guys called for women and gender nonconforming actors cast as male and female characters. Casting won't be as much of an issue for Neighbors as there is a good possibility playwright Bernardo Cubría and Horse Head company member Philip Hays, who have been friends for many years, might play the antagonists in the reading. But a full production would call for a river in the middle of the stage that the characters wade and, at one point, piss into.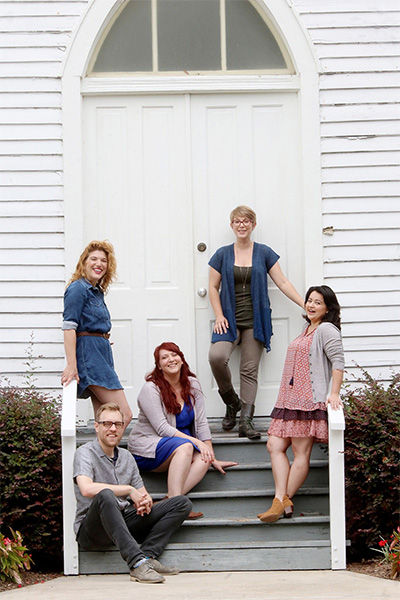 For both readings Horse Head partners with a local organization which can provide assistance in authentically telling these stories. For Sensitive Guys that was AFTER (American Foundation for Transgender Excellence and Recognition), and for Neighbors the Latina/o focused MECA (Multicultural Education and Counseling through the Arts) offers assistance and the venue.
"If we're going to be engaging with subjects that are representative of subcultures or minority groups, then we need to make sure that there's an actual community partnership there and that we're not appropriating or telling a story to a group. We're making sure we're having a direct line and insight," explained Little.
She also noted that they've been in talks with MECA Performance and Residency Director and Music Director, Estevan Azcona for some time, looking for a possible project to combine resources. While the Neighbors readings seemed like the perfect opportunity for a beginning that might lead to future collaborations, Little also thinks the play deserves "the best, most balanced audience possible," and MECA can help deliver an audience that will hopefully "connect with this work."
Another prominent partnership, this time with Houston's Heritage Society, will also help in the creation of the first full production of the season, Church, as Horse Head gets back to their theater-in-unusual-spaces roots, while also exploring some Houston history. Little, who directs Church, plans to stage the play in an actual church, the 1891 St. John Church in Sam Houston Park. The Heritage Society oversees the historic buildings in the park.
Lee's play takes the form of a series of sermons the actors deliver to the audience who play themselves attending a church serve.
"Lee uses the tropes, the devices, the storytelling methods of an Evangelical or Christian sect church but in order to have a secular conversation," described Little. "Church is not interested in converting you to Christianity, but it is using the language of Christianity to have a conversation about humanity and being a citizen of the world versus an isolated millennial."
In addition to the Church staged within St. John Church, Horse Head will present a pre-show, an interactive and original performance within the park to get the audience primed for Lee's drama. Also in keeping with the real historical setting, the pre-show harkens back to when Christian revivals would come into a town, set up a temporary house of worship to preach and interact with the townspeople. A second cast of actors will only perform in the pre-Church production.
"In this universe, they're traveling the country. They've set up shop at the Sam Houston Park, and they've got their fair ground with interactive things for you to do and meet them before you come into the sermon," said Little.
From this glimpse into a past that might offer spiritual reflections on our present, Horse Head moves decidedly back into the ennui-filled 21st century with Sonic Life, directed by Philip Hays. While the story of a couple in a relationship questioning how to be happy, might feel both familiar and ordinary, the way of telling will not be.
"Sonic Life includes two characters, male and female; however, Sonic Life will be told by an ensemble of five actors taking turns portraying this male and female. You don't get the opportunity or luxury of attaching an identity to any one actor," describes Little.
Though this announced season depicts a wide spectrum of subject matter and ways of telling stories, Little does see struggles with identity in all the works. But for Little, especially in this political era, it's not enough to find oneself. Whether we act on that self-knowledge becomes the real question.
"We don't have any answers for you this year, but we do have questions," she believes. "Nothing in our season is telling you how to live, but it is asking you to really evaluate if you're living."
Little admits that in her own life, she continues to ask herself "What is it going to take to make me take action?" and now with a season of drama likely to provoke both emotions and intellects, Horse Head is set to challenge Houston audiences with the same query.
—TARRA GAINES