That's the muddled message coming out of Randy Tibbits's complaint about what he sees as a too-low presence of Houston (or, depending on which paragraphs you're reading, Texas) art in Houston museums:
Perhaps our Houston art museums have forgotten where they are. How else to explain the pitiful showing of Houston-made art in their galleries? Of the thousands of objects currently on view, I spy only five at Museum of Fine Arts, Houston. Okay, eight if you throw in outdoor sculpture. A shout-out to those who can tell me what they are. (I'm not counting photography, or the decorative arts in Bayou Bend's Texas room — those are fab, but different beasts from the big "A" art at the MFAH main campus.) And at Menil, zero.
Photography doesn't count as big "A" art? What year are we living in?
That quibble aside, if Tibbits's count is accurate, eight Houston-made objects out of thousands does sound low, although it would be more illuminating to compare that eight to the number of American objects currently on display. If the MFAH takes his criticism to heart and adds more Texas objects, chances are they'll come at the expense of other American artists' representation, not the Indonesian gold galleries or the European galleries, etc. That quibble aside, Tibbits compares Houston museums' record with their North Texas counterparts:
In that regard, the Dallas Museum of Art, the Amon Carter in Fort Worth and a few others around the state are doing a better job. Both DMA and Amon Carter have mounted major shows of Texas art over the past few years — Julian Onderdonk, Loren Mozley, and the current and timely "Alexandre Hogue: The Erosion Series" at DMA; and at the Carter, "Intimate Modernism: Fort Worth Circle Artists in the 1940s in 2008," and more recently an ongoing gallery devoted to "Texas Regionalism," soon to be replaced by "Lone Star Portraits."

The DMA has actually integrated some of its Texas holdings into the general American galleries — treating it almost like real art — almost as though the museum is proud of it.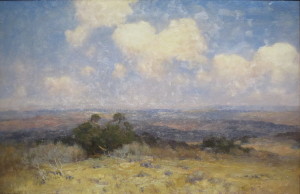 There are a few nits to pick out of those two paragraphs. First, note that Tibbits has to shift gears to Texas artists in order to credit the DMA for Julian Onderdonk and Loren Mozley. Second, it should be reasonably apparent to anyone who has visited the MFAH, the DMA and the Amon Carter that the MFAH has the least gallery space for American painting and sculpture. And it should be reasonably apparent to anyone who visited the fantastic American Made: 250 Years of American Art at the Museum of Fine Arts, Houston, which did include Onderdonk and other Texas artists, that the MFAH's American collection as a whole needs a lot more permanent gallery space than it currently gets. The DMA presumably integrates more Texas art into its American galleries because it has more space in them to fill. Which of the MFAH's American holdings would Tibbits rotate off view to make room for more Houston and/or Texas art? Third, I say "presumably" because, of course, Tibbits's piece doesn't say how many Texas objects there are out of how many American objects at the DMA or at the Amon Carter, nor, as noted above, does it compare the MFAH's eight Houston objects with a total number of American objects.
Fourth, with the important caveat that jpegs can be deceiving, I just don't see how Tibbits can think most of the tepid, tentative. conservative work in his gallery of "Houston Art You Won't See at the MFAH or the Menil" could be viewed on a par with any of the North Texas examples he cites. If the MFAH were to start integrating more of the best of its Texas holdings into its American galleries, one would expect the work to look more like it came out of those shows than out of his selection.
Tibbits's article amounts to CASETA boosterism–CASETA being the Center for the Advancement and Study of Texas Art–and while Tibbits makes no secret of being a CASETA board member, he should disclose that fact prominently in this story, along with whether he's collected, exhibited or sold work by the artists he's championing here.
The point isn't just ethical; it would help clarify some of the confused signals put out by his story. When he pines for the pre-James Johnson Sweeney days of juried MFAH shows for Harris County residents, is he complaining that the MFAH doesn't show enough work by contemporary Houston artists, or that it doesn't show enough work made before Sweeney's arrival in 1961, or both? Because if he does include contemporary artists in that equation, I can think of a number of MFAH and Menil Collection contemporary group shows that have integrated work by Houston and Texas artists–as if it were real art!–into their checklists, including Reality Check: Representational Paintings from the Modern and Contemporary Collection of the MFAH, Houston Collects: African American Art (MFAH): Second Nature: Contemporary Landscapes From the MFAH Collection, NeoHooDoo: Art for a Forgotten Faith (Menil), Cosmopolitan Routes: Houston Collects Latin American Art, The Progress of Love (Menil), plus any number of photographic and prints-and-drawings show at the MFAH that might not be "Big A" enough for Tibbits's criteria. Integrating contemporary Texas art–as if it were real art!–into group shows is what the MFAH and the Menil do instead of Fresh Paint-style shows these days. It's what they do instead of everyone's-a-winner juried shows for local artists. (Houston artists with MFAH or Menil museum solo shows in recent, off-the-top-of-my-head memory include Kermit Oliver, John Alexander*, Joseph Havel, Amy Blakemore, Otabenga Jones & Associates, David McGee, Forrest Bess and Dario Robleto, who has a solo show opening at the Menil in August and whose text series of 1997-98 the MFAH displayed with a Charles LeDray sculpture shortly after acquiring them. I'm giving Alexander an asterisk because his career took off after he left Houston, but his time here was important.)
But I don't think Tibbits, in invoking those shows, is really complaining that the MFAH and the Menil don't show enough contemporary Texas artists, although his screed prompted Christopher Sperandio, in a Facebook post, to call for project spaces at Houston museums and Glasstire's Lucia Simek to reminisce about the DMA's recent Available Space group show of work by contemporary North Texas artists. Tibbits is complaining that they don't show enough work by Houston artists from the juried shows of yesteryear and/or the Fresh Paint era, and that's a proposition that needs to be evaluated in the context of how those museums present historical and modern American art in general.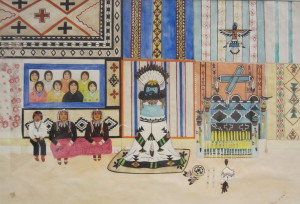 The relevant period for the Menil spans roughly from the 1940s to the 1970s. What would Tibbits remove from the Menil's walls to make room for David Adickes and Henri Gadbois?
It seems clear to me that at the MFAH, historical Texas art gets shortchanged to the extent that American art in general is getting shortchanged. And as much as I'd love to see the MFAH devote more gallery space to American art, until the new building comes along I don't know where the gallery space can come from. One of my favorite things about director Gary Tinterow's tenure is how he's made efforts to expand art's footprint in the museum's existing floor space, most notably in the Law Building entrance, where nowadays you encounter art as soon as you set foot inside. But for now, while you could certainly argue that the MFAH is overdue for a rigorously curated historical Texas art exhibition, I think there are more pressing issues of representation in the MFAH's historical American art galleries than too few Texas artists, starting with too few works by artists of color and/or works addressing race, a lack of work by Native Americans, relatively little work reflecting urban social issues and labor unrest, etc. (I'll admit, however, that I'd be pleased to see an Onderdonk work its way in.)
These are all important issues for the MFAH's next curator of American painting and sculpture to figure out. He or she should certainly listen to proponents of early Houston and/or Texas art, who are a valid constituency, but their arguments could use honing–not to mention a better lineup of "great" Houston art.