Artists of Houston Ballet in Stanton Welch's Marie.
Photos by Amitava Sarkar.
---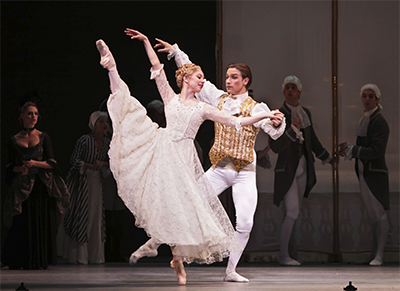 Houston Ballet holds the rare distinction of being founded by a community of dance-loving people rather than a sole individual.  Although the names may have changed, it's still the strength of the Houston community, solid leadership from Artistic Director Stanton Welch AM and Executive Director James Nelson, and a roster of talented dancers that keep this landmark company going full-force. A hurricane named Harvey may have caused record destruction, causing the Wortham Theater Center to be out of commission for more than a year, but it will not go down in history as an event that threw this great company off course
Prior to Harvey, Houston Ballet was in growth mode, with added touring, an expanded company roster, a steady stream of re-envisioned classics from Welch, and a contemporary repertoire with such celebrated choreographers as Jiří Kylián, Glen Tetley, Jerome Robbins, Mark Morris, and William Forsythe, along with young dance artists Aszure Barton and Justin Peck.
A tradition of narrative ballets and new works harks back to the company's origins, first with Nina Popova, the company's first director, to Ben Stevenson OBE, the man who brought Houston Ballet to national recognition during his historic tenure. Stevenson also established Houston Ballet as a choreographer-driven company, with Welch carrying on that tradition with a steady stream of strong story and contemporary ballets. Today, new ballets and updates of the classics are the norm. Plus, they operate in the largest building of its kind for ballet in the country, and they are one of the few companies to have two dress rehearsals with a live orchestra.
Yet, Harvey did its best to interrupt this momentum, including the flooding of the first-floor studios and lobby of Houston Ballet's Center for Dance, the loss of costumes for 60 percent of the one-act ballets, the disruption of performances, and the closure of the Wortham for the entire 2017–18 season.
"If we were not in such strong shape, we would not have been able to come back as well as we have," insists Welch. "Everything we have accomplished so far prepared us for Harvey." And he's right; sheer resourcefulness kept the company on track with a historic season opener, Sir Kenneth MacMillan's epic drama Mayerling, which was swiftly moved to the Hobby Center. Houston Ballet became the first North American company to perform this ballet and bounced back from one of the nation's most catastrophic hurricanes, all within the same week.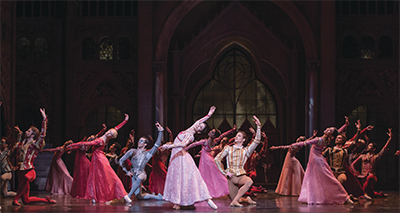 "The setback was financial more than artistic; the dancers did not miss any work. For us, that was a huge achievement," says Welch. "And we had the world's attention, along with tremendous support from the ballet community."
But with catastrophe came creativity, not only in the clever decision to tour The Nutcracker to Sugar Land's Smart Financial Centre, along with a post-Christmas week at The Hobby Center for the Performing Arts, but also in the company's decision to spread its spring performances to the Hobby Center for Don Quixote (April 13–15), George R. Brown's General Assembly Hall for Play (June 8–10), and Jones Hall for Swan Lake (June 23–July 1).
Still, regardless of location, the company's dancing is slated to be as high caliber and as engaging as ever, brought to audiences by the nation's leading artists. One of those is Cuban sensation and soloist Monica Gomez, who dazzled us as Kitri at the Margaret Alkek Williams Jubilee of Dance. It will be nothing short of thrilling to see her take on that iconic role in Don Quixote. "Monica was born to dance Kitri," quips Welch. Similarly, Principal Yuriko Kajiya will be dancing Welch's romantic Swan Lake for the first time. For the dancers, it can be the role of a lifetime to take on Odette/Odile. And while it may be Kajiya's first complete Swan Lake ballet, she will be performing it in a familiar territory for Houston Ballet—Jones Hall. "It was our first theater," remarks Welch.
The 2018–19 season brings the company back on course, balancing timeless work and reinvented productions while opening in November in its treasured Wortham Center home with Welch's fantastical production of The Nutcracker, followed by the always popular sampler, Margaret Alkek Williams Jubilee of Dance. Although the Wortham reopens in September, Welch thought it best to push the season opening deeper into the fall. "It gives us a little cushion, and we will have our entire season back on the glorious Brown stage in the Wortham," states Welch.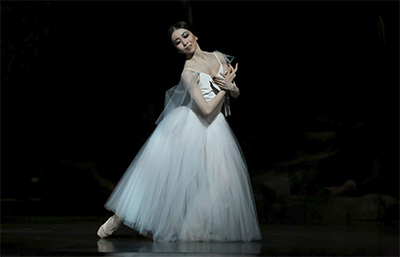 Since being established as a place to see drama in motion, Houston Ballet has been known for dramatic narrative ballets, and some of them were born right here in Houston, like Welch's emotionally charged story ballet, Marie, which returns after a seven-year hiatus next season. His complex portrait of Marie Antoinette, now a signature work, will enchant a new generation of audiences. According to Welch, it's crucial to bring ballets back while the original dancers are still in the company to keep the thread of creation alive. For Houston Ballet Principals Melody Mennite (Marie Antoinette) and Connor Walsh (King Louis XVI), returning to these roles will be a career threshold as they have developed so much as artists since the ballet premiered in 2009. "Marie will continue to evolve, and it will be so interesting to see what Melody and Connor bring to these parts now."
Welch's creativity stream also includes his revisioning of classic works Cinderella, Swan Lake, Romeo and Juliet, and La Bayadére, all of which have been huge audience hits. A highlight of next season will be his new version of Sylvia, a co-production with The Australian Ballet. Sylvia, set to Léo Delibes's beautiful score, will feature lavish costumes and sets, along with projections designed by the digital pioneer Wendell Harrington. Sylvia has held a treasured spot on Welch's bucket list for a long time, and now with the right mix of talent in front of him, he's ready to tackle this iconic ballet that mixes myth and romance.
Growing the contemporary repertoire and introducing Houston audiences to rising talent has also always been a high priority for Welch. To that end, works by New York City Ballet dancer and Resident Choreographer Justin Peck and Canadian powerhouse Aszure Barton are both dynamic choices. Peck is in demand all over the world. His most recent work, The Times Are Racing, made the best of 2017 list in the New York Times. Peck's Year of the Rabbit was a huge hit last season, so it's great news that Houston Ballet will commission a new work from Peck. "He has his own voice," says Welch. "His work is so current, so fresh, and he has such musicality. He's really a music-driven choreographer."
Houston audiences sampled Barton's exotic vocabulary in Angular Momentum in 2012. They will get a second taste in the Houston premiere of Come In, one of Barton's breakout works. Originally created for Mikhail Baryshnikov, Aszure Barton & Artists, and Hell's Kitchen Dance, Come In shows off Barton's sassy movement vocabulary and her witty musicality. "I love her quirky style," adds Welch.
Part of being a world-class institution also involves honoring the masters of the profession and participating in a larger cultural dialogue. Just as the company did with the Shakespeare and Stravinsky commemorations, Houston Ballet joins the worldwide celebration of the Jerome Robbins Centennial with an evening featuring three ballets by Robbins: Fancy Free, The Concert, and the Houston Ballet premiere of The Cage. Welch is particularly excited by the collection of these three works. "We aren't doing the usual combination of his works, so this will be a unique experience," says Welch. "There's the Broadway tone of Fancy Free, the humor of The Concert, and the rare and quirky The Cage."
The season also boasts opportunity for new company members to step into the spotlight and flex their skills. Ronald Hynd's The Merry Widow will return to enchant Houston audiences. "Bringing The Merry Widow back to the stage provides a wonderful opportunity for our newer principals to shine." says Welch. It creates space for names to rise within the already star-studded company.
As Houston Ballet moves toward its 50th anniversary season in 2019, unflinching resilience and steady momentum continue to characterize the company's distinct path, which is tightly focused on honoring the art form's astonishing legacy, while also bringing it to relevancy in today's complex world by showcasing new work and talent. Faced with what seemed like insurmountable obstacles, Welch and his world-class company have kept up the face of excellence with a remarkable comeback to the stage. For Welch, stepping up to the challenge is part of the job.
"First, we thought Romeo and Juliet was the hardest thing we had ever done, then came The Nutcracker, and that was the hardest, and then Harvey," he says. "Now, we are ready for anything, we can dance on the moon! They say that what doesn't kill you makes you stronger. We have never been stronger."
—NANCY WOZNY