In 2013, at the Dallas Museum of Art, Leigh Arnold curated Robert Smithson in Texas, a first of its kind look at the famous land artist's finished and unfinished works in the state. Twenty-six objects, including drawings, photographs and media, documented the frequently impermanent works in rural areas. Among them is the 1973 Amarillo Ramp, completed posthumously by his widow, artist Nancy Holt, alongside friends Richard Serra and Tony Shafrazi.

The exhibit debuted Holt's documentary
The Making of Amarillo Ramp
––40 years after it was made. Holt, who died in 2014, was a well-known artist. But the delay is emblematic of a larger issue––the lack of recognition of women artists even in the most progressive artistic movements at the time. In her case, she also bore the responsibility of promoting her late husband's legacy.
"When talking with her, I got glimpses of her work against Smithson's. But she kept focus on him and preserving and completing his work. That is, on the task at hand," said Arnold, the associate curator at the Nasher Sculpture Center in Dallas. "I became fascinated with some of her lesser known work and believed she deserved recognition. I then started thinking about women artists," she said.
Now, a decade later, Arnold gives women land artists their due with the exhibition Groundswell: Women Artists of Land Art, which runs through Jan. 7 at the Nasher Sculpture Center. Holt is among the seven artists, all women and all in the United States.

"When people think of land art, they think all white men in rural areas" practicing from the 1960s-80s, she said. Yet the field, inspired by environmental concerns and the study of ecology, includes a broad array of practices, including conceptual to minimalist, and can be found in rural and in urban areas. Some are interventions, bowing toward its activist roots. Some are performative.
The struggle for the curator of a land art show is exhibiting what is no longer there. And, as some artists argue, was stolen and appropriated from indigenous people. But Arnold took cues from her 2013 show and the exhibits Earthworks at Dwan Gallery in New York in 1968 and Earth Art at the Herbert F. Johnson Museum of Art at Cornell University in 1969. While women were active in the movement, neither show featured women.
"Those two shows established how you do a land art show by contextualizing the works in a gallery setting," she said. But Earth Art was a better reference because it included outdoor work and engaged with the landscapes.
The center's broad galleries and large sculpture garden gave Arnold the chance to balance creating a mere repository to staging a living exhibition. Michelle Stuart's
Earth Diptych: Self Imprint/No Imprint
, 1969, is one of her many examples of taking from the earth and enclosing it in man-made materials.
Unable to produce the structure, instead a maquette of Alice Aycock's aluminum and steel The Miraculating Machine in the Garden (1980) is displayed, alongside Holt's repurposed Pipeline (1986). Here's the activist kick: it was created in response to the Alaska Transatlantic pipeline, a gigantic steel and oil structure, from which oil drips. According to the Holt Smith Foundation, Holt was invited to Alaska to create something celebrating its beauty. "Holt was instead struck by the infiltration of the Trans-Alaskan Pipeline through pristine wilderness," according to the foundation's website.
Photographs of Mary Miss's wooden Untitled (1973), , document the initial wooden slats above a hole in the ground on the Oberlin College campus. It was later recreated with steel and concrete. Meanwhile, Agnes Denes's watercolor sketch series Isometric Systems in Isotropic Space create the impossible: placing the earth in unlikely places, such as a doughnut and snail.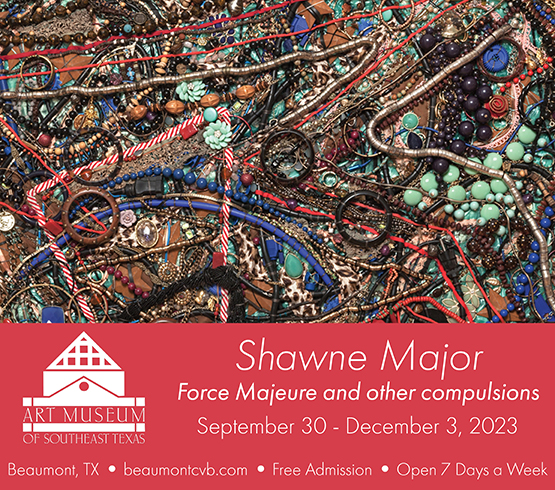 Arnold, keen on continuing to engage the field, commissioned Miss to create a project following a stream once under Dallas and now cemented by development.
Stream Trace: Dallas Branch Crossing
(2023) may be a focal point. Her New York-based nonprofit the City as Living Laboratory organizes walks to bring people closer to the natural or built environment, "whether industrial or human-made."
That task is reinvented here. The piece involves deputizing an artist who interprets the buried stream on the tour. Whether from the perspective of an architecture critic (such as the Dallas Morning News architecture critic Mark Lamster) or a visual artist (Angél Faz), these tours present the flora and fauna buried beneath and around the stream. "You get a better sense of history. You're asking, 'what is buried in the name of progress?'" Arnold said.

Patricia Johanson's Fair Park Lagoon, built between 1981 and 1986, is a permanent installation in Fair Park in south Dallas. While offsite, it's integral to the exhibit, serving as an example of not only her deep research of landscape architecture but as a pivotal portion of Dallas's built environment. (Sketches for unrealized gardens commissioned by House and Garden magazine are also on display.)
Jody Pinto, another artist in the show, once said, "Land art is anything outside your environment."
For Arnold, to recreate land art. "The goal is to not create archives but replicate the experience," she said.
—JAMES RUSSELL