MET Dance.   Photo by Ben Doyle.
---
Larry Keigwin Sets Seven on MET Dance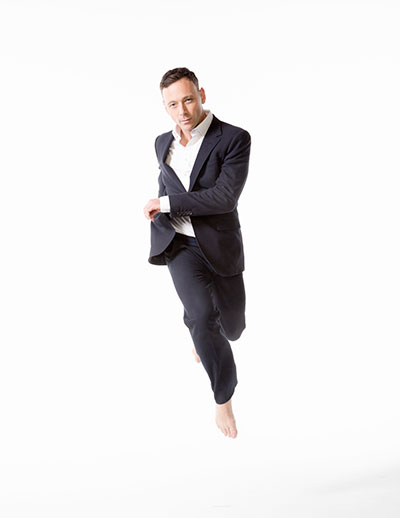 The dancers stare straight ahead, looking like a perfectly unified ensemble, for about one second. Then one of them adjusts a colleague's arm, as if to be the first one to break free. Within a few seconds, new ideas emerge, couplings, swopping lifts and other fractions occur in the group  before they return to unison again, and then only for a delicious phrase or two before individuals strike out on their own once again. Frankly, it's hard for any group to stay on the same page for every long, these dancers seem to be saying.
These opening moments of Larry Keigwin's Seven seem to perfectly sum up about how a group functions, especially a group of dancers. This one in particular, MET Dance, has only been together as a group for a week when I watched rehearsal. Keigwin's Seven will be performed as part of Indivisible, along with works by Joe Celej, Steven Vaughn, and a world premiere by Jhon R. Stronks,Nov. 21 – 22, at Hobby Center for the Arts, Zilkha Hall.
"Seven felt like a natural fit for the MET Dance, yet also offer the dancers an opportunity to expand their artistry, "says Keigwin. "I created Seven when I added a new dancer to my company, I had always had six."  But what difference a number makes, especially an odd number. Keigwin's highly athletic romp fully exploits the volatility of an uneven number of dancers on stage. That fact alone fuels the piece. The choreographer taps into the dynamic of imbalance, as the group's configurations are in constant flux. In the rare moments of unison, the ensemble must be spot on, forming a cohesive whole even if just for a minute before they go off kilter once again. Keigwin gets that equilibrium is a fleeting place, so there's no hanging around in Seven, it's more of motion than of shape.
"This is a perfect way for the MET's seven new dancers to get to know each other," I tell Keigwin and Marlana Doyle, MET's artistic director, who is also dancing in the piece. Doyle agrees. The pace, the partnering and exact spacing require everyone to be on their A game. "Larry and I were trying to decide what would be the best piece for MET dance, after looking at many of his works," says Doyle. "We agreed on Seven because we felt it would be a great fit for the company being a cast of seven and for it's simplistic design and movement. It is a wonderful addition to our repertoire and I am looking forward to it's premiere."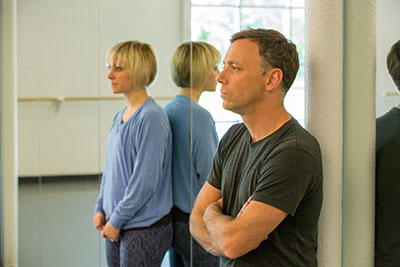 "I love the MET's new studios, this is an amazing space," says Keigwin, who was last in Houston while the company was still in their old, tattered building. The dancers learned the piece in three days, which is remarkable considering how new they were to the company and Keigwin's work. There's no not getting along in dancing a Keigwin dance, where a misstep could end up with a high speed collision. There is no stillness in Seven. The group forms and reforms like a living, breathing entity for the entire piece.
And the nature of the choreography allows the audience to get to know these dancers as individuals and as a group. "Learning Seven was a great experience," says John Michael O'Neill, one of MET's new members. "It challenged all of us because there is definitely a feel of community within the work, but the movement vocabulary has a sense of abandonment that at times made it difficult to find that community feel, especially when we were first learning it. At this point, it doesn't seem possible to over-rehearse the piece, where with other pieces I feel like doing so could take the spark out of it. The spark in this piece is the endless possibilities, which is both exciting and challenging."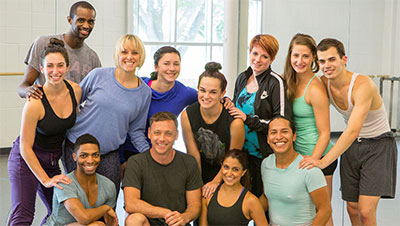 Keigwin holds a unique place in American dance. He's worked in post modern concert dance, ballet, Broadway, film, fashion, visual arts, in addition to being editor at large at ArtDesk, a visual art magazine. He has created dozens of works for his company, in addition to setting works on the Royal New Zealand Ballet, The Martha Graham Dance Company, Juilliard School, to name a few. As artistic director of Keigwin + Company, he orchestrates a number of activities, from his city-based Bolero festivals, to an upcoming Winter intensive. He choreographed If/Then, which is currently on Broadway staring Idina Menzel. The only thing he hasn't done is  opera, and according to Keigwin, it's just a matter of time. He work has landed in Texas too. He set the "Air" section of Elements on MET, while HSPVA and Booker T. Washington have performed his piece Caffeinated.
Despite his full schedule, Keigwin makes time to visit the MET. It's important to him to reach out to small companies and young choreographers. "I'm interested in working with the MET because I have a relationship with Marlana and the dancers. I set a dance on them a few years ago, and really enjoyed working with the dancers and my week in Houston. It's always nice to return to a place you know. I also have a relationship with Houston. I am also interested in engaging with and supporting regional arts. Dance is not only in New York, it's everywhere and there are incredible dancers everywhere, including the MET."
—NANCY WOZNY