The Creative Arts Center Turns 50
The exhibition The Legacy of Octavio Medellín: A Survey of His Work & Influence, on view at the Latino Cultural Center through March 31, is one in a series of 50 community-wide events in Dallas commemorating the Creative Art Center's 50-year anniversary. Other events on the calendar include free on-site classes, workshops, Art as a Second Language sessions, and more.
Curated by artist Viola Delgado, The Legacy of Octavio Medellín showcases not only Medellín's works but also those of the Dallas artists he taught or otherwise influenced, artists such as, Marty Ray, Rob Pollock, David Hickman, and Eliseo Garcia.
Medellín, who was born in Mexico in 1907 and died in Texas in 1999, was an artist known for creating works that embody the idea of an "American of Mexican heritage," a phrase he used to describe his own life. As a young artist, he studied in San Antonio and Chicago and in Mexico, including an especially influential three-year stint in Mexico where he learned in detail about his native country's art forms and customs. During his travels throughout the Gulf Coast, he absorbed knowledge about the Mayan and Toltec ancient ruins and sculptures, as well as became familiar with the local crafts found in small villages.
As the political turmoil grew between the United States and Mexico in the 20th Century—for example, the Mexican Revolution in 1910 and immigration after NAFTA in the 1990s ——Medellín was grounded in art-making, creating powerful narratives about transcending cultural boundaries. Going beyond primitive or nationalist tropes, he harnessed the energies of different artistic traditions to develop his own art style and forms. However, he was also committed to honoring and continuing the traditions of his people.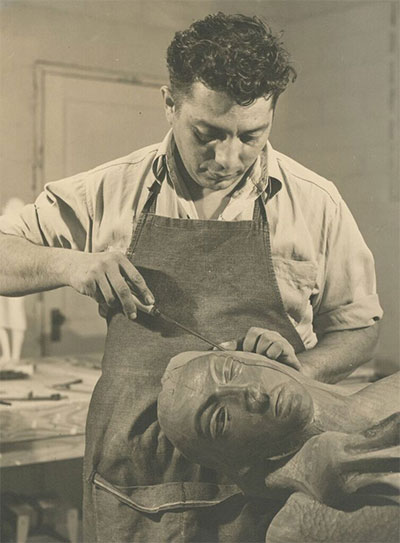 Though he is remembered as a highly influential artist, those who had the honor of studying with him remember him more as a generous teacher. Over the years, he held positions at the Dallas Museum of Art, University of North Texas, and his own Medellín School of Sculpture, now the Creative Arts Center of Dallas, and Southern Methodist University, which owns a large digital collection of his art and papers.
Delgado, who was approached by the Latino Cultural Center to curate the exhibition, was heavily involved in the selection process, doing studio visits with potential exhibiting artists. Ultimately, those included in the show were those who had taken what they learned from Medellín and developed it further. Marty Ray, ceramic artist and Professor of Art at North Lake College, has five works in the show, all "built hollow from the bottom up" which she cites as a specific Medellin influence.
Ray met Medellín in 1966, when she went with a friend to join his evening class at the Medellín School of Sculpture, then under the CAC umbrella of programs. On the very first day, he taught the students how to mix their own clay—something that Ray still teaches her students today.
"Taking classes with Octavio changed the direction in my art from a two-dimensional focus to a three-dimensional focus. He was always encouraging us to follow our own creative ideas and always insisted that we delve intimately into the nature of the materials we worked with. Under him, I began to learn the wide range of possibilities available to an artist using clay," says Ray. "Though his own work is of great importance throughout Texas. I feel one of his greatest achievements was as a teacher."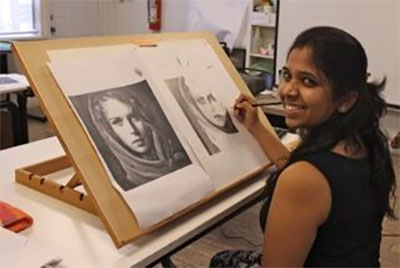 CAC Director Diana Pollack, along with Honorary Co-Chairs, Patricia B. Meadows and Gail Sachson, organized the "Celebration 50" series of events in partnership with other Dallas venues such as Klyde Warren Park, Dallas Historical Village, the Dallas Arboretum and other venues. Pollack and her team are also developing Process to Product: From Inspiration to Innovation, a new rotating department show at CAC, expansion of the outreach community programs, and an Octavio Medellin Guide and Driving Tour of Dallas public and institutional work which will be introduced in this fall. And on April 30, the CAC presents Blue Plate Special, the organization's signature fundraising event, featuring a silent auction of custom-designed ceramic plates by notable local artists, CAC instructors, and students. Additionally, Quin Mathews Films will debut a new video they produced celebrating the Center's legacy.
Pollack says that over the last 50 years, the CAC has been "the longstanding place for seekers, leaders and thinkers to 'center themselves' through authentic and enriching hands-on arts experiences and we look forward to fostering the next generation of Dallas artists." Moving forward, CAC will announce new funding and partnerships, as well as updates to their popular outreach programs, such as Art as a Second Language, unseenamerica, ArtAbility and Camp MetalHead. And as Ray explains, "The school maintains that atmosphere I remember in Octavio's classes, one of friendly camaraderie and support for personal development of individual expression thru art."
—NANCY ZASTUDIL