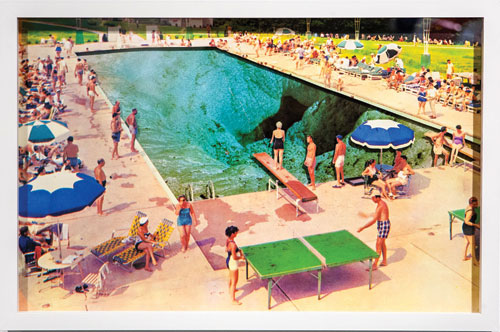 We're reaching an exciting time in contemporary art for many reasons, not the least of which is a willingness on the part of young artists to negotiate the tricky terrain of what could be dubbed "the reinvention of retro." Their work is fascinating precisely because it purrs with by-gone angst that they could never have personally witnessed. It's hardly news that the fifties, sixties, and seventies operated like a crazily constructed layer cake. The tropes of vacuuming in heels, Tupperware parties, and go-go boots were all undermined by the ghoulish indelicacy of the daily news – the death of the Kennedys, the demise of Malcolm X and Martin Luther King, the Manson family, the Vietnam war, the Cuban Missile Crisis, and more. The list is enormous. However, it was ardently countered by stereotypes such as, well, Disneyland. Of course…Disneyland.
Artist Kelly O'Connor, now featured in a group show at Talley Dunn Gallery dubbed Pleased to Meet Me, pulls off a genuine tour de force. She makes spectacular art from old postcards and creates collages that focus on what is ostensibly the "happiest place on earth." However, her work slyly invokes the unrest and intonations of malaise that informed an era despite the fact that a) she wasn't around to see it and b) images were carefully concocted for decades that portrayed a whole society of invincibly happy folks. It's amazing but O'Connor "gets it." She depicts clueless, blissful people meandering through scenes fraught with portentous ruin. It's spot on and remarkably perceptive for someone born decades after the hype was so avidly disseminated.
Arts+Culture spoke to the Texas artist about her surreal and hypnotic works.
A+C: How did you become so fascinated with retro Americana? Do you think it will be an enduring subject for your work for a long while?
O'CONNOR: I've been appropriating images from paper media produced during the '50s and '60s for the past seven years. My early work focused on Disney characters, which led to Disneyland, then encompassed more American landscapes for vacation destinations – resorts, national parks, and swimming pools. One of my fondest memories as a child was driving with my family from Texas to the Grand Canyon, Disneyland, Yosemite National Park, the Badlands, Minnesota, and then back to Texas. I am intrigued by early images and memorabilia of these landscapes, due to the simplicity of the images and the lack of pixels in the printing process.
A+C: What do you think the impulse is regarding those images? Is it memory? Irony? Past versus Present? And what do you intend that to mean for the viewer?
I want to convey an infinite and hypnotic space. But yes, I am thinking about all of those things – memory, irony, and past versus present.
A+C: There seem to be ominous undercurrents in your work. As examples: a "breakaway" pool and spinning rides that indicate a vertiginous state. Tell us about that.
I like the tension in these artificial landscapes between the seductive façade and the controlled nature of your experience there.
A+C: What about the tile shapes, the hexagons? Can you explain something about those?
The hexagons are extracted from record covers individually with an X-Acto knife. I like the record covers because of the thickness of the paper and the almost infinite color pallet. A few years ago I started working with wasp nests and dipping them in gold paint. The pattern of the hexagons is both very beautiful and threatening. I use the hexagons in many of my pieces to create a gesture that helps establish the composition. Sometimes I will layer the hexagons in a fashion to give the illusion of a void or infinite space.
A+C: Do you see the era you depict in a humorous light? Or do the people in the works seem pathetically clueless?
I see people from that time period as full of hope for a utopic future. Now, I think that, as a society, we are past the idea of having any real utopia.
A+C: On the other hand, do you long for the same kind of "cluelessness" they enjoyed – even during the "duck and cover" Cold War era?
Sometimes…
A+C: Is there anything significant about the technique about cutting out images versus Photoshopping them?
I like the physicality and texture of collage. The idea of putting all the images on one compressed surface seems really flat. However, some of my idols like Martha Rosler have been very successful at making beautiful pieces that way. It's a balance of layering and editing. I like things to look complex but not overloaded with visual information. I want my work to have the maximum amount of depth with the fewest number of layers.
–PATRICIA MORA