No Maps on My Taps (1979) and About Tap (1985) screen at the MFAH on Nov 12, with the acclaimed producer director George Nierenberg in attendance as part of Houston Cinema Arts Festival, Nov. 9-13.
---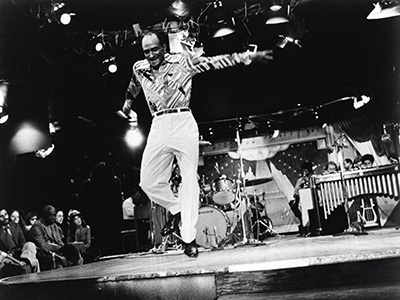 Every year a cluster of dance films make the Houston Cinema Arts Festival line-up, Nov. 9-13. This year they run the gamut, where dance and dancers are the central focus (Rebels on Pointe and No Maps on my Taps/About Tap), to films where dance is used sparingly, in a more poetic realm (Pendular).
And then there's Singin' in the Rain which, due to recent events, is an obvious and welcome choice.
The recently remastered No Maps on My Taps (1979) and About Tap (1985) screen at the MFAH on Nov. 12, with the acclaimed producer director George Nierenberg in attendance. It's impossible to convey how important these two films are to the ongoing history and preservation of the art form, but I will try. Films rarely change the course of dance history but Nierenberg's two films most certainly did.
Brian Seibert, author of What the Eye Hears: a History of Tap Dancing and New York Times critic, writes, "The films, which I consider the two best ever made about the art, didn't just record tap history; they became part of it, helping to stoke a revival."
No Maps on My Taps chronicles tap dancing giants Bunny Briggs, Chuck Green, and "Sandman" Sims, along with Lionel Hampton and John Bubbles. His follow-up film, About Tap, introduced by the legendary Gregory Hines, includes Green, Steve Condos, and Jimmy Slyde. (Slyde and Condos came to Houston during the Great Tap Gatherings of the 90s, produced by Society for the Performing Arts (SPA) and the Evelyn Rubenstein Jewish Community Center.)
Nierenberg's devotion to his subjects helps us not only understand these artists, but the art form. Joan Acocella writes in The New Yorker, "He came to love them, and he wanted us to love them, too. He wanted to contextualize tap, to show how it was the product not just of a shared technique but also of personality. And so we get three vivid portraits, like something out of the National Gallery."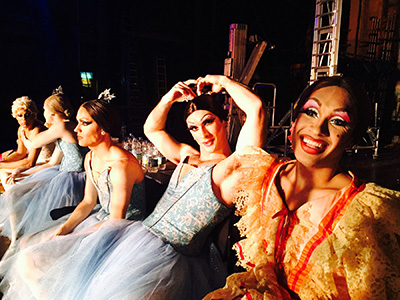 "It's going to be an honor to have George Nierenberg here, because I saw his films No Maps on My Taps and Say Amen Somebody when they came out in the late 1970s and 1980s," says Herskowitz, HCAF's artistic director. "They made a strong impression, opening my eyes and ears (along with those of many others) to tap and gospel as art forms."
Rebels on Pointe, Bobbi Jo Hart's funny and heartfelt documentary about Les Ballets Trockadero de Monte Carlo, also screens on Nov. 12 at Cafe Brasil. The Trocks have a long history of coming to Houston, thanks to SPA. Every show that I have seen has been hilarious and well danced. That's the thing about the Trocks that people forget: these men are amazing dancers to begin with, the fact that they are also great comic actors is an added plus.
Hart's film is as much a love letter to this treasured company as it is to the actual dancers, with terrific performance footage, along with intimate portraits of the dancers who make up the troupe today. "I love how director Bobbi Jo Hart takes us into the lives of individual members of the Trocks, and helps us get to know and love them," says Herskowitz. "I can't wait to see those folks live someday." Hart also covers the early years, including the tremendous impact that the AIDS crisis had on the troupe.
Marina Abramavic's duet with her partner Ulay, Rest Energy, inspired Julia Murat's Pendular, a poetic meditation on sculpture, dance and the creative process, which screens on Nov. 11 as part of Art & Sex at Cafe Brasil. "We're actually pairing this film in a double feature at Cafe Brasil with another film about two artists (a filmmaker and performance artist) with a lively sex life called Flames," adds Herskowitz.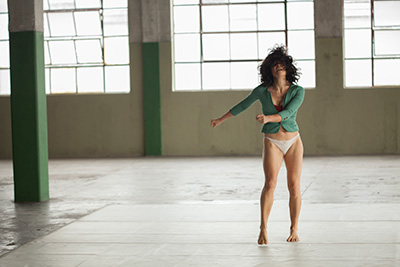 Pendular follows a couple, a sculptor and dancer, who navigate their way through art and love. "Pendular is about a dancer and a sculptor who share a studio and some very hot sex," says Herskowitz. "I'd say that dance is the more prominent art form in this film, partly because the dancer's work is more striking, but also because those sex scenes are themselves great works of choreography."
Much of the film concerns borders, between art and life, sculpture and dance, sex and love. Murat plays with the textures of materiality, both in the presence and absence of materials, which is the very divide between dance and sculpture. Flavia Meireles' choreography is quite stunning, especially a chair solo and a silky duet. Murat's intimate portrait of a pair of artists finds its own rhythm in the daily action of artists' lives, a pacing that feels fresh and unexpected.
And now for the party.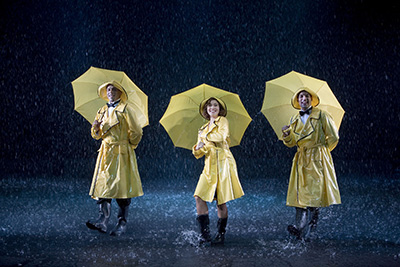 Singin' in the Rain: A Houston and Cinema Arts Celebration , with jazz singer Kat Edmonson and others, will take place on Nov. 11 at White Oak Music Hall.  Let's face it, we all get a little traumatized when it rains now, those rescued by boat, even more so. We could use a little lift from this treasured 1952 American musical-romantic comedy, directed and choreographed by Gene Kelly and Stanley Donen, starring Kelly, Donald O'Connor, and a then 19 year-old Debbie Reynolds. The dance sequences are fabulous as you know, but there's a lot more to it than Kelly splashing in puddles, including his steamy pas de deux with Cyd Charisse, which launched the leggy ballerina's career. Herskowitz adds, "Singin' in the Rain is central to our mission this year to help bring Houston out of its watery submersion."
—NANCY WOZNY